Last week I wrote a Seeking Alpha article on the growth of the necessity-driven retail category and specifically, the rapidly expanding dollar store sector. Fueled by low job growth and continued consumer confidence pressures, the necessity-based retailers are all reporting strong results and performance, sustained by business models that are not dependant on discretionary spending. While these (discretionary) spending patterns fluctuate during uncertain economic times, the necessity-driven consumers tend to spend on food and other goods that are not dependant on discretionary buying habits.
As noted in my latest article, the larger dollar store chains are all growing and quickly increasing market share within the dollar sector as well as over-lapping into the drug-store, grocery-store, and discount-store sectors. The dollar store chains have all expanded into certain grocery categories including consumable goods as well as household items, paper products, pet food, and other competitive grocery related departments. As the dollar stores have evolved, they have learned that the grocery sector is one of the largest household spending categories and that the core-necessity driven model is a highly durable, recession proof operating platform.
So as the highly competitive, necessity-driven sectors continue to cross pollinate, the grocery sector continues to get squeezed by the highly competitive dollar stores and the value-driven discount chains. As a result, many of the grocery players have evolved into value focused models that emphasis convenience, value and customer service.
Ingles Markets Inc. (NASDAQ:IMKTA)
The grocery industry is a highly competitive business sector that includes around 65,000 U.S. supermarkets and grocery stores with combined annual revenue of about $465 billion. The highly fragmented industry has many small, medium, and large chains with the 50 largest chains generating about 70% of the industry-wide revenues (does not include c-stores, discount stores, and warehouse clubs). And within the competitive grocery sector, there is a southeastern based chain that provides exceptional value characteristics for both consumers and investors. In the most recent Supermarket News (supermarketnews.com), Ingles Markets Inc. was ranked 39th among a class of 75 of the largest U.S. chains:
[Click to enlarge]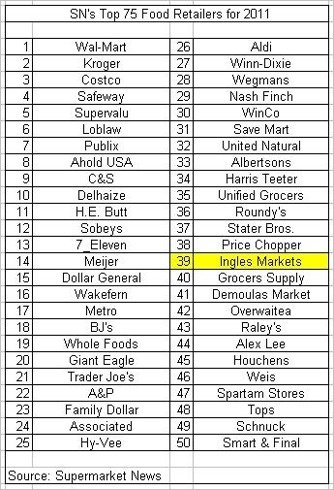 Founded in 1963 and based in Black Mountain, North Carolina, Ingles Markets Inc. operates 203 stores (and 11 million square feet of retail space) in six states. In addition, Ingles operates 70 (in store) pharmacy centers and 67 fuel centers. All of the company's stores are located within a 280 mile radius of the company's headquarters and distribution center.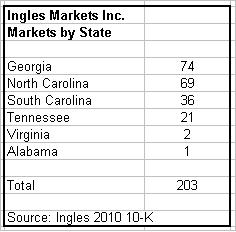 While Ingles Markets has operated for over 48 years, the second generation Chairman and CEO, Robert P. Ingles II, was appointed senior executive when the company's founder, Robert Ingle, died on March 6, 2011. The company became public in 1987 and the Class A stock is traded on the NASDAQ Global Select Market.
Within the company's six-state footprint, Ingles has positioned its 203 stores along conveniently located trade areas where the customer base has grown into an enviable value based operating model. And one of the reasons that Ingles enjoys such consistent results is the fact that a large majority of the real estate sites (74%) are owned by Ingles Markets. Of the 203 operating stores, 93 stores are free-standing, company-owned stores and the company also owns 70 shopping centers (where 58 are occupied by Ingles). Ingle has opened one new store this year and plans to open one or two more this year. New store growth has remained moderate over the last few years as the company has been growing sales by adding new customers and improving average ticket transactions. Here is a snapshot of Ingles Markets historical store count: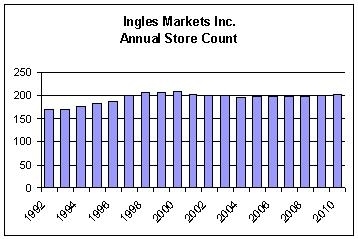 In addition, Ingles' customers participate in a highly successful "Ingles Advantage" card program. This loyalty rewards program has been an innovative strategy geared to drive value –seeking customers and increase average ticket sales. Here is a snapshot of Ingles historical sales per square foot: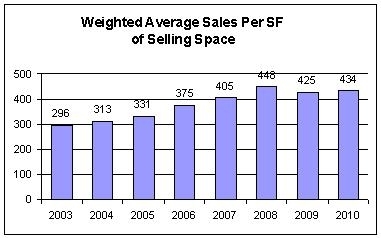 Because of the company's optimal store footprint of 65,000 to 80,000 square feet, Ingles is able to control the co-tenancy relative to the other competing dollar or drug store chains and consequently, Ingles maintains a competitive advantage over the overlapping retail dollar and drug stores. Another advantage of the family ownership model is that Ingles enjoys a strong private label product mix. Company founder, Robert Ingle, launched the successful "Laura Lynn" private label brand (named for Mr. Ingle's daughter) that has value items that are equal or superior to the national branded products. And in addition to full variety brand name products, Ingles offers customers an upscale book and magazine department, a video and game rental department, a pharmacy (many with drive-thru capabilities), a broad range of necessity driven items found in a dollar store or drug store, and several include a Starbucks (SBUX) restaurant.
Operational Results
As evidence of Ingles' sustainable and durable grocery-driven model, the successful regional grocery chain has delivered 46 years of consecutive sales growth. With record 2010 sales of $ 3.39 billion, Ingles promises to deliver consistent and expanded revenue and market share results: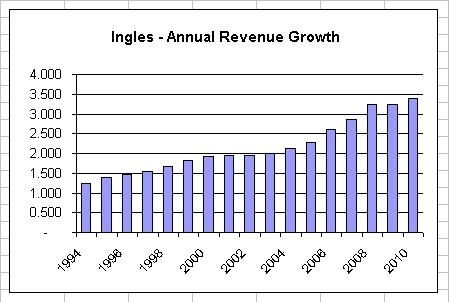 And with a net sales increase of 4.7% (to $2.65 billion) for the first nine months of 2011, Ingles is on track to deliver another record year of quality results. For the third quarter of 2011 (announced August 12, 2011), Ingles net sales rose 6.4% to $911.1 million and net income increased by 11.2% to $ 12.7 million (from the same quarter a year ago). Here are revenue results for the last five quarters:

The Peer Group
Within the grocery sector, many of the dominating chains are regional chains with brands identifiable by a distribution defined footprint. Unlike the dollar chains, the grocery chains are more regionally branded with market share characteristics including customer service, convenience, quality, and value. Conversely, many of the "best in class" chains have evolved into dominating operators with loyal followers of necessity-driven consumers. Within Ingles regional operating platform, the primary regional peer group includes Publix (OTC:PUSH), Kroger (NYSE:KR), Food Lion, Bi-Lo, and the discounters (Wal-Mart WMT, Target TGT, Aldi OTCPK:ALDA and Costco COST) are also considered competition within the grocery sector.
Market share within the grocery sector is defined by the "sphere of distribution", not limited to a geographic boundary. Consequently, revenue market share rankings extend beyond typical metro areas into more regionally-based product distribution rings. The Shelby Report (www.theshelbyreport.com ), a national grocery industry trade publication, provides statistical market share intelligence for many of Ingles' area stores; however, the Shelby Report is more centered on major product distribution chains and therefore Ingles' market share is disproportional compared with the peer group. For example, the Shelby Report's most recent report (September 2011) indicates annual Georgia area sales volumes of $14.03 billion with Kroger #1, Wal-Mart #2, Publix #3, and Ingles #4. However, in this report the top 3 chains comprise around 77% of the total share. Upon further analysis, the Georgia trade area includes Atlanta, Athens, Macon, and Rome where Ingles has a much smaller store count than the other chains (see snapshot below):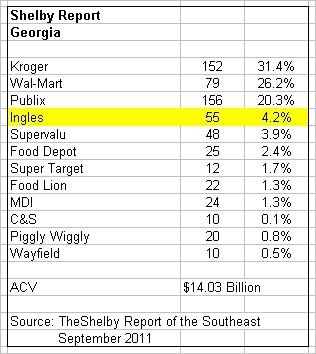 Over the years, Ingles has carved out an impressive geographic footprint tending to locate sites in secondary trade areas where competition is less intense. This successful operating strategy has allowed Ingles to "fly under the radar" and also provide customers with high quality, value oriented products. As Lorrie Griffith, editor of the Shelby Report states,
Ingles gas discounts tied to its loyalty card has been a draw for customers in the down economy, as have the large number of sale items in the stores each week. Its emphasis on being American owned, its Ingles family heritage and its ties to farmers in the South also have been smart marketing strategies in recent years as the "local" movement has gained steam.
So in addition to the regional area peer group, I have summarized below some of the grocery chains in the investment (publicly traded) peer group:
Kroger
Kroger, founded in 1883, operates around 2,449 stores in 31 states. The $13.74 billion (market cap) conglomerate operates under a variety of regional banners including Kroger, City Market, Dillons, Jay C, Food 4 Less, Fred Meyer, Frys, King Soopers, QFC, Ralphs, and Smiths. In addition, the diverse model operates 784 convenience stores and 361 jewelry stores. As of May 21, 2011, Kroger's assets total $ 23.11 billion with long-term, debt of $6.793 billion (S&P rating BBB). Kroger pays a modest dividend of 1.8%, but its growth is unparalleled in the grocery sector. Here is a snapshot of the company's impressive and recent quarter sales (as of May 2011):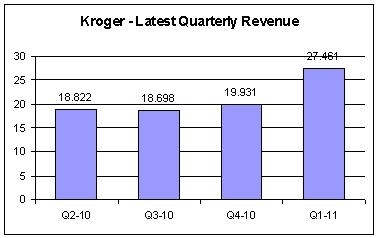 Winn Dixie
Winn Dixie (NASDAQ:WINN), founded in 1925, has a current store count of around 484 stores and market capitalization of around $ 338.25 million. Total assets were $1.838 billion and long-term debt is $119.124 million. Winn Dixie's year-over-year revenue has decreased to $7.25 billion (2010) vs. $7.37 billion in 2009. The company's stock has decreased -36.68% as the struggling grocery chain has been inconsistent with maintaining margins and growing same store sales. The quarterly revenue history is an indicator of the inconsistent store sales growth: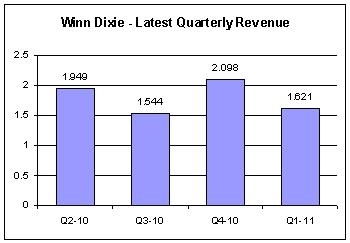 Safeway
Safeway (NYSE:SWY), founded in 1915, operates around 1,694 stores (years end 2010) and is one of the largest grocery retailers in North America. With over 79.2 million square feet of retail space, Safeway has a commanding $6 billion market capitalization. Quarterly sales are growing and the company is paying out a better than (industry) average of 3.3% dividend. Assets total $15.148 billion and long-term debt (S&P rating BBB) is around $8.6 billion. Like, Winn Dixie, Safeway has struggled with recent same store sales growth and consistent margin results. Here is a snapshot of recent quarterly sales results: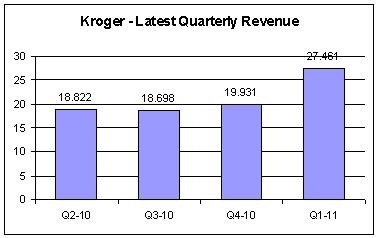 Closing Thoughts on Ingles Markets
The dollar stores, drug stores, convenience stores, and all kinds of stores have been expanding food offerings in order to drive traffic and sales. And clearly the blurring of the lines between groceries and other retail lines is growing. The velocity has increased dramatically as cash-strapped consumers have become more wary of impulse purchases. As more retailers expand into the food sector, Ingles Markets has been able to respond by dropping prices, increasing promotions, and expanding private label programs. By providing customers with value, products, and service, Ingles Markets has been able to provide investors with sustainable growth and extraordinary operational performance.
The attractive Ingles Markets' investment alternative includes an above average dividend yield of 4.5%. This "sleep well at night" dividend is driven by 46 consecutive years of annual sales increases. In addition, the company controls its tenants and rents by maintaining a large percentage of company-owned real estate. The common stock is trading at $14.35 (as of August 26, 2011) and around 30% below the 52-week high price of $20.45. I expect to see year-end 2011 stock growth of around 15%-20% and this projection is consistent with the most recent nine months sales and year end guidance.
In summary, Ingles Markets is considered an attractive investment opportunity with a durable dividend history of 4.5% and projected year-end total returns of over 20%. Make sure to add Ingles Markets to your grocery cart and you will be pleased with the reliable dividend and sustainable growth that is sure to make you "sleep well at night".
Disclosure: I own less than 100 shares in InglesIMKTA and Wal-Mart WMT.