Pandora (NYSE:P) has reported their first quarterly results since going public and the numbers are looking good. The company beat street expectations on both current performance and future guidance. The new injected some fuel into the Pandora investment.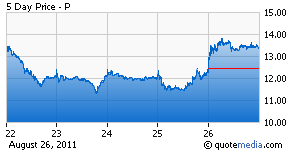 The company reported:
-- Record quarterly revenue of $67 million grew 117% year over year
-- Record total listener hours of 1.8 billion grew 125% year over year, resulting in a record share of total U.S. radio listening of 3.6%
-- Mobile advertising revenue increases to approximately half of total advertising revenue
-- Company initiates Q312 and full fiscal 2012 guidance highlighted by continued rapid revenue growth. As you can see, the sometimes criticized business model of Pandora seems to be working.
Pandora is personalizing radio — and consumers are enthusiastically embracing the dramatically better experience," said Joe Kennedy, President & CEO of Pandora. "At the same time, advertisers continue their adoption of Pandora's multi-platform ad solutions, resulting in our 6th consecutive quarter of year-over-year triple digit revenue growth. In addition to continued high growth in web revenue, Pandora's mobile advertising revenue for the first time comprised approximately half of total advertising revenue as we lead the way in the nascent but fast growing mobile advertising market. Pandora continues to grow our market share of U.S. radio as we fundamentally transform one of the last forms of traditional media.
Does that mean it is time to invest in Pandora? Well, it certainly looks like that time is drawing near. In my opinion, this equity is mostly a trader's stock at this point, but if we see dips, it could present a good entry point.
The company lost money on a GAAP basis, but on a non-GAAP basis they were actually in the black. One other impressive aspect of the quarter is that Pandora still has nearly $100 million in cash.
People do seem to be gravitating to Pandora and listening more as well. Total listener hours were approximately 1.8 billion for the second quarter fiscal 2012, an increase of 125% compared to approximately 0.8 billion for the second quarter fiscal 2011. Estimated share of total U.S. radio listening at the end of the second fiscal quarter was 3.6%, up from 1.8% a year prior. Pandora now boasts 37 million active users. This means that on average, active users are engaging the service for about 16 hours per month, or over half an hour each day (1.8 billion/ 37 million/3 months/30 days)
While listenership is up, the fact that more people are listening more often also means that the company is shelling out more money in royalties. This is the flaw in the Pandora business model. The company needs to identify and find a way to increase paying subscribers, as well as increasing advertising revenue. Pandora does seem on a path to do both, but when that translates to overall profit is yet to be seen. This is the predominant reason that I look at Pandora with a careful eye. It can be an attractive trade on dips and spikes, but that is betting the market more so than betting the company.
The company generated $67 million in revenue, but shelled out $33 million in royalties, or just under 50%. While on a percentage of revenue basis they are showing improvement from royalties being 60% of revenue last quarter, the expense is still quite high. However, shaving 10 points off of that number in one quarter is impressive and is showing that the advertising model of the company is headed in a good direction.
I am not sold on Pandora as a long term investment yet, but I will say that the company is on the right path.
Disclosure: I have no positions in any stocks mentioned, and no plans to initiate any positions within the next 72 hours.