Apple (NASDAQ:AAPL) has been on everyone's radar; for years now it has been one of the most promising technology companies out there. In my last article, I raved about Apple's fundamentals, particularly its innovation machine. But, Steve Jobs' recent departure from the CEO post casts a cloud over the company's ability to continue churning out one blockbuster product line after the other.
The situation can unfold in one of two ways. On the one side, Apple will lose its momentum with Steve Jobs gone, as he was a leader with a strong vision, a man who knew the technology, the market, and the art of marketing he had the charisma to develop and spread the message to Apple followers, creating efficient and effective word of mouth and buzz campaigns.
On the other side, Apple will continue to thrive without Steve jobs, as it isn't a conventional company; it is a form of collective entrepreneurship, an association of thousands of entrepreneurships that share the risks and rewards from the discovery and exploitation of new products an innovation machine. So which way will Apple go?
Shortly after the announcement of Jobs resignation the stock dropped nearly 6 percent in after-hours trade, only to recover in the next two trading days, and eventually trade higher.
click on image to enlarge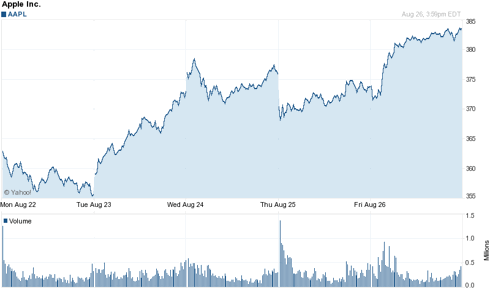 Source: Yahoo Finance
As the chart shows, there is the great deal of uncertainty about the future of Apple. No one knows for sure how it will play out. Until there is sufficient evidence, a new successful product line, the company can survive and thrive without Steve Jobs, I would stay away from the stock.
Bottom-Line
Jobs' departure creates a vacuum that will test the company's ability to continue its fast pace of innovation. Until Apple gets a new successful product line out the door, I'm staying away from the stock.
Disclosure: I have no positions in any stocks mentioned, and no plans to initiate any positions within the next 72 hours.