The recent correction has left the S&P 500 down about 6.4% in price so far this year with a few days to go in August. In the past 41 years (as far back as Baseline goes), the market has been down 2/3 of the way through the year about 1/3 of the time.
Assuming we remain below the 1257 level from where the year began, this will be the first time we have been down in the first 8 months of a year that precedes a presidential election year. Here is a table that includes each of the prior negative eight-month starts, sorted from worst to best:
click to enlarge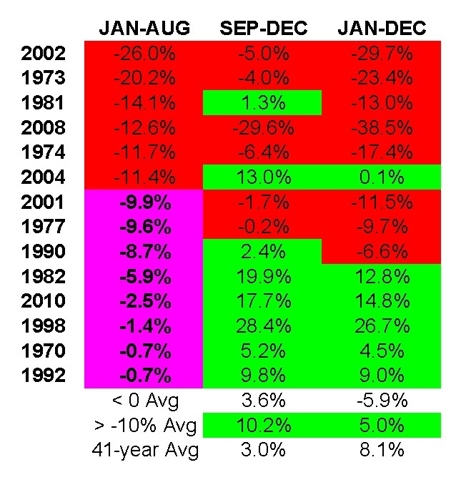 Click to enlarge
Before I share my observations, it's important to remember that the sample size is too small to be statistically significant. Still, it's quite interesting that when the market is down between 0 and 10%, it has rallied 6 of the 8 times, finishing the year in the green more than half the time. The average gain in the last four months for these years is over 10%, which compares favorably to the 3% average over the entire 41 years. The other two times the market has declined, the losses have been minimal. While most of us remember the hockey-stick end to last year, there have been other examples of large gains after Labor Day, including 1982 and 1998.
With a few days to go before August ends, it's possible we move to the double-digit decline camp. Let's hope not, as the six years this occurred saw further losses four times. Still, with the exception of 2008 (the worst end-of-the-year in the series), the downside has been modest.
So, while the data doesn't offer us a definitive answer to what lies ahead, I believe it helps frame the discussion. 2008 wasn't typical, but neither was 2010. I have been publicly very bullish for over a year now. While the market has rallied subsequently, it looks unlikely, barring a 1998-style rally, to achieve my previous expectations. I had anticipated that the market PE would expand, but, instead it has contracted despite forward earnings estimates rising. Given that the three very best year-end rallies over the past 41 years (1982, 1998 and 2010) have occurred in situations similar to where we find ourselves, there is some hope of hitting the 1500 level I had suggested, but I wouldn't count on it.
Disclosure: I have no positions in any stocks mentioned, and no plans to initiate any positions within the next 72 hours.