(NASDAQ:AXTI) - AXT Inc. As of 8/27/2011
High Today 7.47
Low Today 7.02
Volume 326.8K
10-Day Avg Volume 352.0K
52-Week High (02/07/11) 12.23
52-Week Low (08/27/10) 5.111
Yr % Change (TTM) 41.79
Market Cap 238.4M
Shares Outstanding 32.1M
P/E 11.3x
Revenue (TTM) 108.3
Earnings per Share 0.66
Dividend + Yield -- (0.00%)
Beta 1.65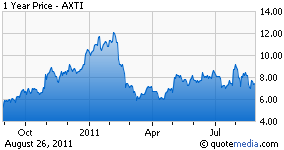 AXT Inc. has not yet been widely discovered, but prepare for shares to double once investors become aware of what's happening with this company. Founded in 1986, AXT designs, develops, manufactures and distributes high performance compound semiconductor substrates and a line of "industry-critical" raw materials. Customers like Triquint (TQNT), Avago (NASDAQ:AVGO) and Skyworks (NASDAQ:SWKS) use their products to fabricate the latest fiber optic communications, wireless communications and lighting display applications.
The strength of the company is their vertical gradient freeze (VGF) technology for manufacturing the semi substrates. The VGF crystal growth process was first commercialized in the industry and made available to the market by AXT. In short, they grow uniform crystals, thinly slice the crystal to very precise tolerances, edge round the form factors, polish into smooth wafers and ship to customers. According to the company and their customers the advantages of using this process are scalability, low stress, higher than normal mechanical strength and a much lower defect rate when compared to conventional processes which have been known to produce substrates with a high dislocation density which can lead to the formation of microcracks. Today, AXT is the only company to produce germanium substrates using VGF and were the first to introduce 6 inch substrates using the same method. These wafers are produced at their Tongmei facility, in a suburb of Beijing. This 190,000 square ft. factory is believed to be the world's largest III-V wafer production facility.
Raw materials play a very important role to semiconductor substrates. Because of this, AXT has established joint ventures with five Chinese companies. This reduces their dependency on other raw materials suppliers and puts pricing and volume stability in their hands, as opposed to purchasing on the open market. The five jv's are: Beijing Ji Ya Semiconductor Co. Ltd., Nanjing Jin Mei Gallium Co. Ltd., Xilingol Tongli Germanium Co. Ltd., Emeishan Jia Mei High Purity Materials Co. Ltd. and Beijing Bo Yu Semiconductor Vessel Craftwork Technology. AXT is majority owner in three of the key ventures.
AXT, Inc. sells its products through direct sales force in the United States, as well as through independent sales representatives in France, Germany, Japan, South Korea, Taiwan, and the United Kingdom.
On July 27th AXT reported Q2 2011 revenue of $30.0 million, up 22% from $24.6 million in Q1 2011, and up 29.6% from $23.2 million in Q2 2010. Gallium arsenide substrate revenue came in at $18.0 million, indium phosphide substrate revenue at $1.6 million, germanium substrate revenue at $2.7 million and raw materials sales were $7.7 million compared to 2010 same quarter sales of $4.2 million. Gross margin was 46.7% of revenue, operating expenses were $4.4 million, income from operations was $9.5 million while net income was $7.1 million or $0.21 per diluted share, compared to $4.2 million or $0.13 per diluted share for Q1 2011 and $5.5 million or $0.17 per diluted share for Q2 2010.
Guidance for Q3 2011 ending September 30 estimates that revenue will be between $30.5 million and $31.5 million. Net income per share estimates are between $0.18 and $0.20, taking into account a weighted average share count of approx. 33.4 million shares. Co-founder and CEO Morris Young, Ph.D. was pleased with these results saying, "This was another strong quarter for AXT. Revenues exceeded our expectations, driven by double digit growth in our substrate business and record revenues from third party raw material sales. We are experiencing healthy demand across all of our product categories and are pleased to see our competitive positioning continue to strengthen. Further, our strong business model and solid operational execution are resulting healthy growth to our bottom line. We believe that the trends fueling our growth are substantial, and we are well positioned to benefit with the capacity, raw materials access and attractive cost structure that are unique in our industry." (Q2 2011 Quarterly Results)
Disclosure: I have no positions in any stocks mentioned, but may initiate a long position in AXTI over the next 72 hours.