Right now, one can find just about any opinion imaginable on the stock of Apple (NASDAQ:AAPL) - buy it, short it, sell it, avoid it, hold it, etc. Some say Apple will survive without Jobs or Apple will not survive without Jobs. Some think that the run in the stock is over or, the run in the stock still has legs, there is no end to the opinions.
It is up to each and every investor however, to gather in all of the information possible on a stock, disseminate it, analyze it, and form their own opinion. After all, in the end, that is what the market really is, a gathering place of varying opinions.
In times of an abundance of conflicting opinions, I always turn to the numbers to form or reaffirm my own opinion. Every time I hear someone on one of the business channels touting a stock, I turn to the numbers. Every time I hear a CEO being interviewed about his company, I turn to the numbers. Every time I see Jim Cramer hyperventilating about yet another one of his favorites, I turn to the numbers.
In my early years as a research analyst, I had to order the annual reports from the company to get to the numbers. These days however, (thanks to companies like Apple) the numbers are all readily available on the internet.
Now, each and every investor has his or her own set of numbers that they deem to be most important: Sales Growth, Earnings Growth, Gross Margins, Profit Margin, Return on Equity, P/E Ratio, Price to Sales, Price to Book, etc., etc., etc.
For what it is worth, over the years, I have formed my own opinion on what I deem to be the most important numbers in the analysis of a stock. Here they are:
Market Capitalization - I feel like it is important for investors to know if they are dealing with a mega, large, mid, small, or micro cap stock. Generally speaking, a micro cap stock by nature has more risk inherent than a large cap stock. It is also a fact that over the last many years, large cap stocks have underperformed mid and small cap stocks.
Forward P/E Ratio - Forward P/E is simply the current price of the stock divided by next year's earnings estimates.
Here is where Apple currently stands on those two fronts:
[Click all images to enlarge]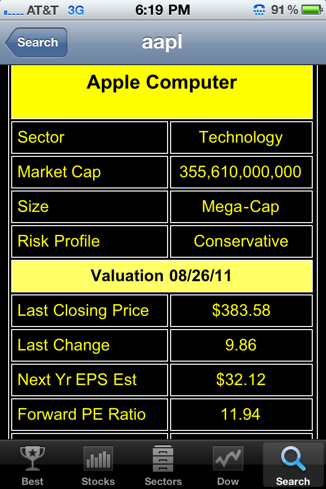 Data from Best Stocks Now app
There has been a lot of publicity lately about Apple passing Exxon Mobile (NYSE:XOM) in market cap and becoming the richest company in the world. As of the close of the market on Friday, Apple now has a $2 billion dollar lead on Exxon. Expect that gap to widen in coming years. The forward P/E ratio of Apple is currently 11.94. By contrast, the average forward P/E ratio of the 2,731 stocks that I follow is 13.29. Overall, Apple is currently trading at a discount to the overall market.
Performance
Next, it is vital for me to see the performance record of the stock. This is probably one of the first criteria that investors look at on a mutual fund, but for some reason, stock investors aren't as keen on it. To me, the performance record tells me a lot about the management of the company, how the stock has done during good times as well as bad times, and where the stock stacks up against its competition.
Here is where Apple currently stands: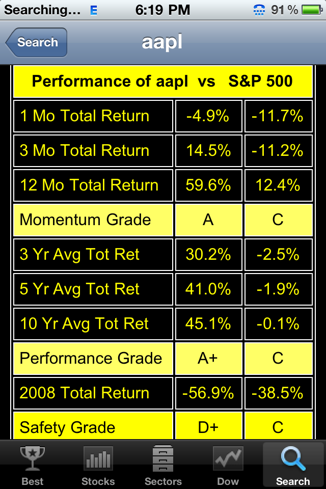 As you can see, Apple is one of the great performance stocks in the entire market. In fact, only 14 stocks have a better 10 year record than Apple. They include the following stocks:
10 Yr Avg. Tot Ret
1. Netease (NASDAQ:NTES): 74.1%
2. Hansen's Natural (HANS): 67.4%
3. Neumarket (NYSE:NEU): 63.7%
4. Liveperson (NASDAQ:LPSN): 56.4%
5. Central Euro Media (NASDAQ:CETV): 53.3%
6. Sina Corp. (NASDAQ:SINA): 53.2%
7. Terra Nitrogen (NYSE:TNH): 50.6%
8. Bancolumbia (NYSE:CIB): 50.2%
9. Decker's Outdoor (NASDAQ:DECK): 49.7%
10. Ezcorp. (NASDAQ:EZPW): 48.0%
11. Clean Harbors (NYSE:CLH): 47.9%
12. Medifast (NYSE:MED): 47.9%
13. Green Mountain Coffee (NASDAQ:GMCR): 45.1%
14. H M S Holdings (NASDAQ:HMSY): 45.0%
15. Apple: 44.7%
Apple obviously also has a stellar 1 year, 3 year, and 5 year track record. Just for fun, let's compare Apple's performance with that of Cisco (NASDAQ:CSCO), Intel (NASDAQ:INTL), and Microsoft (NASDAQ:MSFT).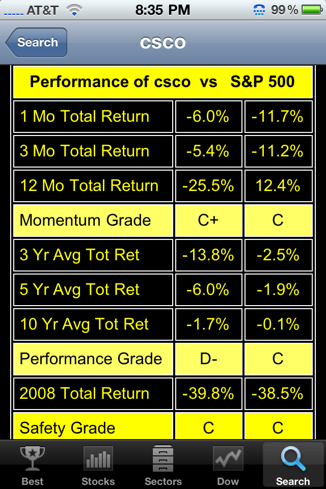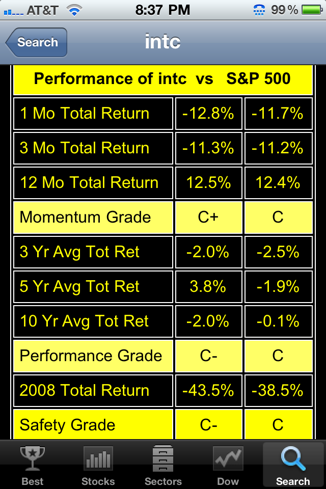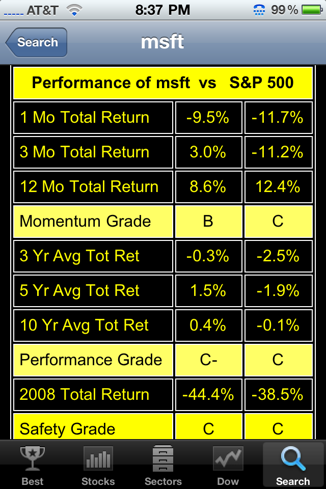 As you can see, the performance numbers on these large, widely-held stocks has been very poor in relation to Apple.
Valuation
Investing is all about the future. We need to now do a forward looking valuation on the shares to see what kind of upside potential that the stock currently possesses.
An army of almost 50 analysts cover the stock of Apple. It is not necessary to be one of them, nor is it necessary for the average person to visit the company to obtain the necessary numbers to do a valuation on the company. The valuation method I choose to use for Apple is just a simple earnings based method.
I begin with next year's earnings estimate of $32.12 per share. By the way, Apple has about 927 million shares outstanding. That computes to about $30 billion in profits. No wonder Steve Jobs gets so many headlines!
Next, I look at the estimated 5 yr annual growth rate. This comes from discussions between management and the analysts. It also comes from projecting current income statements into future income statements. Many investors are under the false assumption that management misleads analysts to the upside on their earnings and growth records, In this litigious world that we live in, that would not be very wise for a company to. Also, if this were true, then why does Apple consistently blow away analysts estimates?
The current estimated 5 year average annual growth rate is 22.52%. While that may seem really crazy, consider that Apple has grown its earnings over the last five years at a 60.0% per year clip. The growth rate over the last four quarters is 82%, 83%, 71%, and 67% respectively.
Now with the next year's earnings estimates and the five year average growth rate, we can compute a five year earnings projection. Beginning with $32.12 in earnings and extrapolating it out over the next five years at 22.52% per year, we arrive at a calculation of $72.47 per year. While this may seem like an astronomical number, we are just going by the numbers here and using simple math formulas.
Now the question is: If Apple does indeed earn $72.47 per year, five years from now, what price will the stock deserve to be trading at? At 10X earnings, the stock would be trading at $725; at 11X earnings, the stock would be trading at $797; at 12X earnings, the stock would be trading at $870, and so on. So, what multiple is appropriate?
Apple currently has a P/E ratio of 15 and has ranged between 12-19 over the last four quarters. I am being very conservative and using an 11 P/E ratio on future earnings. This gives me a five year target price of $797 and 107.8% upside potential. In other words, based on the numbers, Apple has the potential to double again over the next five years.
Using the rule of 72, this would be an average return of just over 14% per year over the next five years. This seems doable to me considering that the stock has averaged 41% per year over the last five years.
The valuation looks like this: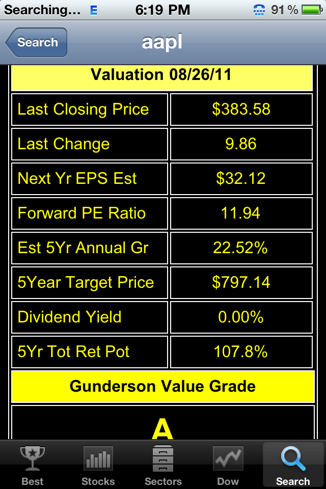 With the products currently in Apple's pipeline and all of the future versions still to come, it would seem that with or without Steve Jobs, Apple is going to do be just fine for quite a while. I currently have the stock ranked at number 34 out of 2,731 stocks. It also scores a grade of "A" which represents just 8% of the overall market. In the end, I will base my opinion on the numbers. If you disagree with me, then go ahead and "short the stock."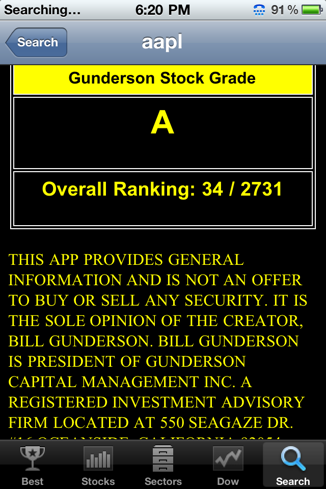 Disclosure: I am long AAPL.