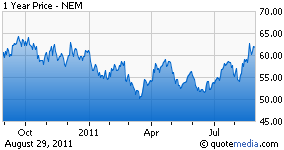 Gold has been in news with the precious metal touching record highs (above $ 1,900 an ounce). Post that, gold has seen a steep correction of almost 11% in a matter of few trading days.
There is no doubt that the precious metal was overbought and overdue for a correction. However, the bull market for gold is very much intact and the yellow metal will continue to trend higher (in my opinion) in the long-term.
With this view in mind, I would consider exposure to gold and gold mining stocks on any meaningful correction in the precious metal and the equity markets.
This article discusses the medium to long-term prospects for Newmont Mining Corporation (NYSE:
NEM
), which, in my opinion, is an attractive investment option.
In terms of the best time to consider exposure to the stock, I would wait for some more downside in the equity markets, as discussed in my
previous article
.
Discussed below are some positives and few risks related to investment in Newmont Mining.
Key Investment Positives For Newmont Mining Corporation
1)

Active gold mines with robust production:
In a scenario where gold prices are at record high levels, I would be interested in companies with robust production and a robust production outlook. This will help companies derive maximum benefit (in terms of margins) by selling gold. Newmont has a robust production outlook for 2011 of 5.1 to 5.3 Moz. Further, gold production is expected to increase to 7.0 Moz by 2017. Therefore, Newmont is well placed to benefit from higher gold prices in the long-term.
2)
Huge exploration upside:
Going by the current exploration program, Newmont has the potential to add 94 Moz of gold and 9.4 Blbs of copper in its reserves over the next decade. This would ensure steady revenue growth.
3)

Gold margins expansion to strengthen fundamentals:
For the second quarter of 2011, Newmont had an average operating cost of $583/oz. With average gold prices for the second quarter being $1,501/oz, the gold margin was $918/oz. There has been a 90% increase in gold margins since 1Q09 on the back of 66% increase in gold prices. Further, even if gold prices were to correct significantly, Newmont would still have ample margins headroom.
Click to enlarge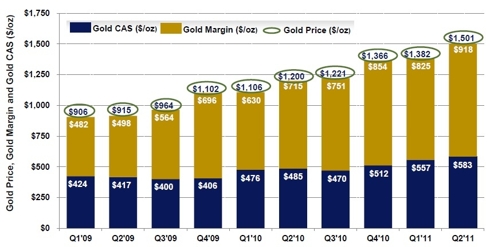 Click to enlarge
4)
Strong liquidity position: For gold mining companies, which happen to be extremely capital intensive, a strong liquidity position is a necessity. This is especially true for entities like Newmont, which have significant capital expenses lined up in the foreseeable future. Newmont's cash and cash equivalents as of end-2Q11 stood at approximately at $11 billion. Further, being a leading industry player, funding expansions would not be a major challenge for Newmont.
5)

Low debt gives financial flexibility:
Newmont had a debt to equity ratio of 28% as of December 31, 2010. Low leverage, coupled with strong operating cash flows, gives Newmont the required financial flexibility for future capital expansion programs.
6)

Gold price linked dividend policy rewarding to shareholders:
Underscoring its ongoing commitment to returning capital to shareholders, Newmont has adopted a gold price linked dividend policy. As a result, the quarterly dividend declared has increased by 200% to $0.30 in 3Q11 from $0.10 in 2Q10. Even if gold prices remain in the range of $1,600-$1,699 after correction, the annual dividend payout would be $1.40 leading to a dividend yield of 2%.
Click to enlarge

Click to enlarge
7)

Presence in copper mining:
Besides gold mining, Newmont also has presence in copper mining and production. As of the end of 2010, the company had 9,420 million pounds of proven and probable copper reserves. As discussed on one of my
earlier articles
, the long-term fundamentals of copper remain robust. In line with that, Newmont is expected to benefit from its copper business.
8)
Hedging of gold and copper sales: Newmont does not hedge gold and copper sales, providing shareholders the benefit of changes in spot market prices. This might impact the company negatively in a scenario where commodities correct significantly. However, all long-term demand drivers for gold and copper point toward prices trending up. Hence, this strategy would be beneficial for shareholders.
9)

Highest gold reserves per shares amongst peers:
As evident from the chart below, Newmont has the highest gold reserves per share compared to its peers. This makes Newmont an attractive buy compared to other gold mining stocks.
Click to enlarge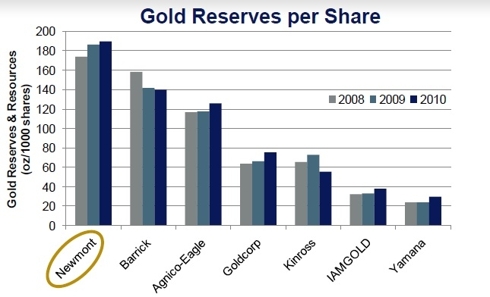 Click to enlarge
10)
Current valuations: Newmont is currently trading at a PE of 13.9 and price of $62. More importantly, the stock has hardly made any significant upside move in the last one year. During this period, gold has gone ballistic. Therefore, with any further correction in the markets, Newmont might be an attractive buy with ample upside potential.
Key Risk Factors
1)

Geopolitical risk:
Newmont is subject to geopolitical risk, especially with its presence in Africa. However, all gold mining companies have a presence in this region and the risk is unavoidable.
2)

Equity market and credit market freeze risk:
Being in a highly capital intensive industry, Newmont needs financing from time to time. Poor conditions in the equity markets or a credit freeze (as witnessed during the Lehman collapse) might hinder funding availability and also negatively impact stock prices. However, in my opinion, we are not headed toward a Lehman type scenario again. At least in the foreseeable future. In all, Newmont presents an attractive medium to long-term investment opportunity. To talk about the best entry point in the stock might be difficult. However, investors can consider exposure to the stock in the next two to three months, when I personally expect markets to trend down.
Disclosure: I have no positions in any stocks mentioned, and no plans to initiate any positions within the next 72 hours.