Boeing (NYSE:BA) is about to launch the long delayed 787. Boeing's hour to shine? Perhaps. A safer and smarter play is Precision Castparts (NYSE:PCP), a supplier to the 787 as well as other aircraft. Although the majority of its business is aerospace, it serves other industrial applications such as gas turbines.
Why Precision Castparts over the better known Boeing? Ten years of giving investors great results. Precision Castparts has a credible history of giving investors better earnings, margins, and free cash flow. Boeing does not. I like companies that are consistently good. Precision Castparts is consistently great. Precision Castparts is better run than Boeing. Although it trades at a (deservedly) higher PE, Precision Castparts has far better credentials, beating Boeing over the last decade in EPS, book value, FCF, operating income, and operating margin performance.
Let's compare the two over the last 11 years courtesy of Morningstar. 2011 is in TTM form.
First, EPS. Precision Castparts has outperformed Boeing in EPS.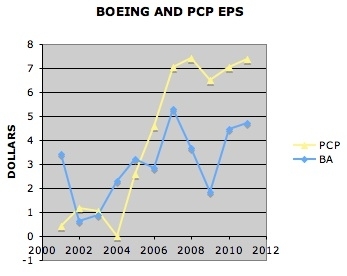 Boeing can't compete with Precision Castparts in its book value.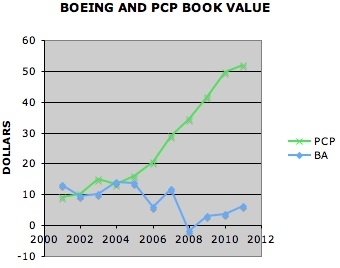 Boeing has gone nowhere over the decade in operating income and FCF.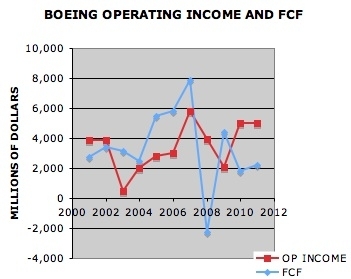 Meanwhile, Precision Castparts has improved its operating income and free cash flow.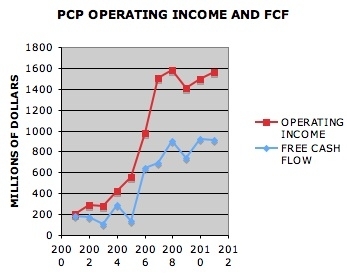 Precision Castparts has rising operating margins while Boeing's are languishing.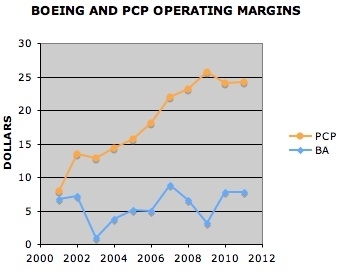 Moreover, Precision Castparts's 10-year average growth in revenues, operating income, and EPS are far superior.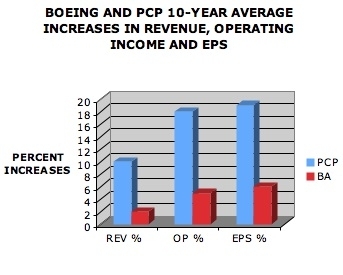 The aerospace industry looks a whole lot better than it did. Per PCP's 10k, its aerospace business is turning:
Aerospace production rates began to recover in fiscal 2011 as compared with fiscal 2010 levels, and we have seen a realignment of component build rates and aircraft production schedules indicating an end to destocking in the supply chain. We expect to see further order increases as Boeing 787 production starts to ramp up in the latter half of fiscal 2012, as well as increased build rates on other commercial aircraft model production projected for fiscal 2012.
Precision Castparts has demonstrated its superiority over Boeing. It has relentlessly improved its earnings and margins despite some difficult economic times. Those interested in the aerospace sector should consider Precision Castparts over Boeing.
Disclosure: I am long PCP.