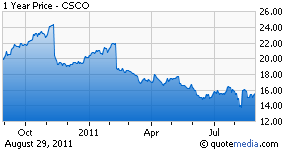 It has been three years since I earned Cisco's (NASDAQ:CSCO) prestigious CCNA. If you don't know what that is, I wouldn't worry about it too much, but it is a big deal in the technical world. CCNA stands for Cisco Certified Network Associate. And by all accounts, it is considered the standard for routing and switching expertise. I'm not going to proclaim my technical expertise here in this article, but it was originally my pursuit of this certification that intrigued me enough to take an equity interest in the company, one that has seen its share of highs and lows.
Today, as much as I would like to separate my emotions from the company and the stock, I have to admit that it remains incredibly challenging. The truth is it became tough for me to accept what Cisco was and has become. But I refuse to accept the majority of the blame here because Cisco itself did not know what direction it was heading. At one point, it was pretending to be a growth company. But it soon realized that it was all a façade when it looked in the mirror and reality kicked in. It was no longer growing. Its growth effectively stalled for several reasons, but most notably because of its bureaucratic structures.
Then Cisco decided to embrace its status as a mature company. But to do that on Wall Street its investors had to realize that there is a trade off. Mature companies can't also be "growth companies," particularly in technology. Often the bigger the company, the less investors should expect concerning its growth prospects. But Cisco failed to realize this early enough. Because of this oversight, I once demanded the resignation of CEO John Chambers, which also was followed with an ultimatum and warned that either he goes or I go. I told its board of the directors that it needs to make a decision between the company's CEO or me because it had not appreciated the sacrifices that I have made as a long-time Cisco shareholder.
For me, making excuses for Cisco became commonplace. In my previous state of mind, I would present glass-half-full outlooks each time its stock would drop and I would believe it when the company told me that that it was a one-time thing. In the end, I was abused and battered, yet packing my bags to leave never appeared to be a logical conclusion. The fact is, I literally had too much invested in the relationship. The relationship taught me lessons about patience and managing frustration. Another lesson was learned when the company announced its fourth quarter results, which is to never give in to the urges of impulse.
Cisco reported profits that beat analysts' estimates. Excluding some costs, profit was 40 cents a share compared to the expected 33 cents. Sales rose 3.3% to $11.2 billion in the period, which ended July 30, compared with an estimate of $10.98 billion. These were remarkable numbers considering the many instances when I watched rivals such as F5 Networks (NASDAQ:FFIV), Juniper (NYSE:JNPR), Hewlett-Packard (NYSE:HPQ) and Riverbed (NASDAQ:RVBD) encroach on its market share. This is why I was pleased when John Chambers finally said enough was enough.
I can't help but credit the company's recent success to its earlier re-dedication to its core routing and switching business as well as streamlining its decision making process. Though I questioned the merits of laying off 6,500 of its employees, as tough of a decision that was to make, it is one that has so far proven to be correct. Having now seen the results of some of these decisions, I have to say that I now feel somewhat vindicated for my patience.
Moving Forward
If Cisco can wisely reinvest its capital to create more innovative ways to compete, I feel investors, patient or not, will be rewarded handsomely. Because at the current level that the stock is trading, I see an opportunity for those who are looking for value and are willing to be patient to realize some significant gains.
In a research report, Shaw Wu at Sterne Agee said he had separately analyzed the value of Cisco's major segments: Routers, switches and a variety of "new products" and services. Adding them back together he arrived at a value of $27 to $28 per share, even when discounting the price-to-earnings ratio compared to its competitors.
"We believe the (Cisco) story is getting better and we'd rather be a buyer at these depressed levels than wait for obvious evidence of improvement. By then it may be too late," Wu wrote.
It continues to be a major challenge to not value Cisco, by any measure. Its equipment still powers more than half the Internet. But due to some mis-timed decisions, the company had to deal with poor performance results, many of which allowed the likes of F5 Networks, Aruba Networks (NASDAQ:ARUN) and Juniper to catch up in the routing and switching space.

I still maintain that Cisco has one more acquisition left in it, one that will separate itself from the rest. As the future of the cloud becomes more apparent, Cisco should consider acquiring a company like Level 3 Communications (NASDAQ:LVLT). The reason is simple. I envisioned Level 3 to somehow being acquired to serve as a conduit and/or a bridge from one end of the world to another. A company such as Cisco comes to mind, which not only has the cash available, but also has the networking component as well as a growing server business to become a total service solution provider. Cisco would once again become the dominant technology powerhouse that it was founded to be.

Summary

For better or worse, as emotionally attached as I remain with Cisco, I find solace in knowing that its fundamentals support my attachment. I know it's a mistake and cardinal sin No. 1, but If investors look deep into the numbers, they will see a company that trades at a very attractive valuation multiple. It stands solidly with a market cap of $87 billion as well as 58 billion in EV and trades at a modest forward P/E of 8. One can argue that there is no other company that has been able to leverage its balance sheet better than Cisco, which can deliver 40% premium from current valuation by the end of the year. This I can say is not based on emotion, but fact. I can feel it.

Disclosure: I am long CSCO, LVLT.