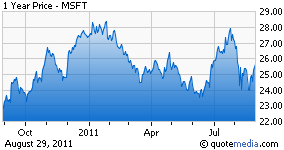 Microsoft (NASDAQ:MSFT) is one of those companies that have a love hate relationship with wall street. They are a large slow growing blue chip that is pretty much range bound the last couple years. Microsoft is currently providing investors an opportunity to acquire a nice steady growing company at an attractive price.
Many analysts criticize Microsoft for falling behind and responding slow to competitor threats. I do agree that Microsoft has been slow to respond in certain markets, but when they do, they are definitely be a large threat.
Here are some highlights about the Microsoft trade:
Their most recent quarter saw revenue of 17.4 billion, growth of 8% year-over-year. Microsoft also saw their bookings increase 17% for the same period.
Operating income for their fiscal year was a record $27.2 billion, this is $3 billion more than the previous year. Earnings per share was $2.69, up 28% from the previous year. This also marks the second consecutive year of EPS growth over 20%.
Microsoft has strong demand from their enterprise side. They have multi-year unearned commitments of $17.1 billion. Microsoft's current contracted not billed balance is over $18.5 billion.
Windows server and system revenues were up 20%. Businesses are using Microsoft technology to virtualize their data center and build private cloud networks. Microsoft has seen system center revenue increase double digits for 10 consecutive quarters.
Entertainment and devices division saw revenue increase 30%. During the most recent quarter Microsoft sold 1.7 million consoles, an increase of 18%.
Over the last 5 years Microsoft returned over $90 Billion to shareholders through dividends and share buybacks. Microsoft reduced share count by 1.7 billion shares or 17%.
Microsoft partnership with Nokia (NYSE:NOK) will turn out to be a big revenue generator down the road. Microsoft has done a great job in turning around their Windows mobile system. By expanding their distribution through this partnership they could look forward to gaining some market share in this space.
Microsoft is a well run company doing a lot of things right. They have been able to grow many segments of their business in a very tough economic environment. This has allowed them to offset many of the declines they see in the consumer segment.
I'm bullish on Microsoft and feel current levels provide opportunities for investors to buy the future growth at a great price. Microsoft is currently trading at the low end of the range of the last two years.
Disclosure: I have no positions in any stocks mentioned, and no plans to initiate any positions within the next 72 hours.