The "Dividend Contenders list" is comprised of companies that have raised their dividend every year for a decade or longer. The obvious attraction to a list like this is the comfort found from companies that have consistently rewarded their shareholders with higher income year after year. It seems to make sense that the best way to find an investment that is capable of giving you a higher level of income each year, is to mine from a list that has already proven to be able to do that.
The not-as-obvious attraction to a list like this is the fact that it is largely comprised of smaller companies than can be found on the "Dividend Champions" list. Therefore, "Dividend Contenders" arguably offer greater potential for growth, just because they have more room to grow. This can be an especially attractive attribute for dividend growth investors to blend with larger cap blue chips such as Johnson & Johnson (NYSE:JNJ), Procter & Gamble (NYSE:PG), PepsiCo (NYSE:PEP) or Coca-Cola (NYSE:KO). If you search hard enough, you can find candidates with equivalent yields of the large caps but with faster growth opportunity. Consequently, the portfolios growth yield (yield on cost) can potentially be much stronger.
In order to test this thesis, we screened David Fish's list of "Dividend Contenders" found here (approximately 147 companies) utilizing the following criteria:
Screens
We screened for companies with consensus estimated above average five year EPS growth (the S&P 500 average has been 6%). Our objective is to achieve an above-average growth yield (yield on cost).

We eliminated companies with market caps above $25 billion. This to somewhat mitigate the law of large numbers.

We looked for a starting dividend yield of at least 2 1/2% (S&P 500 current yield 1.9%). An above-average beginning dividend yield provides a head start on beating the average.

We looked for companies with current PE ratios below their historical norm, therefore, currently trading at relatively sound valuations. Sound valuation can reduce risk and enhance return.

Since our focus is on a growing dividend income stream, we screened for companies with strong cash flows and minimal debt. Although we were willing to accept a debt-to-equity ratio of 50% or less, we preferred a debt-to-equity ratio below 20% (note: debt to equity ratios are not provided on financials).
8 Dividend Contenders to Consider Buying Today
On the basis that a picture is worth 1000 words we offer the below graphics which are miniature versions of the F.A.S.T. Graphs ™ research tool in a live and interactive form. Clicking on the gray button with the stock symbol generates a full working version of each respective companies' F.A.S.T. Graphs™. Therefore, the reader will be able to instantly evaluate the earnings and price relationship on each of these companies.
The following graphics also list our eight selections by order of cap size and estimated EPS growth. We have four large cap companies, two mid-cap companies and two small-cap companies for the reader to review. For purposes of these reports, a large-cap is any company whose market capitalization is over $5 billion, a mid-cap company includes companies from $1 billion- $5 billion, and finally a small-cap is $1 billion or less.
Since this article focuses on companies capable of generating an above-average growth yield (yield on cost) we highly recommend that each sample graph is drawn using the three cash flow overlays. Even though each company's payout ratio can be found in the performance section of each F.A.S.T. Graphs™, each company's cash flow generating capabilities are important indicators of future dividend payments.
Simply check the respective cash flow overlays box in the navigation bar to the left and redraw the chart.
Cash flow mnemonics:
C = Cash flow per share-this concept is cash flow divided by common shares outstanding.
F= Free Cash Flow per share-this concept is Operating Activities minus Net Cash Flow minus Cash Dividends minus Capital Expenditures divided by Common Shares Outstanding.
O= Operating Activities Net Cash Flow-this concept represents the net change in Cash from all items classified in the Operating Activities section on a Statement of Cash Flows. This item includes changes in operating assets and liabilities.
We also suggest running each graph over numerous time frames. For example, from the default 15-year graph shorten the time to a 10-year graph, then a 5-year graph, etc. This exercise helps determine whether growth rates are accelerating or decelerating. Play with the F.A.S.T. Graphs™ tool and experience the power of researching stocks deeper and faster based on fundamental values.
4 Large Cap Selections
Only General Dynamics Corp. (NYSE:GD) is forecast to grow earnings at less than 10%. Nevertheless, its low valuation and over 3% dividend yield compensate for its lower expected growth rate. The other three selections are expected to grow earnings in excess of 10% per annum.
Although Meredith Corp. (NYSE:MDP) is technically expected to grow earnings below 10% per annum, the expected 9.7% growth rate is very close. With a dividend yield greater than 4%, Meredith Corp. looks like an attractive long-term opportunity with a single-digit PE ratio. Owens & Minor Inc. (NYSE:OMI) looks like a solid choice for the 2.8% dividend yield and historically low valuation.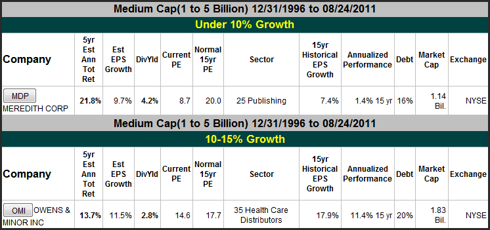 2 Small Caps
Both of our small-caps are expected to grow earnings at a 10% or better rate. Even though BankFirst Corp. (NASDAQ:BANF) is our smallest holding, prospective investors should consider that as a regional bank its long-term growth may be limited. Also, McGrath RentCorp (NASDAQ:MGRC) is also a niche company but growth prospects could be large. The 3.8% starting dividend yield is a plus.
This screen of the "Dividend Contenders" list produced these eight companies whose smaller size gives each business room to grow. Only two of them, General Dynamics (the biggest) and Meredith Corp. (MDP) are forecast to grow earnings at less than 10% per annum. All but one of them, McGrath Rentcorp (MGRC), trades at a discount to their historical normal 15-year PE ratio. However, McGrath Rentcorp (MGRC) can be bought at a historically normal PE ratio, a valuation that would be considered fair and attractive.
Based on the consensus estimated EPS growth from leading analysts, each of these eight selections is poised to generate double-digit returns going forward. Of course, this assumes that the consensus estimates are met. However, considering that each of these companies have, by definition as a Dividend Contender, increased their dividend for at least 10 years running, does provide some confidence. Furthermore, each of these selections offers a strong balance sheet and a solid history of strong cash flow generation.
The recent weakness in equity markets provides an attractive opportunity to evaluate these "Dividend Contenders" more fully. Therefore, now may be a great time to augment and possibly accelerate the dividend growth rates of your portfolios buy investing in smaller, fast-growing "Dividend Contenders", with strong balance sheets, sound valuations and a history of strong cash flow generation.
Disclosure: I am long KO, PG, PEP, JNJ, MCHP.
Disclaimer: The opinions in this document are for informational and educational purposes only and should not be construed as a recommendation to buy or sell the stocks mentioned or to solicit transactions or clients. Past performance of the companies discussed may not continue and the companies may not achieve the earnings growth as predicted. The information in this document is believed to be accurate, but under no circumstances should a person act upon the information contained within. We do not recommend that anyone act upon any investment information without first consulting an investment advisor as to the suitability of such investments for his specific situation.