Has a new recession already begun? We think so. Has another bear market begun? We think so. Others think differently than us, however. Many view the recent downdraft in the market as just another correction in the two-year bull. Bernanke is somehow still confident that growth will resume again in the second half of the year. I guess the worst Philly Fed and consumer confidence numbers in decades were just anomalies and not numbers seen during a recession?

While we feel confident that our bearish views will be vindicated in the coming weeks, Friday's reversal was nonetheless strong and could presage a brief push above 1,200 the next few days. With no real leadership in the market besides Apple (OTC:APPL), CF Industries (NYSE:CF), and a surging Universal Display (NASDAQ:PANL), this rally will be short-lived, however, just as all bear market rallies are. Bull markets need strong leadership; currently we see none of it.
While bearish for the next six to eight weeks, we still continue to believe that the gold-mining stocks remain the most logical group to lead what we see to be a longer-term oriented bear market rally later this year/early next. In many ways, the move has already begun. To see what we mean, let's take a look at the 2-Year weekly chart of the gold-mining index, GDX (NYSEARCA:GDX).

GDX 2-Year Weekly Chart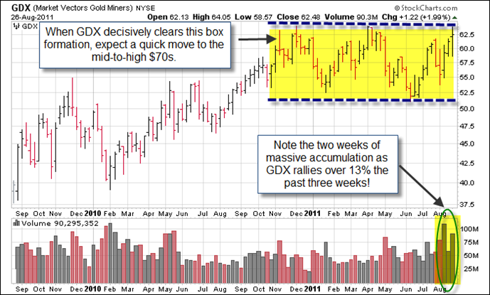 Click to enlarge
Source: StockCharts.com

Note the significant accumulation in the ETF in two of the past three weeks. If there is anything that always wins out over both sides of any argument regarding a stock or the market, it is price and volume. As the big boys earnestly begin to move into a leading group, the evidence is always there for the discerning eye on the weekly charts. Look at PANL's 3-year after last week's move to see what we mean.
To increase the odds of success, break-out candidates should see many weeks of institutional interest and accumulation before the actual break-out occurs. Think about it. With sellers cleared out by the time the break-out occurs, there is nothing but buyers ready to bid the stocks up. This is how gaps develop in leading stocks and in leading groups. This is what the gold mining stocks are now experiencing: fresh institutional interest that will swell in the next few months. As sellers get cleared out in the next few weeks, this will eventually usher in gap-ups into names such as Agnico Eagle Mines (NYSE:AEM) and Newmont Mining (NYSE:NEM) after their earnings get reported, cash flows surge and dividends are increased.
A major driver of the recent accumulation into the group has ironically come from an area that has heretofore not shown the miners any love: the analyst community. During the past month, Newmont has received three upgrades. The "upgrade train" began in early August when Stifel Nicolaus upgraded the stock from a hold to a buy, while lifting their price target to $76. Last week saw two additional upgrades. Citi raised their price target to $80. After being negative on the stock, RBC switched gears and became one of the company' most ardent bulls with its $87 price target.
With higher assumed gold prices came higher earnings estimates from these three analysts last week. This trend should only accelerate in the coming months as additional analysts tweak their estimates higher once they realize that $2,000 will only be a stopping point for gold, not the top. To that end, for those that believe that the long-term secular bull market in gold is over after one painful correction, get real. Gold showed investors how a 10% correction in a secular bull market works: they are quick to the downside, prices quickly stabilize and recover while barely putting a dent into any of the important moving averages. Even during its 3-day melt-down after margin requirements were lifted in both China and in the U.S., note how GLD held its 20-day SMA:
GLD 3-Month Chart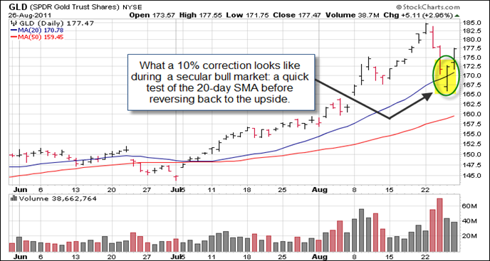 Click to enlarge
Source: StockCharts.com

Is it possible that Gold needs a few more weeks before its next up-leg begins? Sure, that could very well be the case. If this were to occur, this would actually lay the groundwork for a more powerful move to the upside and an eventual push through $2,000. Note how both Goldman and J.P. Morgan raised their price targets on the underlying metal this past month, with J.P. Morgan stating that gold could hit $2,500 by the end of 2011. We expect these and additional upside projections on the yellow metal to ultimately allow additional institutional investors to gain comfort with buying gold in the $2,000s.
Just as Fred Hickey predicted in his newsletter last month, as this process unfolds new institutional investors will be forced to play catch up after missing out on Gold's move to $2,000. With a limited number of big-cap miners to choose from, this should usher in a major move in all the mining stocks. Even those with questionable reserves will eventually jaunt higher.
Looking ahead, we expect a new down-leg in equities to play out over the next 6-8 weeks. As this occurs we plan on adding to our existing allocations in GLD, DGP, GDX, and into individual miners such as Newmont. Expect a big dividend raise at Newmont to usher in a big gap up in the stock later this fall. If our bearish view plays out, we expect downside for the gold-miners to be contained, with all of the stocks in the group forging higher highs in the coming weeks. Ultimately, such a move will prove to be constructive and the final stage of accumulation needed before the miners stage big moves higher. Patience is therefore a key element to all of these trades.

Disclosure: I am long DGP, GLD, GDX, NEM.