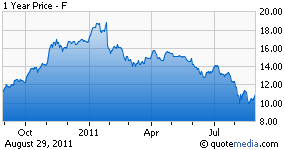 With the S&P 500 down 14% (as of market close on August 26) from its May 2 post-financial crisis peak, now is a humbling time for most people who own equities. As battered investors try to parse out which stocks represent a bargain from those that are fool's gold, one candidate is Ford (F). I originally wrote about Ford's potential in April 2009 with the shares at $3.25, and wrote again that it still made sense to add to positions in September 2010 when the stock was at $12.44. The shares later reached a peak of $18.97 on January 13, but closed last week back down at $10.40, with a P/E ratio of 6.21. I think this makes the shares a bargain -- here's my reasoning:
Ford's management and engineering turnaround is ahead of GM's
While I continue to believe that the long-term prospects for GM's (GM) shares are good (see my article here), at its current valuation Ford's short-term exposure to downside risk is likely lower than GM's. CEO Alan Mulally is now well established as a successful car manufacturer chief executive, saving Ford from bankruptcy despite initial doubts that an industry outsider could do the job. Career Ford executives like Mark Fields, executive vice president and president for the Americas, have melded to key leadership roles, preempting succession concerns. And while GM has enjoyed early successes like the Chevy Cruze, Ford's revamping of its line is more advanced. The company took a hit when problems with its "Ford Sync" sound system lowered its annual quality rating (see CNN article here), but Ford is making improvements based on customer feedback (see Alan Mulally's USA Today interview here), and correcting the electronic system should be an easier fix than if problems with basic automotive engineering had been the culprit.
Ford's product line is more resilient to gas price hikes
A corollary benefit of the maturity of Ford's turnaround is greater resiliency to gas price hikes that have previously broken the U.S. auto industry's back, especially in the light truck segment. According to Corporate Average Fuel Economy ("CAFE") statistics generated by the National Highway Traffic Safety Administration, the average mileage of a light truck in Ford's lineup is 24.3 compared to 23.2 for GM (see government report here). While still behind Toyota (TM) (24.7), and Honda (HMC) (25.4) in light truck mileage, this makes Ford's risk profile for rising oil prices lower than GM's.
Long-term prospects for growth in Asia are not priced in
In the most recent quarter, Ford's operations in Asia, the Pacific and Africa yielded a measly $1 million in pre-tax profits versus $113 million for the same period in 2010. (see slide 21 of Ford's 2011 Q2 earnings review at p. 22 here). This was due largely to structural investment squeezing margins (see CFO Lewis Booth's discussion in the transcript of Ford's Q2 2011 results here and slide 22 of Ford's 2011 Q2 earnings review at p. 23 here). Ford has ambitious plans for Asia, with the current objective of adding 340 new dealerships in China by 2015 (see slide 6 of Ford's 2011 Q2 earnings review at p. 7 here). To put that in perspective, the number of dealers Ford will be adding in China will exceed the total number of Lincoln dealers in the 130 top U.S. markets after planned reductions (see Reuter's article here). There will undoubtedly be challenges in managing the joint ventures than run Ford's Chinese operations, but even moderate success should move Ford's profitability in Asia significantly beyond present levels.
Conclusion: Good long-term play with reduced short-term risk at current valuation
Ford's business remains overwhelmingly a North American operation, with 84% (see slide 11 of Ford's 2011 Q2 earnings review at p. 12 here) of its pre-tax profits coming from North America. Not surprisingly, the shares are dragging on concerns of a U.S. "double-dip" recession, and may not fully recover until that storm passes. But in the meantime the company is still a good story, with a shorter path to full recovery and more resilience to shock factors than GM, and good long-term prospects for increasing Chinese emerging market returns. This supports the thesis that entering at current price levels with a willingness to wait for a more sustainable U.S. economic recovery will be rewarded.
Disclosure: I am long F.