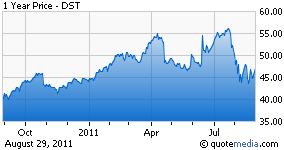 DST Systems (DST) presents an interesting situation for analysis. The company is primarily a provider of recordkeeping and account management for mutual funds and other financial sector participants. The company currently offers a P/E ratio of 8.33, which would normally indicate a company that is undervalued. However, DST Systems has been losing accounts under management for the last few years, a situation that it is attempting to rectify with acquisitions, and so a low earnings multiple may well be appropriate under the circumstances. But the a key element of DST Systems' valuation is that out of its market cap of $2.1 billion, approximately one billion dollars consists of a portfolio of stocks and private equity investments. When we subtract these assets and consider only the company's operating assets and income from operations, we find that the company does in fact offer a P/E ratio from its operations of only 5.6, which suggests a very attractive opportunity.
DST Systems' primary business is in financial services. In this sector, which represents 2/3 of total revenues, the company offers a proprietary system that allows mutual funds and similar entities to handle purchases and redemptions, track shareholder ownership, keep track of and reconcile cash in and out as the result of sales, dividends, and broker fees, and generate statements and tax forms. DST also provides solutions to handle client servicing online and to automatically generate records of account activity for the use of clients' financial advisors. It also provides recordkeeping and administration services for defined contribution plans [401(k)s, etc.] The company also offers a system for the automated processing of client instructions both within the financial services industry and among other sectors such as healthcare providers, insurance providers, and telephony/broadband companies.
Outside of the financial sector, DST Systems provides processing services to the health plan and pharmacy industry, including claims processing, benefit plan management, care management, and automatic billing. The company also provides print and electronic billing and payment processing, as well as direct marketing services for a variety of clients.
Nearly half of DST's total revenue comes from the mutual fund and investment management industry. Owing to industry conditions and several former clients decided to handle their accounting in-house, declining to 111.8 million total accounts from 124.9 million one year ago. Furthermore, the company reported in its latest 10-Q that two additional clients representing a further 8.4 million accounts had indicated their intention to terminate their contracts. The company has also reported other contract terminations in 2010, although these resulted in termination payments totaling $70.3 million dollars net of costs.
DST has been on an acquisition spree lately, presumably in order to diversify its revenue sources and replace missing clients. In 2010 DST acquired a 70% interest in dsicmm Group, a U.K. firm that provides integrated print and communication solutions. In that same year it bought out the remaining 50% interest in Argus Health Systems, a provider of pharmacy claims processing and related services. Since the beginning of 2011 the company has made a number of other acquisitions, including Newkirk, a provider of communications and investment information for clients in the retirement planning, managed care, and wealth management, Subserveo, a provider of compliance and surveillance systems for broker-dealers and investment advisors, and Finix, a financial consulting firm. Since the end of the second quarter of 2011, DST has also acquired IntelliSource Healthcare Solutions, an automated care management systems provider, ALPS Holdings, a provider of asset servicing and management for mutual funds, ETFs, and alternative investment funds, and Lateral Group Limited, a U.K. company that performs data-driven multichannel marketing.
Turning now to the figures, I mentioned earlier that much of the company's value is represented by its portfolio holdings. As of the latest 10-Q DST owns 10.3 million shares of State Street Corporation (NYSE:STT), 15 million shares of Computershare Ltd., an Australian company, and 1.9 million shares of Euronet Worldwide (EEFT). Based on August 26, 2011 closing prices these three positions have a combined value of $499 million. In addition to these holdings, the company owns other securities available-for-sale carried at $225 million, $49 million in trading securities, $16 million in securities held-to-maturity, and $219 million in private equity investments, which are carried at cost. Assuming that these prices are still reliable, this produces a total value of DST's investment holdings of $1.01 billion. This figure represents almost half of the company's total market cap of $2.12 billion.
As a result, the market is placing a value of only $1.11 billion on DST's own operations, and based on DST's free cash flow generation abilities, this price offers an earnings yield of 18%.
In 2010 revenues were $1.714 billion and income from operations was $275 million, netting out the contract termination payments, plus $36 million in earnings of their affiliates. DST also receives an excess depreciation allowance of $42 million, producing operating cash flows (not counting changes in working capital) of $353 million. Interest expense was $46 million, producing pre-tax free cash flow of $307 million, or $200 million after taxes at an estimated 35% rate.
| | | | |
| --- | --- | --- | --- |
| | 2010 | 2009 | 2008 |
| Sales (millions) | 1714 | 1595 | 1675 |
| Operating income | 275 | 274 | 346 |
| Earnings from affiliates | 36 | 37 | 35 |
| Excess depreciation | 42 | 32 | 14 |
| Operating cash flow | 353 | 343 | 397 |
| Interest expense | 46 | 42 | 55 |
| Pretax free cash flow | 307 | 301 | 342 |
| Est. after-tax free cash flow (35% rate) | 200 | 196 | 222 |
The first half of 2011 is in line with these results. For the first two quarters of 2011, sales were $854 million as compared to $875 million for the same period in 2010. Operating cash flows were $187 million versus $181 for the same period in 2010, once the contract termination payment is removed. Estimated free cash flow for the first two quarters of 2011 were $106 million, versus $103 million for the same period in 2010.
According to this article, DST Systems received and rejected a buyout offer in June of 2011, and has retained investing bank Merrill Lynch and law firm Skadden, Arps to review its business. One analyst quoted in the article, Peter Heckmann of Avondale Partners LLC, believes that DST Systems is receiving no credit for its investment portfolio, which he argues should be liquidated, and that the company is worth $62 per share in its present form and $75 in a buyout. A $62 price would produce a multiple of 9.4x based on 2010 free cash flows plus the $1 billion value of the portfolio.
I am not familiar with Avondale Research's complete research and so I cannot comment on it, but I will say that a multiple of 9-10x is reasonable for a company with a flat earnings profile. As a result, I can say that at its current price, and taking the value of its portfolio into account, DST Systems presents an attractive opportunity and should be considered as a candidate for portfolio inclusion.
Disclosure: I have no positions in any stocks mentioned, but may initiate a long position in DST over the next 72 hours.