In my recent article published August 22, I made the following point regarding the overall equity markets at that time:
To be clear, I'm not saying we've seen the bottom yet…which, if we were only focused on "value" and "fundamentals," we could argue we're already there….but rather that the market, by taking out close to 20% of equity valuations overall and in many quality individual names well over that amount, is starting to get closer to an entry point rather than to an exit point.
The same thought came to mind earlier today when I was reviewing the carnage that has befallen so many quality companies and sectors in the past four weeks. Certainly no less targeted by market forces than any other group of stocks were the many ETFs of the emerging markets countries.
Emerging Markets opportunities have traditionally found their way onto the radar screen in a number of ways: directly buying companies in those countries, buying ETFs representing baskets of the largest and often multinational companies of groups of EM countries and/or of individual countries, and buying multinational US (or other developed countries') companies that have large streams of revenues and earnings flowing from their businesses in the emerging markets (effectively, an indirect channel to acquiring EM exposure).
Increasingly, among the many ETFs that provide access to EM countries are ETFs that are made up of baskets of companies that are mainly involved with domestic businesses, internal infrastructure development, local capital equipment and machinery companies, etc. One such ETF, the Emerging Global Shares INDXX Brazil Infrastructure Index ETF (NYSEARCA:BRXX), focuses on companies in Brazil that are involved in the country's infrastructure build-up. With the World Cup and Olympics coming to Brazil in 1014 and 2016, respectively, it's one that I keep a close eye on in order to assess its relative value.
A similar ETF made up of infrastructure companies coming from a broader swath of EM countries is the PowerShares Emerging Markets Infrastructure Portfolio ETF (PXR). It was this ETF that caught my attention, not only from my usual fundamental approach to determining value, but also from a technical chart perspective, which seemed to flash some signs that perhaps a moment to enter is closer at hand than a moment to exit.
Have a look at the chart below, to which I added comment boxes pointing out some basic technical observations.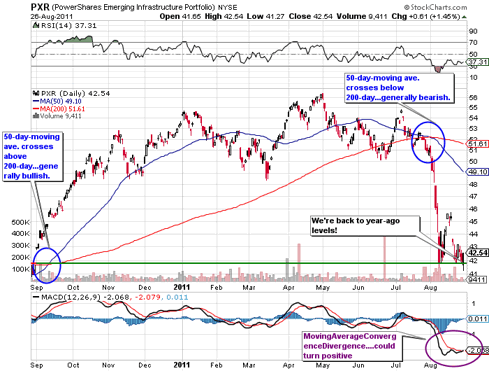 Click to enlarge
Source: StockCharts.com.
As always, each reader/investor is obligated to opine and decide for themselves the relevance of anything written in this article to their unique financial profile, risk tolerance and portfolio goals. One ought to consider if the chart is worthy of evaluation at least in the context of a longer-term view that emerging countries are truly emerging, and will likely be building up their infrastructure for years to come. For investors who hold that view, a deeper dive into the ETFs components might reveal companies whose stocks have been pummeled by the recent market rout, yet whose prospects for growth in the years ahead remain compelling.
The chart below is the same as the one above, but extended back two years. It shows that PXR has currently returned and entered the range that it occupied for most of late 2009 and 2010. While the chart clearly shows some downside potential, if it settles and forms a base in this range, it is possible that the 50-day moving average stops dropping like a rock (as seen in the first chart above) and might actually turn up towards the 200-day moving average (approaching a generally more bullish technical outcome).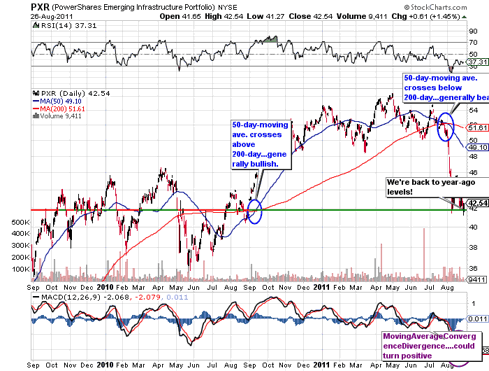 Click to enlarge

Again, this is pointed out purely as food for thought, and not as a recommendation nor as investment advice. But if you believe that entry points are generally closer at hand than exit points, doing some investigation and determination of value now can tee up a good shopping list for when you believe the moment to strike has arrived.
Disclosure: I am long BRXX, VWO, EEM.
Additional disclosure: I have no current position in PXR, but may initiate a long position over the next 72 hours. Positions may change at any time without notice.
Disclaimer: Please read and consider important information related to all communication made by Soos Global on SeekingAlpha.com by clicking here.