Big pharma stocks have taken three hits in recent years. The first hit came from the prospect of the expiration of blockbuster stocks. The second hit came from proposed budgetary cuts for Medicaid and Medicare. The third hit came from the recent correction, as major pharmaceutical stocks lost anywhere between 5% to 20%, before recovering slightly last week.
Click to enlarge charts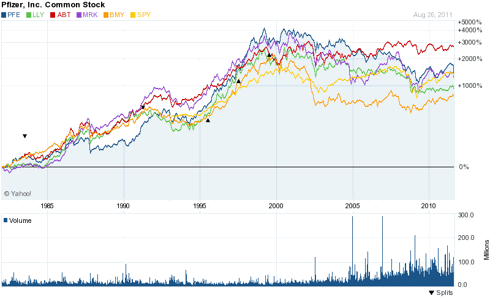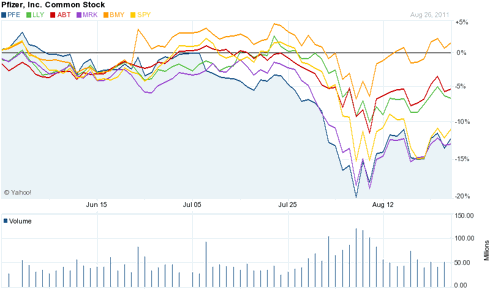 Though it isn't clear whether the correction is over, we do believe that it is time for investors to take a second look at five big pharma stocks - Pfizer (NYSE:PFE), Bristol Mayer's Squibb (NYSE:BMY), Abbott Laboratories (NYSE:ABT), Eli Lily (NYSE:LLY) and Merck (NYSE:MRK) - for several reasons:
1. The market has already discounted the expiration of blockbuster drugs and Medicaid and Medicare budgetary cuts.
2. All five companies enjoy hefty profit margins, ranging from 19% to 32%, and with the exception of Eli Lily they do enjoy hefty earnings growth.
3. They all pay hefty dividends, ranging from 3.80% to 5.5%, compared to 1.88% for S&P 500 stocks (NYSEARCA:SPY).
4. A strong pipeline of new products - some of which have already gained FDA approval. Pfizer and Bristol MAyer's Squibb recently announced positive results on their blood thinner drug.
Big pharma financial performance statistics in 2011:
Click to enlarge
Company

BMY

PFE

LLY

MRK

ABT

SPY

Dividend

4.60%

4.4%

5.5%

4.80%

3.80%

1.88%

Operating Margin

32.49

21.17

28.21

21.25

19.88

--

Qtrly Earnings

Growth

32.7

9.70

-11.2

169

50

--

Quarterly Revenue Growth

4.20

-0.40

8.80

7.10

9

--
Source: Finance.yahoo.com
The bottom line: Most of the bad news is behind for big pharma stocks. And with the Fed deciding to keep interest rates at record low levels, they offer an attractive alternative to money markets and CDs.
Disclosure: I am long LLY, PFE, ABT, BMY.