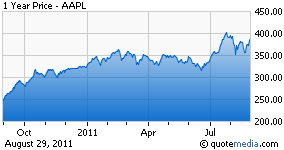 Warren Buffett once said, "When a management with a reputation for brilliance tackles a business with a reputation for bad economics, it is the reputation of the business that remains intact."
Upon the recent news that Steve Jobs had resigned as Apple's (NASDAQ:AAPL) CEO to become chairman, I started to wonder a little bit more about that quote. Clearly in Apple's case, "brilliance" would describe both the reputation of its management and its business. Upon the announcement, I did something else that I don't do very often. I turned on the television. But this time it was for a good reason. I felt the urge to pull out a recent DVR archive of an episode of "Titans," a CNBC videography where the show profiles remarkable people who made careers turning the unthinkable into reality and companies that grew from humble roots to worldwide recognition. This episode was about Steve Jobs. Though I had seen it several times before, this time however, a sense of emotion overwhelmed me. But that's as far as I'm going to allow you into my world.
What can be said about Steve Jobs that has not already been said? The real question here is where does Apple go from this point forward? Steve Jobs' resignation could hardly be called a surprise, in fact I think it was perfectly timed after the company had just announced one of its best quarters in recent memory. But what is sure to happen at this point is an acceleration in its unending process to find new markets, one that has been ongoing for quite some time. Investors should be pleased with Jobs' successor as CEO, Tim Cook, someone who I consider a brilliant executive. However competition in Apple's core markets is heating up from the likes of Google (NASDAQ:GOOG) and Research In Motion (RIMM), and that has left many to wonder, can Apple maintain its lead without its "CVO," or what I like to call "Chief Visionary Officer?"
These days, to get attention discussing Apple, one has to talk down the company. The thinking is, where there is so much positive talk about the company, it is easier to stand out if one "makes some waves." Mention Steve Jobs' health, bring up its inability to find new markets, or its inability to use excess cash, it goes on and on. But clearly, Apple is sailing on smooth tides and as the largest company in the world, there is no other company better suited to wear that bull's-eye. No other company so far has proven to be worthy of entering Apple's space without getting a merciless beating. But this was with Steve Jobs at the helm, who had an uncanny ability to see what is best for the world before the world recognized what it couldn't be without.
Contrasting The Competition
It's easy to point to Research In Motion, Google and Microsoft (NASDAQ:MSFT) as the major players in Apple's space. But when a company is now the largest in the world, one can argue that the competition is now Apple against "the field." Google took a shot at Apple when it announced that it had acquired Motorola Mobility (NYSE:MMI) for $12.5 billion. TechCrunch author Greg Kumparak explained it this way:
They're buying 20,000 employees (almost doubling their headcount.) They're buying an absurdly daunting armory of over 24,000 patents (I mean, come on, Motorola has the patent on

the cell phone

.) But there's one more thing that Google's buying, and it's one that shifts up the Android game all together: Nearly 30% of Android's existing market share in the U.S.
After years of owning next to none of the hardware market share for its own software platform (even the so-called "Google phone" Nexus devices are made by HTC and Samsung (OTC:SSNLF)), Google has just become Android's second biggest manufacturer.
As Greg correctly explained, Google saw an Apple advantage and wanted to take it away. But will it be enough? One of Apple's advantages has always been its platform unification whereas until Google's acquisition, others such as Google's Android, had more of a fragmented platform. When compared with the unified IOS of Apple, there were some major differences, particularly in the area of hardware configurations. From a customer's perspective that is something that might be overlooked, but from the standpoint of development, it raises questions. Developers tend to follow the platform that supports the largest population or "seats." In Apple's IOS, developers only need to create the app once and it becomes supported across all of Apple's platforms.
So, clearly in the apps space and hardware space there is a virtuous cycle where Apple has locked up the market pretty tightly. So it's hard for the others to get in. Apple likes to win its customers one at a time. It does not worry about the enterprise nor does it try to please the IT department. Its M.O. is to please the individual and not the enterprise.
Apple's Advantage
There are several major differentiators between Apple and the field, or the rest of the mobile devices market. I would point to some of the things that Apple has strategically taken advantage of, and others can as well, albeit, probably not to the same degree. These include having increased capacity of screens, more robust batteries with longer lives, low power and more efficient processing. For the most part, every brand and competitor has access to these same things and I believe that the overseas ODMs are very anxious to make these devices for any company that wishes to brand them.
The things that Apple has that others don't have is the ecosystem, particularly the developer network. Those who make the accessories, not to overlook the groups of people who support Apple. Then there is the most important factor of all - the customers and the buzz that surround every Apple product.
Summary
Any time there is a change in leadership it can be a traumatic experience for the company. If any company can withstand such events, it's Apple. Interestingly, the stock has climbed since the announcement, while many bears who once predicted a 50% decline in the stock have been surprisingly quiet. The fact of the matter is Apple is in great hands. When one considers how demanding Steve Jobs is, it is easy to imagine that he would have surrounded himself with people equally as demanding and productive. Investors must not overlook that Jobs remains with the company as chairman, a post that he will hopefully hold for quite some time. Just knowing that he will be around will be enough to allow Apple not to skip a beat.
Disclosure: I am long RIMM.