Apple (NASDAQ:AAPL) is a unique company due its size ($355B), earnings growth rate (125%) and volatility (1.3β). I have recommended option strategies on Apple since 2010 with tremendous results. For reference, please view the first and other articles in the series to fully understand the strategy and its strong potential returns.
Click to enlarge

A brief recap of the past week in Apple (up $19.07 - 5.2%):
The day that all investors and tech fans have feared for years has finally arrived: Steve Jobs announced his retirement from the CEO role at the company he founded. The absolutely shocking part? Apple finished up over 5% for the week. The chart above does not do justice to the resiliency of Apple's stock following Jobs' announced resignation as Apple was down over 5% after hours. Make no mistake that this is horrible news for Apple as Steve Jobs is impossible to replace. But I still see no real reason why Apple cannot grow earnings at high double-digits and reach $500. Competitors such as Google (NASDAQ:GOOG) and Hewlett Packard (NYSE:HPQ) are still weak and Apple is more than potent enough to continue to thrive. The iOS ecosystem is a well-oiled machine that will not collapse for years (if ever). This not the time to panic but instead is an opportunity to take advantage of others' uncertainty and buy into the relative weakness. The extreme volatility of the past few weeks is only going to intensify with Jobs' departure and uncertainty about the iPhone 5 so I urge you to take advantage and use options.
Below I present three possible scenarios and the potential returns for the September 2 weekly options (Source: TD Ameritrade). The first scenario represents a negative outlook for Apple while the final two scenarios are more reasonable. These scenarios are just projections and there is no guarantee that they will come to fruition. As a general rule, selling calls with higher strike prices has greater potential return but additional risk of loss due to the lower (or lack of) downside protection. For more information on the fundamentals of covered calls, consult Investopedia.
Click to enlarge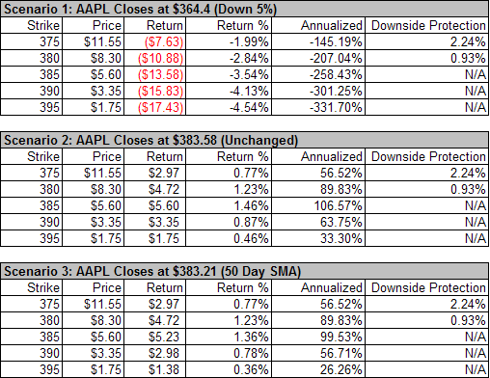 Additionally, if you would like even more information, I have prepared a sensitivity analysis for absolute return and percent returns, respectively. After studying the information above, these two charts make it easy to pick a strike price based on where you believe Apple will close on Friday.
Click to enlarge

With this information, executing a buy-write on AAPL September 2 (Weekly) 385s is the optimal risk-return strategy. If you are uncomfortable with this strategy I suggest an ordinary buy-write 390s or 380s. Additionally, if you are confident that the volatility will persist buying a 385 Call/375 Put long strangle to profit from these extreme price movements. An alternative approach is to sell out-of-the-money 380 puts and collect the premium without having to purchase the stock outright but even this is quite risky now. Note that if the stock declines to the strike price, you are obligated to buy the stock (or close out the position).
Disclosure: Author is long AAPL and GOOG; plans to write AAPL September 2 395 Calls.