Last week we only had 2 stocks on our 8/19 "Stocks to Watch This Week" list. The list is based on stocks reaching 52 week highs on two times relative volume on Friday. When the US equity market struggles as it has in recent weeks, this is reflected in the number of stocks qualifying for the list. This week we have 4 stocks and one ETF.
Stocks that are bucking the trend by trading higher while the overall equity market drifts lower are ones to watch. They may not be "immediate" buys or perhaps their trend is even ready to reverse. However, by looking for positive price trends, especially when driven by a company's earnings growth and quarterly report, we can create a list of stocks to watch.
Last week STAAR Surgical (NASDAQ:STAA) and Susser Holdings (NYSE:SUSS) were the two qualifying stocks. STAA finished the week up 18.71% and SUSS up 3.97%. STAA is also one the four companies on this week's list. It had no official news last week, so it appears accumulation has continued after its earnings were announced August 2nd. The stock appears ready to consolidate at these levels since it is overbought:
Chart courtesy of Finviz
Sturm, Ruger, & Co. Inc. (NYSE:RGR) also shows up on this week's list. The company designs and manufacturer's firearms. It has been in an upward trend since the middle of June. The company has solid fundamentals and has been buoyed by a strong second quarter earnings report in late July, highlighted by:
Quarterly net sales of $79.6 million and earnings of $.57/share, compared with second quarter net sales of $64.4 million and earnings of $.43/share in 2010.
Quarterly dividend of $.142/share, an increase over the $.097/share paid in May
The purchase of $2 million in company stock via a stock repurchasing plan. $8 million remains for future stock repurchases
The company has no debt and a current ratio of 3.2 : 1. It trades at a forward P/E of 16.87 with expected EPS growth of 11%+ next year. The stock has shown strong momentum, $24/share may have proved to be an optimal entry point in early August after its post-earnings "pop" followed by a brief pullback. If another consolidation is to occur soon, I would watch $28-$30 as a potential next level of support and a potential entry point:
Below is the entire list of 5 securities for this week: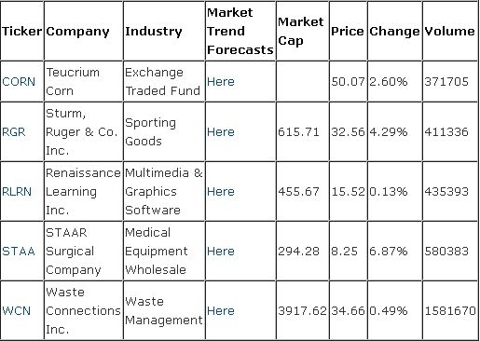 Disclosure: No current positions in stocks mentioned. Please note that Scott's Investments is not a financial adviser. Please consult your own investment adviser and do your own due diligence before making any investment decisions. Please read the full disclaimer at the bottom of Scott's Investments.