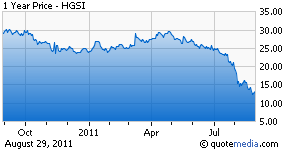 Investing in the biotech sector is a unique endeavor, both from the risk side and the reward side. The potential gains are enormous, but so are the potential risks. The stock you invest in may be the next Pharmasset (VRUS) or Alexion (NASDAQ:ALXN). But it could just as easily be the next Orexigen (NASDAQ:OREX) or Dendreon (NASDAQ:DNDN).
The company we would like to highlight is Human Genome Sciences (HGSI), a company with one approved drug, Benlysta, for the treatment of systemic lupus erythematosus (SLE). Before reading further, you must understand that Human Genome, like all other biotechs, faces risks totally different from companies we have previously highlighted. This stock is not for investors with low risk tolerance, for HGS will fall sharply should something go wrong with either Benlysta's ramp up or any of the other drugs in the HGS pipeline. That being said, we believe that the potential rewards outweigh the potential risks.
Ever since August 3, when Dendreon shocked Wall Street by pulling its guidance, shares of HGS have been steadily falling, as investors grow nervous that Benlysta could suffer the same fate as Provenge. HGS and other single product, pre-profit biotechs have seen their share prices fall as they battle the "Dendreon effect."
Click to enlarge


Click to enlarge
But we believe that Human Genome Sciences has some things going for it that Dendreon does not, making it a great play for risk-tolerant investors.
HGS reported its quarterly results 12 days before Dendreon did, and we do not think that things had materially changed in 12 days to warrant such a steep drop in HGS shares, to say nothing of the implosion that Dendreon suffered. Secondly, while Dendreon is launching Provenge alone, thus maximizing both the potential profits and the potential losses, HGS has partnered with GlaxoSmithKline (NYSE:GSK) to launch Benlysta. GSK would not invest hundreds of millions in Benlysta if it did not see a good opportunity to recover that investment and make a profit on it. We believe that this endorsement of Benlysta by a huge multi-national pharmaceutical company is what sets HGS apart from Dendreon. In addition, HGS has "has substantial financial rights to a number of products in the GSK clinical pipeline. Two of these have advanced to Phase 3 development" (click here). We believe that the tie-up between these two companies will be very advantageous going forward, perhaps even leading to GSK acquiring HGS. While these rumors have persisted for years, HGS' depressed stock price may beckon GSK.
Analysts are seemingly split on Human Genome Sciences. Lazard has maintained a $36 price target on the stock, while S&P has cut it twice in the past month, from $34 to $30 and then all the way down to $19, which would still represent 50% upside from current levels. Brean Murray Carret & Co. initiated coverage on August 23, setting a buy rating and $22 price target, saying the stock has been oversold dramatically, pricing in the worst case scenario for Benlysta. Piper Jaffray cut its price target from $31 to $18, but noted that if GSK were to bid for the company (at a discount to Benlysta's market value), "Human Genome shares could be valued at a range of $21 to $26 given recent biotech deals."
We will be blunt. It is entirely possible to lose a great deal of money investing in Human Genome Sciences, as with any other biotech. But we believe that the downside has been priced in at these levels, and that the backing of GSK means that HGS should see a different fate than Dendreon. We think this is a good time for risk-taking investors to add to or initiate a position in Human Genome Sciences.
Disclosure: I am long HGSI.