Coke (NYSE:KO) has been regarded as one of safest stocks to own because people will always use its products. It has proven its ability to turn a profit in thick and thin - and it has always given this profit to shareholders in the form of a dividend.
This simple principle has allowed Coke to thrive for over 100 years. Coke has pretty much reached its maximum capacity in growth as the biggest beverage manufacturer in the world. It produces Coca-Cola as well as many other popular drinks such as Sprite, Tropicana, Minute Maid, Dasani and in other markets offers coffee drinks. Its high profit margin at 30% encourages the company to pay a consistent dividend that has been raised over the past five decades. Warren Buffett realized years ago that Coke could consistently get a return, pay a dividend, increase the dividend and at that time could grow earnings. He bought Coke and made one of his biggest profits. Since then many conservative and defensive investors have bought Coca-Cola. Even now it is able to pay a 2.7% yield with only a 34% payout ratio. However, this mediocre yield coupled with just a fair P/E of 12.76 doesn't produce the returns that we would like to see. Even with a 4% growth rate, Coke won't earn more than 9% a year for shareholders over the next five years.
Normally, this return may be attractive but with the current discounts the market is giving it would be better to look for a lower valued stock that could return more to shareholders. AT&T (NYSE:T) is one stock I found that meets this high return, high yielding criteria. It seems AT&T is taking Coke's place as the "best" long-term stock.
In my search I looked for stocks with high yields, high profit margins, low payout ratios, low P/E's and a large market cap. This type of screen will give stocks that are paying a nice yield but will be able to sustain that yield based on profit margins and payout ratios. In addition, the low P/E means that the dividend yield may be high because the market has priced the stock below the actual value.
AT&T met all of this criteria and through further examination seems to be above and beyond. AT&T has a profit margin of 16% which will allow it to remain competitive within its industry and produce a return in any economy. This statistic is further improved when you add on the small debt/equity (50%) relative to its peers (310%), yet it is still able to produce a ROE 4.8% higher than its peers (18.8%-14%). With such a high profit margin you would want to see a nice dividend. AT&T pays a dividend yield of 5.9%. This offers a more attractive return than Coca-Cola even when you account for the higher payout ratio. With such a high yield you may be worried that it is unsustainable but this is not the case.
A yield of 5.9% is high but the payout ratio for AT&T is only 50%. A low payout ratio signifies that the dividend is sustainable and the return is high. If you multiply the yield by the 100/Payout Ratio, your total return on price will be approximately 12%. This is far higher than Coke's 9% return, especially because both companies are so large which makes high returns harder to find. Even if earnings take a big hit AT&T will be able to pay and increase dividends. This is in line with its long record of increasing dividends. In addition, it is unlikely that AT&T will lose its earnings considering AT&T's dominance in the market as many people and businesses rely on the company and its competitive cost structure discussed earlier. Few companies have paid dividends as long as AT&T and Coke but there are others such as Exxon Mobil (NYSE:XOM), Lowe's (NYSE:LOW) and Procter & Gamble (NYSE:PG). Although I don't endorse buying just any dividend stock, those companies that have consistently raised dividends for a few decades tend to outperform the market and offer a lower risk.
The high profit margins and low costs alone wouldn't allow for such a high yield. This yield is due partly to the low valuation of AT&T. Currently, AT&T is trading at a P/E of 8.45. A low P/E generally means you can lock in a good return on earnings. If the dividends are 50% of earnings, then you can lock in a nice yield too. So you definitely should consider buying AT&T to get this yield while it is at a low price.
But is now the time or should you wait for the market to go even lower? In this chart of SPY you can see the market is bottoming and is at a relatively low price. You can examine a more in-depth analysis of this in my post, Market Hitting Bottom. This offers a fairly advanced technical analysis of the current market conditions. It correctly predicted the recent rally in stocks ((NYSEARCA:SPY)) and downturn in gold (NYSEARCA:GLD).
Click to enlarge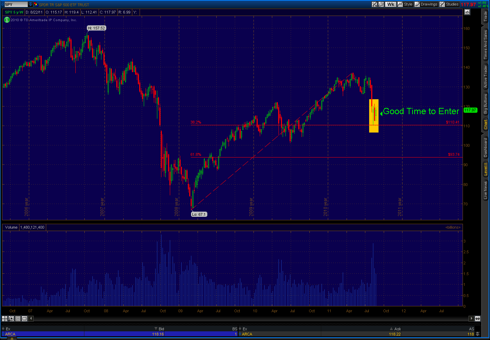 With the cheap prices that almost all stocks are experiencing, investors are scrambling to buy stocks and lock in a good price. What few realize is that while most stocks are cheap, few are safe and even fewer offer such an attractive return as AT&T.
Many investors are looking to Apple (NASDAQ:AAPL) thinking the recent stepping down of Steve Jobs presents a discount. Others are looking to follow Warren Buffett because of his recent deal with Bank of America (NYSE:BAC) by either buying Berkshire Hathaway (NYSE:BRK.A) or BAC. The conservative investors are adding to their positions in Coke (KO) and McDonald's (NYSE:MCD).
While these investments may prove to be profitable, it would be better to get a higher return with AT&T (as opposed to KO and MCD) and a lower risk (than AAPL or BAC). AT&T has a competitive lineup of products, a great cost structure, a high profit margin, high yield and a high PE percentage-otherwise known as return on price. There are of course risks in owning AT&T, but I believe the main reason it is at such a low price is because of the general market inefficiency from the recent (and current) fears of another global recession.
Disclosure: I have no positions in any stocks mentioned, but may initiate a long position in T over the next 72 hours.