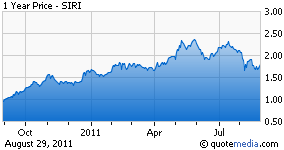 I have been invested in satellite radio for quite some time. As a fan of the service I have enjoyed Sirius XM (NASDAQ:SIRI) for many years. As an investor, I have found it quite revealing to observe the competition, and I have recommended many times that investors not only try other new services, but spend time listening to terrestrial radio as well. The reason for this is that satellite does not exist in a vacuum, and the competition does not stand still.
A prime example of this is Clear Channel (CCMO.PK). The terrestrial radio giant has made some pretty bold moves over the past year. If you have been glued to Sirius XM for all of your audio entertainment listening, you may have missed a few details that millions of consumers are being exposed to. One such detail is Clear Channel's Internet Radio business titled iHeartRadio. Another more recent development seems to be a possible business relationship between Clear Channel and Liberty Media's (LCAPA) QVC.
I have spent the last week or so tuning into the FM radio dial. While listening to a popular Orlando radio station, XL106.7, I heard a weekend DJ conduct a contest where the correct caller was awarded whatever happened to be on QVC at the moment. In this case it was a memory foam mattress worth several hundred dollars. It is an interesting concept in marketing. QVC supplies prizes and in return receives exposure as well as a "coolness" factor with a younger audience.
As many Sirius XM investors know, Liberty Media has just under a 40% stake in Sirius XM. So why is Liberty, which is rumored to possibly be taking over Sirius XM, doing business with Clear Channel? The answer is staggeringly simple yet many Sirius XM investors are so passionate and so blinded that they fail to see it. Simply stated, Liberty Media, and QVC for that matter, are in the business of making money. If a deal with QVC makes money, why not do it?
The next natural question is why Liberty's QVC does not have a similar deal with Sirius XM. The answer to that question may be Mel Karmazin. Mel is also in the business of making money. The problem is that the type of promotion QVC has with Clear Channel cannot be easily replicated on Sirius XM. Clear Channel advertises on music channels, Sirius XM does not. With advertising only on talk, sports and news channels, the contests that run on a terrestrial hip-hop station simply cannot work on Sirius XM. Thankfully for Sirius XM investors, the company makes money not on advertising, but on subscription fees.
Looking deeper, it is perhaps also a good lesson for Sirius XM investors to know how Liberty Media operates. The company operates to make money. If they feel Sirius XM will make them more money by buying Sirius XM out, then that is the path that may be taken. However, if they can monetize their investment and do not need the other 61% of the company (or an additional 11% to have controlling interest), then that is the path they will take.
If I had to guess, Liberty will eventually make a move to gain controlling interest of Sirius XM via a tax friendly Reverse Morris Trust. I would also venture to say that the current management team of Sirius XM will remain in place throughout this process. With the three year window for NOL (Net Operating Losses) protection recently expired, Liberty can make a move at any time. The fact that it has not happened yet should not be viewed as a sign. Liberty is trying to do a spin off that includes its stake in Sirius XM, but that issue is currently tied up in litigation.
Will Liberty and Sirius XM ever "synergize" some of their businesses? QVC and Liberty's Live Nation seem like natural candidates, but as yet nothing really major has happened. Some dream of a Nook connection because of Liberty's interest in Barnes & Noble (NYSE:BKS), but that is still far fetched at this point. If Liberty/Sirius XM synergies are to happen, it will likely take Liberty gaining control of the company first. Nearly three years into its investment into Sirius XM and we have yet to see a major deal happen betwwen the satellite radio company and its biggest shareholder. Do not expect one soon. Karmazin and Malone are both playing hardball.
Disclosure: I am long SIRI.