Click to enlarge chart
Market Opinion: The market took off after hearing the Fed will not be releasing QE3. However, Chairman Bernanke did mention that the Fed was open to using different measures to stimulate in the economy if needed.
I continue to assert that the Dow Jones Industrial Average (DJIA) will trade in a range between 10,500-11,500 for August. If I must choose a short-term direction for September, I expect a sharp move to the upside. Technically, the Diamonds (NYSEARCA:DIA) has never closed in the red for more than four consecutive months in the last nine years. If we close negative for August (which we probably will), then I anticipate we will see a positive close for the month of September. Past occurrences in October, November, December, January '07-'08 and August, September, Octobers '08 show that the market has at least a relief month before resuming its downtrend trend in bear markets. The argument becomes stronger for a positive September if we look at market favorites. Stocks like Dollar Tree (NASDAQ:DLTR), Apple (NASDAQ:AAPL), Under Armor (NYSE:UA), Amazon (NASDAQ:AMZN) and Green Mountain Coffee Roasters (NASDAQ:GMCR) all look poised to increase in value as momentum has been building over the past couple days.
Let's focus on the possible positive move this week with the following positions:
Option Trade: Ralph Lauren (NYSE:RL)
Economic news shows that retail sales beat expectations. Since retail sales have now increased for the past two months and stores such as Saks Fifth Avenue (NYSE:SKS), Tiffany & Co (NYSE:TIF) and even laggards such as Bebe (NASDAQ:BEBE) have beat expectations the industry seems to be showing some strength regardless of low growth worries. I like holding Ralph Lauren especially after the stock beat EPS numbers on August 10th by 29%. RL is currently trading above all moving averages (20,50,& 200SMA) with very strong support at $115.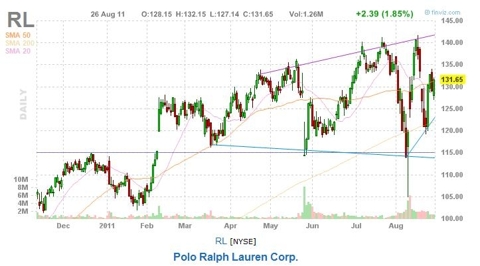 Suggested Trade: RL - September 115/110 Vertical Put Spread (Sell 115, Buy 110)

Entry: Sell limit 0.55
Stop Loss: X
Exit Price: Wait to expire worthless
Max Return: 12.35%
Option Trade: Goldcorp Inc (NYSE:GG)
The intra-day sell-off in gold last week was followed by a quick rebound off $1,705/ounce. It seems as though the uptrend in gold is back on the rise. The last time we played Goldcorp, I did not wait for our 46/45 bull spread to expire worthless. This time I think you can sell the 46/45 put spread and wait until expiration.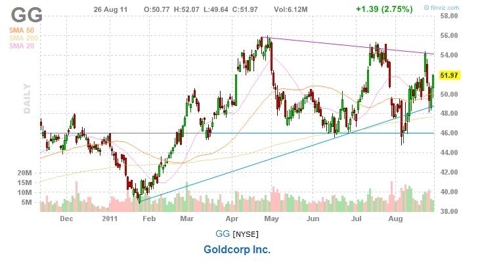 Suggested Trade: GG – Sell September 46/45 Vertical Put Spread
Entry: Sell limit 0.08
Stop Loss: X
Exit Price: Wait to expire worthless
Max Return: 8.69%
Option Trade: Gilead Sciences (NASDAQ:GILD)
The only reason why Gilead Sciences has moved down recently is due to the recent market sell off. Fundamentally, this bio-tech/drug stock is in great shape. Gilead has beaten earnings 10 out of the last 12 past quarters. Quite recently, the stock reported the highest EPS numbers in three years with its highest revenue seen since Q1 of 2010. After beating expectations on July 26, numerous analysts upgraded the stock:
August 16: GILD price target raised at Deutsche Bank to $53 from $45

August 16: GILD added to Focus list at JP Morgan with a $50 price target

August 22: Piper Jaffray said GILD shares should be bought at current levels

August 26: GILD initiated with a Buy rating at ThinkEquity
I also think Gilead has been oversold, and this is the time to invest in the stock near strong support at $36.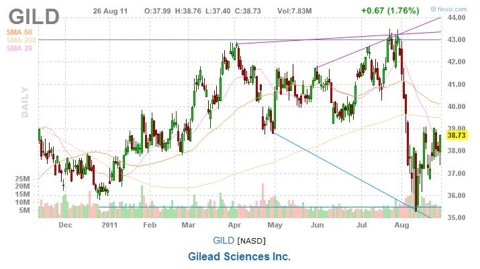 I suggest two types of trades -

Suggested Trade (Conservative): GILD – Sell September 36/37 Vertical Put Spread
Entry: Sell limit 0.14
Stop Loss: X
Exit Price: Wait to expire worthless
Max Return: 16.27%
I think one could go with the aggressive trade since GILD could move back up to $40-$41 in the near term on a market pop. GILD should outperform since it has numerous analyst recommendations in the near term.
Suggested Trade (Aggressive): GILD – Buy November 37 Calls
Entry: 3.55-3.65
Stop Loss: 2.55
Exit Price: Sell ½ at 4.74; Sell ½ at 5.84
Max Return: Unlimited
Disclosure: I have no positions in any stocks mentioned, but may initiate a long position in RL, GG, GILD over the next 72 hours.