Let me preface my comments with what I look for in a stock. My recommendations are short term not long term. Most of my readers have already accumulated large portfolios and want to limit downside risk while still taking advantage of current growth opportunities. I'm not putting my principal at risk hoping to reap appreciation 3-5 years down the road. I want to see warranted appreciation in the next 3-6 months.

That being said I am adding Goldman Sachs (NYSE:GS) to my watch list but not pulling the buy trigger at this time. There is too much uncertainty out there in the short term to expect to see a full recovery in the Financial Services and Banking sectors this year. The current US political climate is gridlock so I do not have a handle on what will happen to governmental spending at all levels. What will the tax rates be? Will there be default in Europe? Will price levels in China finally hit the bubble the rest of the world has seen?

These concerns being expressed, let's look at the numbers. First, the weekly price momentum vs the 20, 50 and 100 week moving averages over the past 2 1/2 years as seen in this chart provided by Barchart: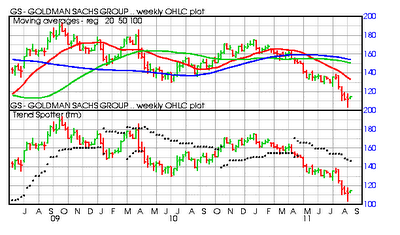 Goldman Sachs Group, Inc.(GS), together with its subsidiaries, provides investment banking, securities, and investment management services to corporations, financial institutions, governments, and high-net-worth individuals worldwide.

Its Investment Banking segment offers financial advisory, including advisory assignments with respect to mergers and acquisitions, divestitures, corporate defense, risk management, restructurings, and spin-offs; and underwriting securities, loans and other financial instruments, and derivative transactions.

The company's Institutional Client Services segment provides client execution activities, such as fixed income, currency, and commodities client execution related to making markets in interest rate products, credit products, mortgages, currencies, and commodities; and equities related to making markets in equity products, as well as commissions and fees from executing and clearing institutional client transactions on stock, options, and futures exchanges. This segment also engages in the securities services business providing financing, securities lending, and other prime brokerage services to institutional clients, including hedge funds, mutual funds, pension funds, and foundations.

Its Investing and Lending segment invests in debt securities, loans, public and private equity securities, real estate, consolidated investment entities, and power generation facilities. This segment also involves in the origination of loans to provide financing to clients.

The company's Investment Management segment provides investment management services and investment products to institutional and individual clients. This segment also offers wealth advisory services, including portfolio management and financial counseling, and brokerage and other transaction services to high-net-worth individuals and families. In addition, it provides global investment research services. The company was founded in 1869 and is headquartered in New York, New York. (Yahoo Finance profile)
Also I've noticed short term strengthening in current numbers.
Barchart technical indicators:
Barchart 20% short term technical sell signal is weakening
Trend Spotter sell signal is also weakening
At the present level the stock is trading below its 20, 50 and 100 day moving averages but getting stronger
The stock has been up in 3 of the last 5 trading sessions and is up 7.75% in the last week
The Relative Strength Index is 43.67% but climbing
Barchart computes a technical support level at 111.07
The stock recently traded at 114.75 which is below its 50 day moving average of 126.70
Fundamental factors to consider:
Wall Street brokerage analysts seem to be optimistic not only about Goldman Sachs but their own industry as well
Brokerage analysts have issued 7 strong buy, 12 buy, 6 hold and 3 under perform recommendations.
They project revenue to be down 6.50% this year but up 7.90% next year
Earnings consensus is also down for this year by 16.60% but they are looking for a robust rebound of 50.10% next year and a continued increase of 9.04% annually for the next 5 years
General investor interest:
As measured on Motley Fool a lot of readers have this on their watch list
Of the 6,216 readers expressing an opinion 89% this the stock will beat the market in the future
The more experienced All Stars verify that sentiment also with a 89% vote for the same result
Summary:
Financial services conglomerates like Goldman Sachs (
GS
) will always be around in the long run, but for the short term I see too much uncertainly to put my retirement funds at risk. IPO activity isn't rosy, M&A activity is also waning. US governmental spending and deficit reduction is gridlocked. Income taxes for the future haven't been decided. The Eurozone defaults are still looming and who knows what will happen in China. I might add that in the past earnings predictability for Goldman Sachs has been very unreliable. If the revenue and earnings projections plus a return to a better P/E ratio happened then investors could see a 12% - 18% annual total return over the next 5 years. For me, I'll watch from the sidelines at the present, there is just too much risk here for me.
Disclosure:
I have no positions in any stocks mentioned, and no plans to initiate any positions within the next 72 hours.