Precious metals, especially gold, have been drastically outperforming the market lately. Gold is up about 29% this year alone. Silver is up about 34%. The dilution of currencies across the globe can be blamed for this trend, but how are we to know if this trend will continue?
Of course, Ben Bernanke can announce another round of easing, or some other easy money policy which will drive up PMs even more. Or he could disappoint PM holders and not announce anything in September. Either way, PM Miner ETFs should outperform their respective metals over the next few years.
Market Vectors ETF Trust (GDX) Market Vectors Junior Gold Miners ETF (GDXJ) Powershares Global Gold and Precious Metals Portfolio (PSAU) Global X Silver Miners (SIL) have all performed very well on their own, each returning at least 50% since inception. Compared to their respective metals, they lag far behind, and for good reason. Good for the investor that is.
click to enlarge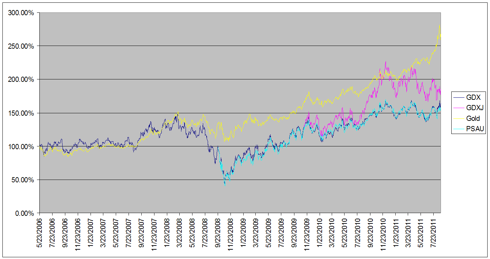 Click to enlarge
PSAU and GDXJ both start from their inception dates at the implied value in relation to GDX. This allows their performance to be compared to GDX more accurately.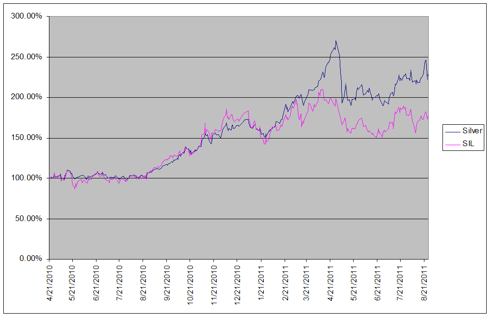 Click to enlarge
In the near term, panic has gripped investors, and they would rather hold the metal itself than consider the potential returns of an investment over 5 or 10 years. Miners must also contend with rising costs, something the spot price doesn't have to worry about. They also can't just suddenly decide they will mine another couple hundred thousand ounces because gold is priced higher. It takes time and capital to get production up. As a result, growth by miners is slower, but expected.
As miners continue to turn themselves around, working on increased production, it should result in an increased output and increased revenue.
Tier 1 producers like Barrick (NYSE:ABX), Goldcorp (NYSE:GG), Kinross (NYSE:KGC) and Newmont Mining (NYSE:NEM) should see excellent free cash flow increases, even if gold holds steady for the next two years.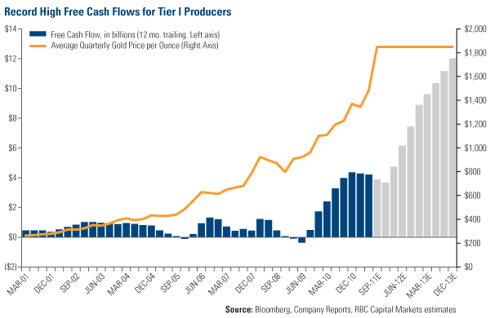 Click to enlarge
Consider how great these same miners and GDX would perform over the next 3-4 years if another round of easing is announced.
The Case For Silver Over Gold
Silver has slowed down its growth since May, while gold has continued its never ending rise. Historically, the silver to gold ratio has been between 12:1 to 16:1. These ratios accurately reflect their comparative rarity, but fail to take into account one crucial factor: silver is consumed for industrial purposes each year in large quantities. Should currencies ever be backed by PMs again, silver will catch up and be valued around 10:1 of gold. With the constant dilution of currencies, this is quickly becoming a question of "when" over "will."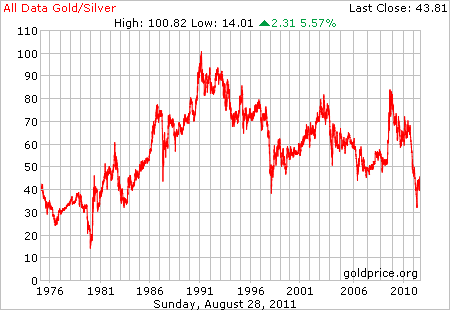 Even without currencies being backed by gold once again, silver will narrow the ratio. During this prolonged recession, wealthy investors have chosen to purchase large amounts of gold. Gold is easier to store, and more commonly thought of as a alternate form of currency. Therefore, this rise of gold over silver was to be expected. Eventually however, we will reach a tipping point.
Right now, the gold to silver ratio is around 45:1. The ratio should start being seriously challenged around 60:1 then 70:1, 80:1, 90:1, and finally 100:1 where it capped out around 1990. When the ratio caps again, silver will come screaming higher to catch up with gold, and the miners will benefit further. This cap should take a few years to be reached, presenting a great continued growth opportunity for miners.
What About Platinum?
Platinum to Gold Ratio: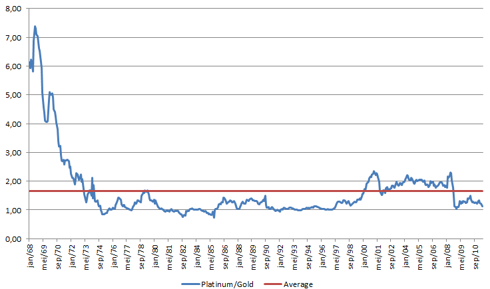 Click to enlarge
Source: Profitimes.com
Platinum has been quiet so far this year, with modest gains of 3%. When you compare that to the overall market though, I think a lot of us would take the 3%. Now that gold has reached parity with platinum at 1:1 ratio, expect platinum to hitch a ride up with gold.
This should bode well overall for First Trust Ise Global Platinum Index Fund (PLTM). Platinum had a good run up in 2007, nearly reaching $2200 before it dropped back down and resumed its steady climb. PLTM may not perform as well comparatively with the other ETFs mentioned, but it should outperform the overall market. I consider PLTM to be the sleeper candidate among PM miner ETFs.
Disclosure: I am long GDX.