Tiger Consumer Management is one of the 'Tiger Cubs' that was seeded by Julian Robertson and founded by ex-Tiger analyst Patrick McCormack in 2006. A look at his 13F info is shown below. The top 20 positions by market value (click on images to enlarge):

Of the top 20 positions, 6 are new this quarter:
Conagra Foods (CAG), Polo (RL) (Soros doubled his stake), Starbucks (SBUX), Priceline (PCLN) (has recently seen some insider buying), Hansen natural (HANS) (Scout Capital recently sold out of this stock) and YUM! Brands (YUM) (Scout also sold out of this company).
The top 2 positions, Carmax (KMX) and Harley-Davidson (HOG) were both increased in Q2 (after both being started as positions in Q1). Green Mountain Coffee (GMCR) was decreased from being the top position last quarter (this has been a very popular hedge fund stock recently). Tiger Consumer Mgmt also significantly increased its stake in Herbalife (HLF) from 524k shares to 968k ($55.8M). Calamos advisors, Munder Capital, Alydar Partners and Scout Capital all significantly increased their position in this stock in Q2.
Shares held of top 20 positions by market value:

Sorting by top positions as of Q1 (by market value) shows us what positions Tiger Consumer sold out of entirely in Q2: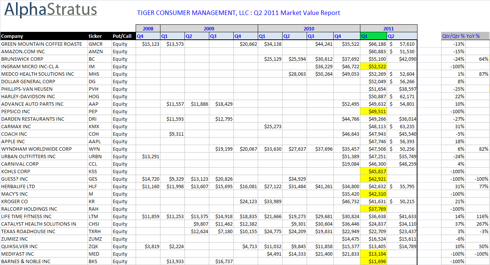 Ingram Micro (IM) was removed after 3 quarters (David Einhorn's Greenlight Capital increased his stake in this company in Q2). Pepsi Co (PEP) has seen a massive increase in short-sellers and was only in Tiger's portfolio for one quarter. Similarly, Kohls (KSS) was removed after just one quarter while Guess (GES) was also dropped in Q2. Ralcorp Holdings (RAH) was out of the portfolio after one quarter (Paulson is super-bullish on this name). MediFast Inc. (MED) was finally removed after being built up to a peak of $21.8M at the end of 2010 (this has also been a heavily shorted name recently). Barnes & Noble (BKS) was a tiny position that was also sold off this quarter.