Tiger Consumer Management is one of the 'Tiger Cubs' that was seeded by Julian Robertson and founded by ex-Tiger analyst Patrick McCormack in 2006. A look at his 13F info is shown below. The top 20 positions by market value (click on images to enlarge):

Of the top 20 positions, 6 are new this quarter:
Conagra Foods (NYSE:CAG), Polo (NYSE:RL) (Soros doubled his stake), Starbucks (NASDAQ:SBUX), Priceline (NASDAQ:PCLN) (has recently seen some insider buying), Hansen natural (HANS) (Scout Capital recently sold out of this stock) and YUM! Brands (NYSE:YUM) (Scout also sold out of this company).
The top 2 positions, Carmax (NYSE:KMX) and Harley-Davidson (NYSE:HOG) were both increased in Q2 (after both being started as positions in Q1). Green Mountain Coffee (NASDAQ:GMCR) was decreased from being the top position last quarter (this has been a very popular hedge fund stock recently). Tiger Consumer Mgmt also significantly increased its stake in Herbalife (NYSE:HLF) from 524k shares to 968k ($55.8M). Calamos advisors, Munder Capital, Alydar Partners and Scout Capital all significantly increased their position in this stock in Q2.
Shares held of top 20 positions by market value:

Sorting by top positions as of Q1 (by market value) shows us what positions Tiger Consumer sold out of entirely in Q2: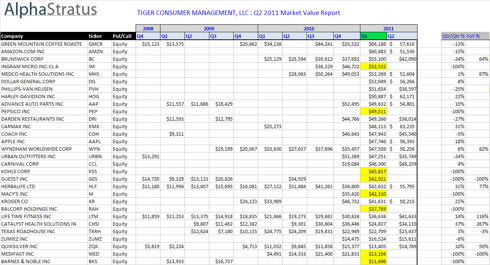 Ingram Micro (NYSE:IM) was removed after 3 quarters (David Einhorn's Greenlight Capital increased his stake in this company in Q2). Pepsi Co (NYSE:PEP) has seen a massive increase in short-sellers and was only in Tiger's portfolio for one quarter. Similarly, Kohls (NYSE:KSS) was removed after just one quarter while Guess (NYSE:GES) was also dropped in Q2. Ralcorp Holdings (RAH) was out of the portfolio after one quarter (Paulson is super-bullish on this name). MediFast Inc. (NYSE:MED) was finally removed after being built up to a peak of $21.8M at the end of 2010 (this has also been a heavily shorted name recently). Barnes & Noble (NYSE:BKS) was a tiny position that was also sold off this quarter.
Disclosure: I have no positions in any stocks mentioned, and no plans to initiate any positions within the next 72 hours.