By Bob Barnes
We finish off our study of PowerShares DB Agriculture ETF (NYSEARCA:DBA) with a comparison of DBA and the Market Vector Agribusiness ETF's (NYSEARCA:MOO) dynamics. We would be surprised if the bovine factor wasn't highly correlated with DBA and our ETFR pairs study does not disappoint.
The 17 day projected excursion is a nice easy swing cycle and the one losing trade out of 12 can immediately be traced to the fact that the trade was allowed to run 27 days - well over our permissible window of opportunity.
Over the past few days we seen how UUP, GDX and now MOO can significantly increase the odds of successfully projecting DBA's direction and momentum. We can identify other highly correlated DBA pairs as well, which would provide a strong foundation for a DBA focused PDQ Dashboard.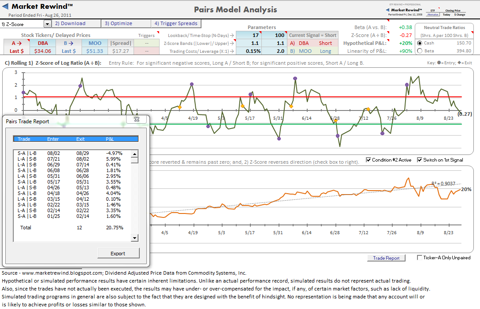 Disclosure: None