We have seen mixed signals for the market now. There are bear cases. But there are bull cases also. Let us talk about the bear cases first.
The U.S. economy faces the thread of a double recession. Most of recent economic indicators such as consumer confidence index, PHL manufacturing activity index, housing data, unemployment data, etc are all bearish. They painted a dim picture on the U.S. economy. After 2009 recession, U.S. economy recovered in a good pace last year. But the growth went down considerably this year. It grows only 0.3% in Q1 on annual basis and 1.0% in Q2 (second estimate). As a whole, the U.S. economy grows only 0.7% for the first half of 2011. The following chart showed the U.S. quart GDP growth rate since 2007.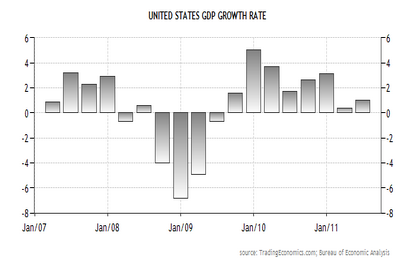 If the next two quarters can grow as expected (1.3% in Q3, 2.0% in Q4), the Q1 will be marked as the bottom and so will be the market. But if the next few quarters repeat what we have seen in 2009, market will go much lower from current levels.
The growth in 2010 in large extent was from government stimulus packages such as new car buying insensitive, rebate and income tax deduction to new home buyers, etc. Those have proved to only give short term stimulus to the economy.
Technical also support bearish case. All major indexes' long tern MAs (50 day, 100 day, 200 day) are in down trend now.
Now the bull case. The most important is the corporation earnings. They are in record highs and expect to become higher in coming quarters. The following chart showed the quarterly earnings from S&P 500 companies since Q1 1988.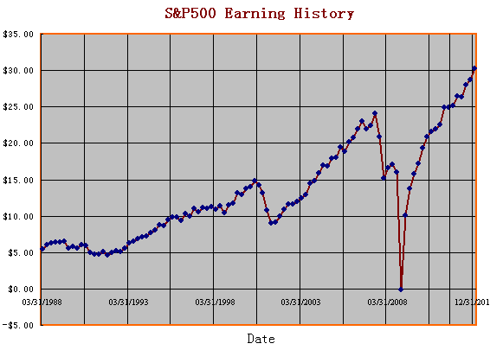 Click to enlarge
(Click to enlarge)
Please note that earnings after Q2 2011 are estimates. As of August 26, 2011, 457 companies have reported their recent quart results. Among them, 318 beat the estimates, 98 missed and 41 met the expectations. That is, only 21.44% missed. As of today, the 500 company is projected to earn $24.88 per share this quarter, which is an all time high. Previous high was set in Q2 2007 when they reported a total of $24.06 per share net profit.
The current projection:
Q2 2011 - $24.88
Q3 2011 - $25.10
Q4 2011 - $26.40
Q1 2012 - $26.39
Q2 2012 - $28.03
Q3 2012 - $28.74
Q4 2012 - $30.31
And S&P has not revised the numbers down recently even economy seems having in trouble. Let U.S. look at the S&P500 index chart since 1988.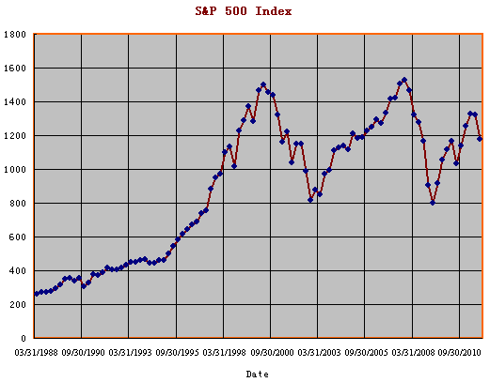 Click to enlarge
(Click to enlarge)
From the chart we can see that S&P dipped below 800 points twice since 1988: Q1 2003 and Q1 2009. The first time it crashed to below 800 points was after 2000 Internet bubble. The second dip was due to 2009 recession.
Market reached high twice since 1988. The first high was reached in 03/31/2000 when the S&P 500 earned $13.97 total. S&P 500 closed at 1,498.58 on that day giving PE of 28.43, we called tech bubble.
The second high occurred on 06/30/2007 at 1503.35 when S&P 500 companies earned a total of $28.06 profit per share, giving PE of 16.44.
Please note: The two highs all occurred when the S&P 500 earnings reached the near-term top.
The S&P 500 closed at 1,176.80 last Friday and that gives current S&P 500 PE of less than 12, calculated using their trilling 4 Q earnings.
Bear or bull? We are more toward the bull case as corporation earnings will decide their stock prices eventually.
If corporation can deliver as expected, we have no reason to believe that S&P will reach 2,000 within two years, which will give a near 67% gain during the time span.
We do not say that the market has bottomed now. We do not know the bottom. But the current market does give U.S. good investment opportunities.
Disclosure: I have no positions in any stocks mentioned, and no plans to initiate any positions within the next 72 hours.