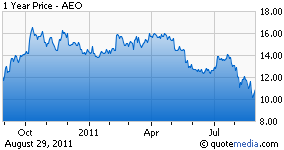 There have been a lot of rumors flying around about apparel retailer American Eagle Outfitters (NYSE:AEO) being scouted as a potential takeover target by leveraged buyout firms. I don't believe that anyone should buy a stock based on rumors, nor on the hope that the company would ultimately get acquired. However, takeovers have traditionally been very lucrative for existing shareholders, and having tracked the company for some time now, I believe that American Eagle is uniquely positioned to be a prime candidate for buyout for several reasons.
Insiders have a large stake in the company. This first characteristic is especially important, because all buyout offers must pass through the board of directors, so it all starts here. When the board doesn't own a significant amount of company stock, there is no benefit to the directors if the company gets acquired, only detriment: they lose their jobs. Many unscrupulous boards have scuttled takeover offers rather than present them to shareholders in order to protect their own paychecks. This is exactly what fellow teen apparel retailer Aeropostale (NYSE:ARO) did last year when approached by private equity. American Eagle shareholders are almost definitely not going to face this problem. Insiders at Eagle own 8% of the company. Director Joseph Spiegel just bought 10,000 shares this week, with his own money. Last year, directors Jay Schottenstein and Michael Jesselson bought over $8 million worth of shares, again with their own money. If the company gets bought out, insiders stand to gain as much as shareholders do, so it would make sense for them to pursue a buyout, or at the very least be receptive to an unsolicited offer.
The company is ready for a change in management. CEO Jim O'Donnell is retiring at age 70, and second-in-command Roger Markfield probably isn't very far behind at age 68. Private equity buyers typically purge the ranks after they buy a company and replace the old leadership team with their own people. American Eagle makes an attractive buy because its management is due for a reshuffling pretty soon anyway, takeover or not.
The stock is dirt cheap right now. Private equity firms always pay a premium to the market price of the company they're acquiring, but even at a huge premium, a buyer would almost definitely be getting this company at a discount to its intrinsic value. My own estimate of American Eagle's fair value falls at $20/share. After backing out one time charges, Eagle trades at a pro forma trailing P/E of less than 11. This is for a cyclical company during an economic down cycle, so when economic conditions improve, Eagle's sales are almost guaranteed to rise dramatically without the company having to lift a finger. Before the recession hit, the company was making double what it is now.
Let's compare Eagle's valuation to some benchmarks to get a feel for how the company is priced compared to its peers. The SPDR Retail ETF (NYSEARCA:XRT) is selling for a P/E of 14.8. The broader SPDR Midcap (NYSEARCA:MDY) is at 15. Competitor Abercrombie & Fitch (NYSE:ANF) sports a trailing P/E of 26, and Lululemon Athletica (NASDAQ:LULU) clocks in at 55. By almost all measures, Eagle is a bargain right now.
The company has a massive hoard of cash with practically no debt. LBOs typically shun companies that are already heavily leveraging their balance sheets. These firms employ debt in order to raise the funds to make the purchase in the first place, so taking on more debt would be counterproductive. Eagle's balance sheet is pristine, and the company comes with over $500 million in cash and equivalents, a full quarter of its current market cap. When you buy a cash rich company like Eagle, it practically pays for itself.
American Eagle's brand remains strong. When you buy a company like Eagle, you're investing in its brand as much as its tangible assets. All evidence indicates that Eagle's brand and fashion continue to resonate with its teen demographic. Though profits have sagged recently, most of the company's troubles can be attributed to the weak economy and the soaring prices of cotton, both temporary problems that may very well be resolved by the time an acquisition gets finalized. In that respect, Eagle has the advantage over competitors like Gap (NYSE:GPS), who's faced with the difficult challenge of restoring equity to a brand that consumers are no longer responsive to.
The verdict: American Eagle does indeed make a very attractive leveraged buyout target. I should repeat that no one should buy a stock only on the hopes of a takeover, but with Eagle, I believe that new investors stand to gain even without the boost of an acquisition premium. Eagle is a solid little company with great business economics trading at a bargain bin price. The possibility of a takeover is just icing on the cake.
Disclosure: I am long AEO.