In general, we are very bullish on mortgage real estate investment trusts ("mREITs") as we think the current economic and interest rate picture is positive for mREITs. A weak economy is actually a good environment for mREITs, which benefit from low interest rates and a steep yield curve. See our recent article "Making the Case for Mortgage REITs" for more details.
That said, all mREITs are not the same and some mREITs carry more risk than others. The goal of this article is to point out a few "red flags" that Chimera Investment Corp. (NYSE:CIM) investors should consider.
CHIMERA OVERVIEW
Founded in 2007, Chimera is a real estate investment trust that is externally managed by FIDAC (Fixed Income Discount Advisory Company). FIDAC is a wholly-owned subsidiary of Annaly Capital Management, Inc. (NYSE:NLY). CIM acquires and manages residential mortgage-backed securities, residential mortgage loans, and real estate securities.
CIM is a non-agency focused mortgage REIT. As shown in the table below, over 70% of CIM's portfolio is allocated in non-agency RMBS.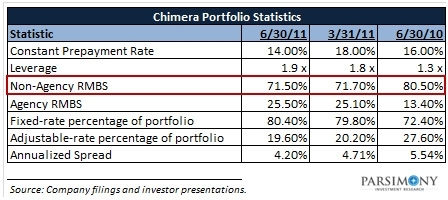 Whereas agency mortgages are guaranteed by government sponsored entities (implying limited credit risk), non-agency securities do not carry a similar implied guarantee. As such, non-agency securities are inherently more risky as they are exposed to the credit risk of the underlying borrowers. Because of this added risk, non-agency focused mREITs generally operate with less leverage than their agency-focused peers.
5 RED FLAGS FOR CIM INVESTORS TO CONSIDER
1. Low Stock Price and Recent Price Action – We don't purport that the market is always right, but when a certain stock drastically underperforms its peers, there is usually a reason. As shown in the chart below, CIM [blue line] has drastically underperformed the S&P [purple line] over the past 6 months. Conversely, agency-focused REITs, like Annaly Capital [yellow line] and American Capital Agency (NASDAQ:AGNC) [green line], have significantly outperformed the market over the past few months.
click to enlarge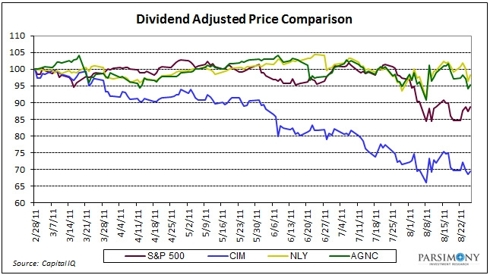 In addition, we feel that most CIM investors are so enamored with the low $3 stock price that they are overlooking the underlying risks in the business. Face it, most investors would rather buy 1,000 shares of a $3 stock than 100 shares of a $30 stock…behavioral finance at its finest. Cheap stocks are generally cheap for a reason though.
2. Yield is Rising; But Quarterly Dividends are Falling – Dividend growth investors love stocks with rising yields. However, yields typically only rise for one of two reasons: rising dividends or a falling stock price. It's not hard to tell which camp CIM falls into. As shown in the chart below, CIM's yield continues to increase as the stock price falls.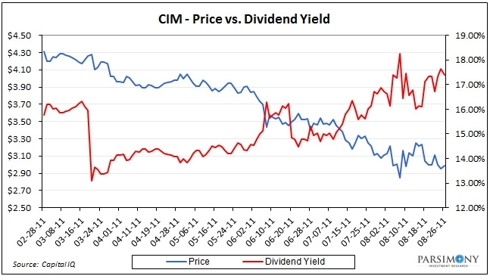 However, CIM's dividends have also been falling the past few quarters.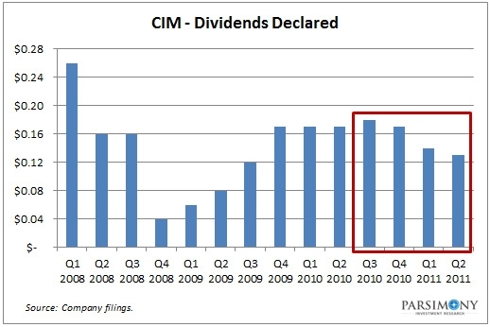 3. Portfolio Valuation – CIM is currently trading at a significant discount to book value (0.88x). Conversely, most of its mREIT peers trade at a modest premium to book value. The table below adds some clarity to this dynamic. CIM is trading below book value primarily because the majority of the assets in the company's portfolio have a weighted average fair value below the company's weighted average cost basis for these assets. Investors should monitor portfolio valuations very closely.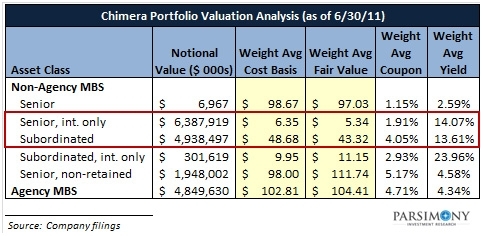 Note: Senior, non-retained securities have been re-securitized and sold to third parties. As such, CIM receives no future economic benefit from these securities and there is no future recourse to CIM.
4. Credit Ratings of Non-Agency Portfolio - CIM's investment guidelines place no restrictions on the credit rating of the assets the company is able to hold in its portfolio. As shown in the table below, their portfolio is most heavily weighted in non-investment grade credits. In addition, the company has recently increased its concentration in these risky assets.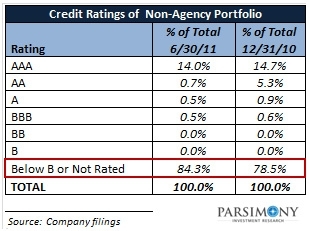 Note: The table above reflects the credit rating of the company's consolidated non-Agency RMBS portfolio. At June 30, 2011 approximately 14% of the AAA, AA, and A securities balance reflected in the table above include senior, non-retained, non-Agency RMBS (which CIM receives no economic benefit for). In addition, as the company securitizes or re-securitizes assets, it expects the Below B or not rated percentages in the portfolio to increase as the company typically retains the subordinated tranches of these types of transactions.
5. Vintage of Assets - Most of CIM's investments were originated at the peak of the credit boom in 2006 and 2007 (see table below). This should raise concerns with investors since structures and terms of MBS originated in 2006-2007 are inferior to earlier vintages.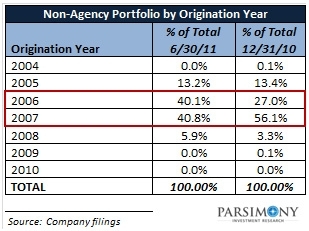 CONCLUSION
Despite the attractive dividend yield, we remain reluctant to invest in CIM as we feel that there are better mREIT investments with stronger risk/reward profiles. That said, we think mREITs will produce excellent risk-adjusted returns for investors over the next few years and we continue to believe that the best strategy for investing in this space is to own a portfolio of mREITs to diversify your risk.