"The point in history at which we stand is full of promise and danger. The world will either move forward toward unity and widely shared prosperity – or it will move apart." - Franklin D. Roosevelt
Just wanted to make a quick note here about the performance of equities off of the panic low in March 2009. While the markets have recovered substantially in a relatively short period of time, the magnitude of the comeback is not at all unusual. Because we don't live in a linear world, it is worth entertaining the idea that markets may revisit March 2009 lows. I noted in a previous article that certain European markets actually aren't all that far away from it.
While I fully understand that there are significant differences between the political and economic environments of the 1930s and today, markets can still behave similarly. Below is a chart of the Dow Jones Industrial Average (DIA) from the Crash of 1929, to the huge bounce off of its lows in early 1930, and finally to the eventual revisiting of those lows later in the year. Obviously there are no guarantees that the Dow behaves similarly, but is it really that difficult to imagine a repeat given the turmoil that is on-going in Europe? History may not repeat perfectly, but it certainly can rhyme.
[Click images to enlarge]
Dow – 1929 to 1930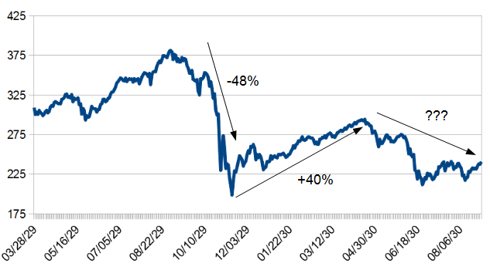 Dow – 2006 to 2011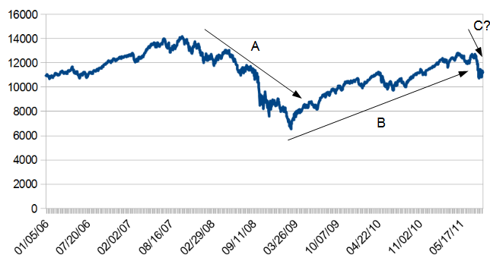 Disclosure: The author, Pension Partners, LLC, and/or its clients may hold positions in securities mentioned in this article at time of writing. The commentary does not constitute individualized investment advice. The opinions offered herein are not personalized recommendations to buy, sell or hold securities.