When it comes to earnings, Apple is the master of "UPOD," under promise over deliver. The company has been able to manage expectations and then, blow them away. Once you master Apple's UPOD, you will know more than the professional analysts that cover the stock.
For more than five years, Apple has consistently beaten its quarterly guidance. More importantly, the spread between Apple's actual earnings and its guidance has been expanding dramatically. Here's the graph of the difference between Apple's actual earnings and its guidance over the last 15 quarters. (Number 15 is the last quarter).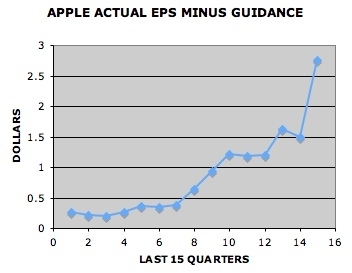 The trend is clear: Apple is beating its own estimates by increasingly greater amounts.
Last quarter, Apple earned $7.79, clobbering its $5.03 forecast. Apple expects $5.50 for the upcoming quarter, substantially more than it predicted last time around. By lifting its guidance, Apple is signaling that an even better quarter is on the way.
Analyst consensus is $7, better than Apple's $5.50 guidance. Neither is going to come close to this quarter's earnings. The graph indicates EPS should be north of $8.50, maybe a good deal higher. My own forecast of $8.87 could actually be too conservative.
Analyst expectations are once again too low. Apple will handily beat them once again. Understanding the company's skillful use of UPOD will allow you to do that as well.
Disclaimer: The opinions in this document are for informational and educational purposes only and should not be construed as a recommendation to buy or sell the stocks mentioned. Past performance of the companies discussed may not continue and the companies may not achieve the earnings growth as predicted. The information in this document is believed to be accurate, but under no circumstances should a person act upon the information contained within. We do not recommend that anyone act upon any investment information without first consulting an investment advisor as to the suitability of such investments for his specific situation.
Disclosure: I am long AAPL.