In my article, Mortgage Insurers Have Another Leg Down To Go, I predicted the Mortgage Insurer (MI) group would fall 25-35% more, despite the beating they had already taken. They ended up falling much farther than that. This group has been extremely volatile this month, and you can bet that volatility isn't going to end here. Since my first MI article was published on July 28th, these are the approximate price changes of the dominant mortgage insurers of the United States.
click to enlarge


Click to enlarge
Why did these stocks rise so much after reaching the lows of August 23rd? I'm not quite sure but my guess is its because sentiment shifted. There doesn't seem to be any fundamental changes. Now that these stocks are all small caps, a small change in sentiment can cause a huge shift in share price. They are still traded by big institutions and mutual funds since they used to be mid-cap stocks. I took the rise as a good opportunity to unload my positions.
The major MI players are MTG, RDN, and PMI. These companies have always been much more concentrated in the mortgage insurance business than ORI and GNW. That's why they've also been hit so much harder. MTG is currently the #1 mortgage insurer in the United States, RDN is #2, and PMI is #3.
Mortgage defaults rose much quicker than I expected for the MIs. In its Q2 earnings call, MTG's management said that they believed new delinquent notices had peaked. I didn't buy it, and predicted new notices would be about the same in Q3, and improve a little in Q4. Here was the predictions I showed in my previous article: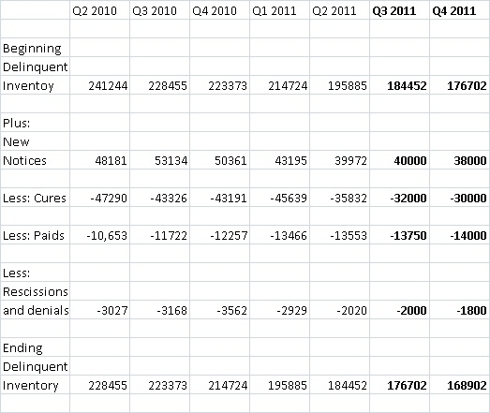 Click to enlarge
However, it is now obvious that Q3 will be quite a bit worse than Q2. Here, MTG released its July monthly operating statistics. New notices were 15,180 for July. If they stay the same for the quarter, that puts MTG on track to have over 45,000 new notices, over 10% more than my prediction and last quarter's. That July news release is what really hammered MTG to under $2 a share. Before this news came out, MTG hovered around $3.50-$4 a share.
Here, it shows RDN's reported July new delinquencies. RDN's new delinquencies for Q2 2011 was 22,421 as shown here on page 18, and for July was 8,076. RDN is on track for about 24,000 new delinquencies for Q3 2011, more than Q2 by about 7%. Not as bad as MTG.
Regardless of where the stock prices go, 2011 will continue to be a very rough year for MIs. Like I showed in the first article of this MI trilogy, 2009 had the most initial defaults, and, because of the backlog, two years is what it takes to finally get those foreclosed houses sold and off the books.
In the mortgage insurance business, the longer the companies can stay alive, the better off they'll be. Every piece of insurance the MIs are writing now is to people with high FICO scores, and a decent down payment. It's pretty safe money. However, as real estate prices continue to fall, more defaults happen from houses bought in 2005-2008, and more claims need to be paid. Barry Ritholtz from Fusion IQ said that 25% is the magic number, if a homeowner owes 25% more than the house is worth, the amount of strategic defaults greatly increases. The MI companies need a lot of capital reserves to continue paying those claims. The risk-to-capital ratio needs to be below 25-to-1 or the companies can be restricted from doing some business.
On Friday, August 26th, the Fed decided to take no more stimulus action. Why the stock market went up significantly that day and the next is beyond me. QE1 and QE2 had something to do with the propping up of real estate. Now, not only are we not going to have any more stimulus, but we're going to have the opposite of stimulus, anti-stimulus. Bernanke is now putting the ball in Congress's court to make something happen. The problem is, both Democrats and Republicans feel that now is the time to add austerity measures to tackle the deficit. This won't go well for stocks or real estate.
PMI Group (PMI)
PMI is a pure, pure play for mortgage insurance, check out its description here. All it does is provide mortgage insurance for residential real estate. That's it, the company has no other sources of revenue.
It's my opinion that PMI is toast. Since it has no other way of gaining more capital from revenues, all they can do to gain more capital is through taking on more risk by writing more insurance. RDN and MTG, on the other hand, have other ways of gaining revenue that can be added to capital, even though the mortgage insurance business is their biggest revenue source by far.
As I explained in my previous article, PMI's risk-to-capital ratio is a whopping 58-to-1. Other mortgage insurers have been shut down with a smaller ratio. PMI was banned from doing business in six states before when its ratio was less than half that. Now it is banned from writing any new insurance policies, except pending commitments which end on September 16th. The Arizona Department of Insurance can initiate a regulatory procedure and liquidate the company, calling $735 million of debt due, which PMI won't be able to pay.
PMI is in a great position for RDN and MTG to capitalize on. No matter what happens with PMI, RDN and MTG win. Here are the different scenarios:
1. PMI goes out of business or contracts = more business for RDN and MTG.
2. PMI gets financing = so could RDN and MTG if things get much worse.
3. PMI makes a comeback = so would RDN and MTG.
#1 is the best case scenario, unless RDN and MTG suffer the same fate. If PMI goes out of business, RDN and MTG will get to pick up the majority of its lost business. These companies already have increased quarterly revenues from Triad Guaranty going out of business, and Old Republic International isn't writing mortgage insurance right now.
MGIC Investment Corporation (NYSE:MTG)
MTG is the biggest mortgage insurer in the country, and is therefore having to pay out the most amount of claims.
After next quarter, quarter 3, there's a good chance that MTG's risk-to-capital ratio will top 25-to-1. The numbers are very complex, but I came to this conclusion after speaking with MTG's investor relations and doing my own analysis. If that happens the stock will surely tank to the area of its previous low. It will have to start doing business through its subsidiary. If things get even worse by quarter 4, it may have to raise more capital and/or have some of its business restricted like what's happening to PMI. This will bode well for RDN, as it can pick up the business that MTG loses.
Management is eternally optimistic about their company, and has furiously been buying shares from $7.76 on down. You can look at the insider trading here. It's obvious that they aren't skilled in equity analysis, I'm sure sales is more of their specialty. But there is something positive to be said about the large insider ownership in their company. It means they will fight tooth and nail for their company.
Radian Group (NYSE:RDN)
RDN is the best out of the three to weather this storm. If you really want to make an investment in MIs now, I would recommend RDN out of the three. It actually made a profit last quarter, and even lowered its risk-to-capital ratio from 20.3-to-1 to 19.8-to-1. Although not as big as its MI division, its municipal bond insurance is a big part of the Company's business and is mainly responsible for their profit last quarter. Because of its diversification, it's likely that RDN will be able to keep its risk-to-capital ratio below the key 25-to-1 point, which is more than I can say about MTG. My colleague, Tom Armistead, wrote about some skirmishes municipal bond insurers have recently had with S&P. I'm not too versed in this area, but RDN could possibly have problems with their bond insurance division down the road.
To get a sense of where my views are and were on these stocks, I'll disclose my current and past positions. As I stated in the comments section on my previous article here, I started buying MTG and RDN and I covered my MTG short position during the huge selloff in the market on August 8th. The MIs recovered temporarily in the next week or so, and then when they dropped again between August 20-23, I bought some more shares. I added to my RDN and MTG long postions, but bought PMI puts. On August 26th, I sold about half of my RDN and MTG positions, and on August 29th, I sold the rest and started a short position in them both. This volatility sure makes them exciting to trade.
In the long run, once most of the 2009 defaults are finished, I believe RDN and MTG will make good investments. However, there's too much uncertainty right now. If you want to make a long term buy in these stocks, I believe being patient and waiting until RDN goes to $2.40, and MTG goes to $2.00 is the smart move.