The Walt Disney Company (NYSE:DIS) is trading at a fair historical valuation. With the Dow closing above 11,500 on August 30, it looks like the bears are retreating for now and we can start to establish long positions again. Macro fundamentals are admittedly bleak, but we're still well below July levels in stocks. In addition, earnings season is on the horizon and companies may have weathered the last few months better than we expected.
Looking for equity diversification, I scouted the media services stocks and found Disney trading at a very fair price given its growth and reputation. It stands right now at a P/E of 14.02, has a dividend yield of 1.2%, and is still trading significantly below the highs made earlier in the summer along with the general market. A potentially improving consumer market can be a huge deal for Walt Disney, as DIS is extremely reliant on consumer activity.
lA huge part of DIS revenue (30%) is based on Disney's excellent theme parks which will unfortunately be unprofitable in a high unemployment scenario, adding to the sensitivity. On the bright side, Disney's parks have been increasing both revenue and earnings in Q3 2011 relative to Q3 2010 (12% and 9% respectively). In addition to the slowly improving employment figures, DIS is on track to recover in this sector if Americans gain enough jobs going into 2012. The problem is that the recession has taken its toll: Admissions volume hasn't been increasing enough at theme parks and resorts as fewer people can afford them. The revenue and earnings gains have come from increases in the price level.
According to Disney's Q3 Report 2011:
Higher operating income at our domestic parks and resorts was driven by increased higher guest spending and, to a lesser extent, attendance, partially offset by costs ...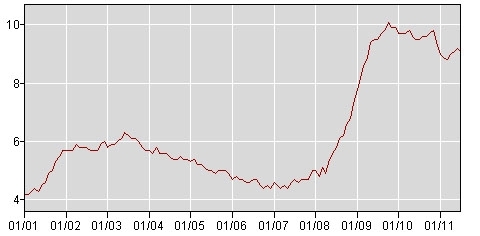 A 10-year look at unemployment (courtesy of the Bureau of Labor Statistics) is displayed above, which shows the trend more clearly. Disney's biggest market (even before theme parks) is Disney's media networks. Perhaps Disney's most important network is ESPN, which the company seems to be focusing all its efforts on. Thinking more generally, it's reasonable to say that the year-on-year earnings growth in Q3 2012 can be significantly higher than the 11% Disney enjoyed in Q3 given further declines in unemployment. ESPN alone has the potential to carry this division of DIS with more subscribers, especially since DIS has been making sports coverage more efficient and cost-effective.
DIS is a buy if you think our economy will be okay, but it's certainly no defensive stock. If employment rises, subdivisions like Disney theme parks and the ESPN network will do very well, which could send DIS shares back to their highs (or better).
Disclosure: I have no positions in any stocks mentioned, and no plans to initiate any positions within the next 72 hours.