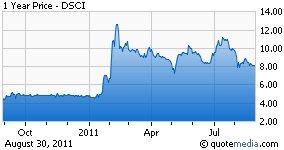 Derma Sciences (NASDAQ:DSCI) offers a compelling opportunity in the biotech space. Its existing product sales make the company cash flow positive, and sales are growing relatively rapidly. At the same time, they recently announced excellent results from a Phase 2 trial in a market that they estimate at $900 million annually. They own 100% of the worldwide rights on this product. And most importantly, the company is still quite inexpensive, with a fully diluted market cap of $124 million at its current price of $8.10/share. (The large difference from the quoted market cap of $85 million is due to the large number (4.8 million) of outstanding options and warrants.) Over the next 4-5 years, I estimate a 50-60 percent chance of success with their drug candidate, with a conservative 430% gain likely in the event of success. With the continued growth of their established business, I see only a 20% downside if their drug doesn't succeed.
Until recently, Derma's business consisted of the manufacture and sale of wound care products. They are the second-largest producer of private label bandages, gauze and similar products. This forms the core of its business currently, at 76% of sales. More recently DSCI has licensed and developed several lines of advanced wound care (AWC) products. These bandages, ointments, etc. incorporate proprietary technologies to prevent infections and speed wound healing. Though it generates only 24% of revenues, AWC sales are growing rapidly (sales up 47% in Q2 2011 vs. Q2 2010) and margins average around 45%, roughly double the margin of the core business. Due to the growth and margins of the AWC segment, DSCI has been cash flow positive for the last two quarters. As a stand-alone entity, I would expect these two wound care segments would reach profitability within a quarter or two.
Now I'll discuss the drug discovery part of the business. Earlier this year, DSCI announced positive results from a Phase 2 trial of DSC127 (gel formulation of a patented angiotensin analog) in diabetic foot ulcers (DFU). Diabetic foot ulcers occur in roughly 15% of the 16 million American diabetes patients, with 12-24% of ulcers leading to amputation, so it is a serious condition. On an intent-to-treat basis, 54% of DSC127 patients had their ulcer heal vs. 33% of patients in the control group. On a per-protocol basis (including only patients who followed the full study protocol) 65% of DSC127 patients were healed, compare to 38% in the control group.
This 27% improvement over control compares very favorably to the 12% improvement for Dermagraft, an FDA-approved "regenerative medicine" treatment for DFU. Dermagraft had sales of $147 million in 2010, and its maker, Advanced Biohealing was just purchased by Shire (SHPGY) for $750 million. Dermagraft was Advanced Biohealing's only major product, so that $750 million might serve as a reasonable benchmark for the value of DSCI on FDA approval and successful launch for DFU.
I should add that there were no treatment-related adverse events in the DSC127 trial. Given the impressive efficacy and safety of DSC127, I'm estimating a 50-60% chance that DSCI succeeds in getting FDA approval in DFU. DSCI estimates that this would be a $200-to-300 million dollar market in the U.S. and roughly $900 million worldwide. That doesn't quite make it a blockbuster, but assuming things go well in DFU, DSCI has mentioned that DSC127 could also be developed for scar prevention/healing, burn healing and other indications. Each of those indications would significantly expand the market for DSC127.
One of the biggest pitfall for biotech investors is dilution. Clinical trials are lengthy and expensive, and the major way biotechs pay for them is selling shares ... lots of them. Fortunately, dilution is a fairly small risk for DSCI, at least for investors buying in today. Derma recently raised $26.4 million in an equity offering, and they currently have $28 million of cash and equivalents. Between that cash and cash from operations, they believe they should pay able to pay for the Phase 3 trial in DFU ($15-20 million) and file for FDA approval on their own.
However, they have mentioned partnering the drug. They haven't explicitly stated why they would partner since they can afford to go it alone, but I have a couple of ideas. First, it would offload risk. Let's estimate that a partner might pay $45 million up-front for the rights to DSC127 outside North America. In addition they would (hypothetically) pay 50% of the development costs, some milestone payments, and 15% royalties. With a deal like that, even if DSC127 fails horribly in Phase 3, DSCI will only have spent $7.5-10 million on the trial, and they'll have at least $35 million left from the up-front payment, plus all of their current $28 million cash. That would leave them in a much stronger position than if they went all-in on DSC127 on their own and it failed, though obviously they get less up-side if they're successful.
More importantly though, I think they want to partner the drug because a partner's cash would let them develop DSC127 in multiple indications simultaneously. With the Phase 3 trial in DFU currently scheduled to begin in the first half of 2012, the earliest DSC127 could be approved is probably Q4 2014. It's true that DSCI could do that alone, but they wouldn't have any money left over to develop DSC127 in scars or burns, putting those indications 3 years behind DFU. On the other hand, cash from a partner would let them start Phase 2 trials in scars and/or burns, so that those indications would be only a year or so behind DFU.
I've stated at the beginning that I believe DSCI to be cheap at its current market cap of $125 million. How have I come to that conclusion? Well, it's difficult to value a company like Derma, but let me look at it from a few different angles, considering the wound care and drug discovery businesses separately. I think DSCI's market cap of roughly $50 million before the results of the DSC127 trial results were announced might be a fair proxy for the value of the wound care business. If that is the case, then I would say that $74 million ($124 million market cap, less $50 million for wound care) for a program like DSC127 is very cheap, especially given that the $28 million of available cash should get the program to FDA approval. That's a somewhat subjective assessment I've made, but I'd say that $200 million (or more) is approximately "typical" for a biotech in Derma's position: excellent Phase 2 results for a wholly-owned drug in a near-billion dollar market with the cash to get to FDA approval. So let's say this "analysis" suggests that the whole of DSCI might be worth closer to $250 million. That number is probably also in the ballpark of what you'd get if you took Advanced Biohealing's $750 million price as a target, discounting back for time and probability of success.
So that gives a roughly 100% gain from current levels based on how the market might typically value a company like Derma. Personally, I don't much care for the sort of valuation that depends on how the market will "typically" value something. Ultimately, I want to think about how a company should be valued based on earnings. Projecting future earnings for a company like Derma is tricky at best, but I'll at least give it a try. I'm going to go out to late 2015 and make some assumptions. If any of my assumptions seem off to you, please adjust them to your taste.
Starting with the wound care business, I'm going to take the current quarter's sales and annualize them to $48.4 million for the traditional business and $15.2 million for the advanced wound care business. I'll say that traditional grows 5% per year and advanced grows 30% per year. Both numbers are lower than recent rates of 8% and 47%. With those growth rates, sales should come to $58.8 million for traditional and $43.4 for advanced in 2015. And with 22% gross margin for traditional and 45% for advanced, we get gross profits of $12.9 million and $19.5 million, or $32.4 million total. Assuming SG&A goes from $19.8 million currently to $22 million they should have a pretax profit of $10.4 million, $6.76 million after a 35% tax rate. Putting a 15X multiple on that gives a $101 million value ($6.60/share) to the wound care business. So if we compare that to the current market cap of $124 million, we should expect a roughly 20% loss over the next 4-1/2 years if DSC127 turns out to be worthless.
What can we expect if DSC127 does well? Let's say that 2 years after approval DSC127 has hit a sales run-rate of $150 million, approximately the same as Dermagraft did in 2010. If it has 80% gross margins, it will give gross profits of $120 million. We'll assume the wound care business takes the same trajectory as described above, contributing $32.4 million in gross profit. Although I assume there will be significant synergy between Derma's existing sales force and any additional sales force for DSC127, I'll still increase their SG&A expense to $50 million. That will give $102.4 million of pretax profit, and $66.6 million of profit after a 35% levy. A 15X multiple in this scenario gives a market cap of $1.0 billion, or just over $65/share. That's a 700% return from current levels. Or even if I've overestimated profits by a third, $44.4 million and a 15X multiple still gives $43.5/share, and a 430% return.
A reminder though, this is a very risky investment, even if the risk/reward is significantly skewed in our favor. If this sort of opportunity seems appealing but a bit too all-or-nothing, I've outlined a strategy for building a portfolio of such opportunities that's considerably less risky while still offering substantial returns. Other opportunities I like right now: Depomed (NASDAQ:DEPO) looks excellent, and Nanosphere (NASDAQ:NSPH) and Pain Therapeutics (NASDAQ:PTIE) look very compelling as well. I've written up all three in past articles. Finally, I would point out that there are probably no significant catalysts for Derma over the next 6-10 months, just FDA meetings, Phase 3 planning, etc. This may allow a position to built up slowly on share price weakness. And on the topic of timelines, remember, Derma is five years or so from (potential) successful commercialization of DSC127, so only invest money you're comfortable keeping tied up for that period of time.
Disclosure: I am long DSCI, PTIE, DEPO, NSPH.