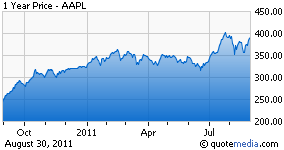 With the departure of Steve Jobs as Apple's (AAPL) CEO, the company now offers great incentives for long term investors. Since Jobs took over in 1997 as interim CEO the stock has not been a hotbed of investor incentives; excluding the nearly 7000% rise in share price over those 14 years. Besides that incredible rise, the company has not given any dividends to investors and the stock has only split twice. To put it in perspective, other technology giants, such as Cisco (CSCO) and JDS Uniphase (JDSU) have rewarded investors with several splits in the past 14 years. Of course one can argue this is why Apple's stock has been a rocket while many of the tech bubble busts are still picking up the pieces.
Nevertheless, as I wrote about in "Why Apple Doesn't Need a Dividend," Apple does not need a dividend. However with Tim Cook being awarded one million shares of restricted stock, dividends may be a possibility in the future. It may sound intriguing to think Cook, the new CEO, could possibly take advantage of his profound shares over the next 10 years by offering dividends and stock splits. Remember before you go jumping into Apple's stock, keep in mind Cook will not see any of these shares until 2016. In 2016 he will receive 500 thousand shares; if he is still CEO of the company. Therefore if he is fired, retires, resigns, or leaves the company for any other reason his shares will be voided.
Some have recently argued this will dilute current Apple shareholders. This is true, but since Cook will not receive these shares for another five years, shareholders have a long time before worrying about being diluted. And according to speculative analysts, the stock may grow another 1000% in five years. With this in mind why would current shareholders want to sell with 1000% returns waiting for them?
Now let's briefly discuss the argument that Cook may not be able to keep the company moving in the same direction as Jobs. It is important to remember Steve Jobs is regarded as an icon in the technology and marketing world. Therefore with the departure of Jobs, nothing at Apple should change. Consumers bought Apple products because of Apple. Consumers did not buy Apple products because they knew Steve Jobs is the CEO of the company. In fact Apple products are primed to fly off the shelves this holiday season as many people want the newest iPad 2.
On the other hand Cook will have his hands full with future iPhone products. Investors and consumers will be expecting great products year after year from Apple and if Cook cannot bring the goods the stock will suffer. Keep in mind Cook has served at Apple since 1998 and knows how the company works and what has kept the company firing on all cylinders.
While Apple gave Cook a large incentive to stay for 10 years, this may ultimately prove the best possible scenario for investors. Lets flash forward to 2016 after Cook receives his 500 thousand shares. What will stop Cook from asking the Board of Directors to declare a dividend or stock split? Granted the Board of Directors can vote down the measure, but with most of the Board heavily invested in the company what will stop them from voting in favor of a split and/or dividend? The biggest opponent may be Jobs himself as he is still on the Board, but in five years his health may cause him to resign from that position as well.
As you can imagine a dividend would seriously pad Cook's portfolio and retirement fund as his 500 thousand new shares alone would bring in solid dividend revenue. Even if the company declares a measly 3% yearly dividend, if the stock is at 500 this would be nearly $15 per year per share. If Cook decides to ask for a stock split he will make a greater profit in the long term. Please note this is assuming Apple's stock continues to move at the pace we are seeing now. If Apple is unable to continually bring in solid revenue and profits the stock will not soar 7000% over the next 14 years.
While it may seem like Cook is the big winner in this gift of one million shares, I believe the shareholders are the real winners. With Jobs gone it opens up the door for dividends and splits to be presented to the board of directors. Therefore investors have a chance to collect some extra money from the pricey shares. A stock split may be the best approach because in five years the stock may be around 500-600; which would put the stock out of reach for most investors. Either way I believe with Cook as the new CEO, the typical cash hoarding machine known as Apple may release some of that cash over the next decade.