The overall market has moved downward recently mostly due to the EU credit crisis and the possible threat of recession. It has taken a few high Beta, strong oil service companies with it. This has created a great opportunity for investors in these companies: Halliburton Company (NYSE:HAL), Baker Hughes Inc. (NYSE:BHI), and Patterson-UTI Energy Inc. (NASDAQ:PTEN).
Recent technology breakthroughs have made previously unprofitable oil resources available at reasonable costs. Specifically lateral drilling techniques combined with multiple fracking operations make oil in oil shale formations recoverable at reasonable costs. SandRidge Energy's (NYSE:SD) drilling in the Mississippian oil shale play is an example of just how cheap and profitable this kind of drilling can be. A few relevant statistics are below:
EUR of 300,000-500,000 BOE/well (52% Crude Oil). Estimated EUR average is 409,000 BOE.
$3 million cost per well to drill and complete.
4000 potential horizontal drill sites have been identified in SD's Mississippian play.
Average 244 BOE per day 30 day IP.
NPV added per well drilled and completed is $5.6 million.
LOE ($/BOE) is $9.24.
The above is just one example. The drilling in the Bakken shows generally higher IP rates and higher EUR's. It shows higher costs, but it is still highly profitable. The above is just an example. The Mississippian play is not thought by most to be one of the more prolific plays in the U.S. Yet the results are great. Many other fields are considered more prolific than the Mississippian play.
There are a huge number of unconventional oil fields in the U.S. Many of these fields are just starting up. In Texas the Railroad Commission is responsible for issuing all drilling permits. The chart below shows the rapid increase in the Eagle Ford shale permits over the last few years.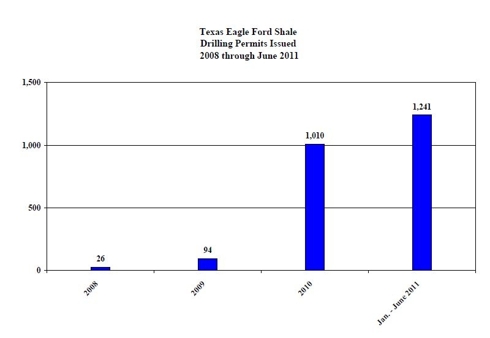 Click to enlarge
(Click to enlarge)
Other areas such as the Bakken are growing their drilling at a rate comparable to the Eagle Ford. Still others like the Utica Oil Shale play are in the very earliest stages of development. The Utica had only had 17 total drilling permits issued for it through early March of 2011. It is in a comparable development stage to the Eagle Ford in 2008 or 2009 in the chart above. From the recent development results release from Chesapeake Energy (NYSE:CHK), the Utica will be as rich or richer a field than the Eagle Ford. Experts believe that it may have 2B-8B barrels of recoverable oil (and perhaps much more). The Bakken is supposed to have approximately 300B barrels of oil in its play. Unfortunately only a small portion is currently recoverable. The estimates I have heard vary from 3.5B barrels to 24B barrels (the latter from the Continental Resources CEO). Only time will tell how much is ultimately recoverable. Unconventional horizontal drilling oil fields in the U.S. include:
The Green River Valley Oil Shale -- the largest oil shale formation in the world. Estimated to hold three times the oil reserves of Saudi Arabia. Most of this field is currently banned for drilling. It is owned by the U.S. government.
The Bakken Oil Shale in North Dakota, Montana, and Canada.
The Eagle Ford Oil Shale in Texas.
ANWAR -- Arctic National Wildlife Refuge. This is banned from drilling currently.
The Utica Oil Shale is roughly under the Marcellus shale in the U.S. It extends into Canada.
The Anadarko Basin.
The Permian Basin.
The Tuscaloosa Marine Shale, which is also called the Louisiana Eagle Ford (7B barrels).
The Tonkawa.
The Frontier.
The Granite Wash.
The Avalon Shale.
The Bone Spring.
The Niobrara Shale.
The Monterey/Santos Shale (in California). Some estimate this holds 15.4B barrels of oil.
The Kern County Shale (California).
And many more fields.
All this means that there is an incredible amount of land based, horizontal drilling to do. This comprises not only vertical drilling, but horizontal drilling and afterwards fracking. This is much more work for oil service companies than standard vertical drilling. This drilling development has only just begun in many of the above mentioned fields. A few are banned from drilling. The CLR CEO said that they would be drilling around the clock in the Bakken this year. Others are drilling aggressively too. Fields like the Bakken and the Eagle Ford are prolific. With today's greatly improved seismic data, the drillers rarely go wrong. In the Bakken oil is found 99% of the time. The wells are commercially viable 90% of the time. Everyone is in a rush to get to their riches. Companies like HAL, BHI, and PTEN are kept very busy. They are all planning on extensive hiring both this year and next. The BHI U.S. active rig count (as of Aug. 29, 2011) is 1975 -- up 319 from a year ago. The BHI active Canadian rig count is at 508 -- up 122 from a year ago. Plus these rigs are often being kept busy for much longer periods of the day (sometimes for 24 hours a day). The fracking equipment and crews are also in high demand.
When you add in all the drilling for natural gas and NGL's, the total amount of drilling needed in the U.S. over the next ten years is truly stupendous. Oil service companies will be among the biggest beneficiaries of all this drilling. You can get in on the ground floor in this new bonanza. The land oil service companies seem virtually assured of having at least five years (more likely ten years or more) of fantastic growth. They will expand their workforces by roughly one third in 2011. That's growth! I tend to give Halliburton an added edge due to its "green fracking" technology. This is something more and more states are getting concerned about.
Prior to the latest market downturn, EU credit crisis deterioration, and the near term recession fears, the analysts had been continuously raising their earnings estimates for these three stocks (HAL, BHI, and PTEN). With the fall in oil prices, the analysts are more uncertain. However, the EIA short term forecast for WTI oil prices for the next couple of years still shows high oil prices. It shows a low chance of a big fall in prices from here. It shows a higher price is much more likely. The EIA WTI price forecast chart is below.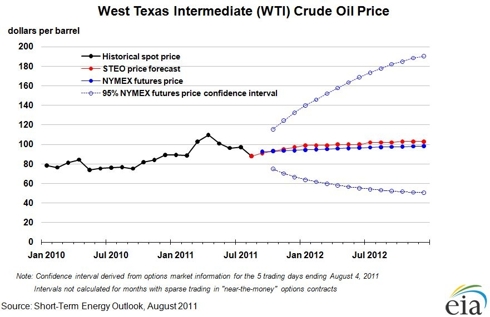 Click to enlarge
(Click to enlarge)
In evaluating the current situation for yourself, you should also consider that the U.S. government has been working to curb oil speculation. Less speculation may be one of the reasons the WTI price is far below that of Brent Crude. The lowering of the amount of speculation likely also means that the fall in WTI prices in a recession would not be as dramatic as in 2008-2009. Increased demand from Asia will tend to hold prices up too. To me this all means that it is unlikely that oil prices will fall below $60 for any appreciable amount of time. This means that oil drilling in all of these U.S. unconventional horizontal fields will remain profitable. It means even in a recession the U.S. will still want to drill quickly for this oil. Getting production from these fields quickly will help to cut the oil trade deficit. This will help the U.S. economy to recover. The U.S. government might even start a program to hasten this process if the U.S. economy worsens. These three oil service companies should do well unless we reach the depression stage, which seems unlikely.
The financial fundamentals of these stocks are in the table below. The data are from TDameritrade and Yahoo Finance.
| | | | |
| --- | --- | --- | --- |
| Stock | HAL | BHI | PTEN |
| Price | $42.81 | $58.79 | $24.50 |
| 1 yr Analysts' Target price | $69.90 | $96.96 | $41.70 |
| Predicted % Gain | 63.3% | 64.9% | 70.2% |
| PE | 16.34 | 19.54 | 16.19 |
| FPE | N/A -- but great | N/A -- but great | 7.78 |
| Avg. Analysts' Opinion | 1.6 | 1.9 | 1.9 |
| Miss Or Beat Amount For Last Quarter | +$0.07 | +$0.02 | +$0.03 |
| EPS % Growth Estimate for 2011 | N/A | N/A | N/A |
| EPS % Growth Estimate for 2012 | N/A | N/A | N/A |
| 5 yr. EPS Growth Estimate per annum | 25.03% | 29.65% | 17.37% |
| Market Cap | $39.37B | $25.64B | $3.78B |
| Enterprise Value | $41.30B | $28.32B | $4.11B |
| Beta | 1.57 | 1.51 | 1.78 |
| Total Cash per share (mrq) | $2.05 | $2.15 | $0.42 |
| Price/Book | 3.38 | 1.7 | 1.62 |
| Price/Cash Flow | 10.93 | 9.94 | 6.20 |
| Short Interest as a % of Float | 2.71% | 1.57% | 4.53% |
| Total Debt/Total Capital (mrq) | 24.70% | 19.19% | 14.42% |
| Quick Ratio (mrq) | 2.31 | 2.08 | 1.53 |
| Interest Coverage (mrq) | 18.43 | 11.43 | 38.01 |
| Return on Equity (ttm) | 9.16% | 9.22% | 10.57% |
| EPS Growth (mrq) | 53.88% | 231.08% | 171.63% |
| EPS Growth (ttm) | 95.09% | 175.08% | 31,482.57% |
| Revenue Growth (mrq) | 35.29% | 40.52% | 95.47% |
| Revenue Growth (ttm) | 36.44% | 68.04% | 115.56% |
| Annual Dividend Rate | $0.36 | $0.60 | $0.20 |
| Gross Profit Margin (ttm) | 19.14% | 22.19% | 40.67% |
| Operating Profit Margin (ttm) | 17.93% | 12.52% | 19.34% |
| Net Profit Margin (ttm) | 11.24% | 7.41% | 11.57% |
These companies all seem to be fundamentally sound. HAL and BHI both have great 5 yr. % EPS Growth Estimates per annum. These stocks all have PE's and FPE's that make them cheap for their expected growth rates. The analysts predicted gains on these stocks are all over 60%. PTEN is even at 70%, although the other two are stronger and more stable stocks (less risky). If you have other favorites, the predicted percentage gain on a few others is: SLB(43.9%), NOV (48.7%), and CAM (34.6%).
Let's look at the two year chart of each to appraise the technical trading situation.
The two year chart of HAL is below: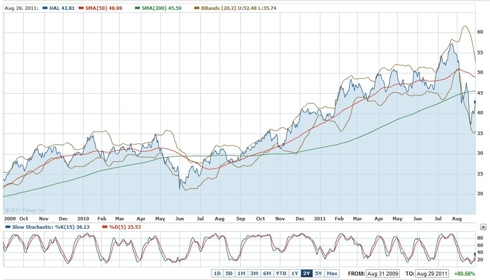 Click to enlarge
(Click to enlarge)
The two year chart of BHI is below: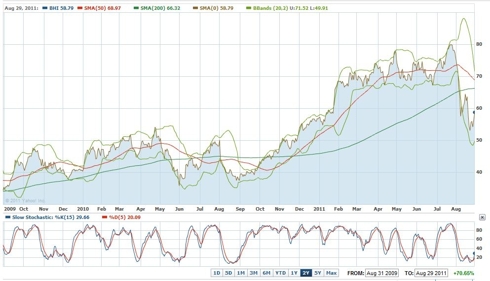 Click to enlarge
(Click to enlarge)
The two year chart of PTEN is below: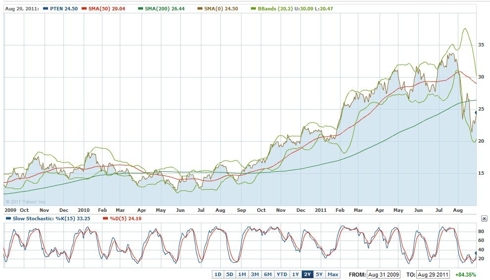 Click to enlarge
(Click to enlarge)

The Slow Stochastic of each chart shows that it is near oversold levels. It has started to rebound, but it still has a long way to go up. All three had strong uptrends prior to the recent overall market downturn. When a strong, high Beta stocks goes down with the market, it is usually a good play to buy it after it puts in a bottom. On each of the charts above, the stocks has put in a classic Bollinger Band bottom. The first bottom valley pierced the bottom Bollinger band. The ensuing bottom valley did not pierce the bottom Bollinger Band. Unfortunately this is just one technical indicator, but it is a positive one. Together with the double bottom in the Slow Stochastic it assumes more technical value. Strong stocks such as these do not stay near their bottom very long. The technical play is to the high side. However, we might be seeing a head and shoulders bottom pattern. If that is the case, we still have to see the second shoulder. If you are thinking longer term, this should not be a problem. However, day traders should be aware of this possibility.

In sum the fundamentals and the technicals align well in this case. This gives the trader/investor every reason to believe that this should be a profitable longer term (and probably shorter term) trade.

Good Luck Trading.

Disclosure: I have no positions in any stocks mentioned, but may initiate a long position in HAL, BHI over the next 72 hours.