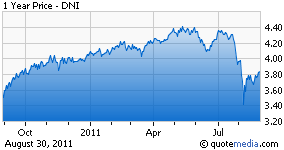 On February 14, 2011, Chartwell Dividend and Income Fund (CWF) became Dividend and Income Fund (NYSE:DNI) and continued its listing on the NYSE. DNI joined the Bexil fund complex which provided investment management services to Global Income Fund (GIFD.PK) and Foxby Corp. I have written about GIFD on Seeking Alpha and am favorable impressed.
DNI is a leveraged fund with in excess of $ 90,000,000 in gross assets and net assets of slightly less than $79,000,000. The leverage is slightly less than 15%. The funds primary objective is high current income and its secondary objective is capital appreciation. In achieving this goal, it invested, as of May 31, 2011, as follows:
Dividend paying common stock 65%
Corporate bonds and notes 42%
Investment companies 4%
Master limited partnerships 3%
The equity portion of the portfolio consists of a wide spectrum of large capitalization companies, paying decent dividends. Among its largest holdings are:
Large Cap Pharmaceuticals 7.10%
Operating telephone Companies 5.01%
Southern Company (Utility) (NYSE:SO) 3.31%
Limited Brands (LTD) 2.74%
3M (NYSE:MMM) 2.39%
Exxon Mobil (NYSE:XOM) 2.12%
These are fine companies in mature industries, currently offering high current income with a chance for appreciation. I am comfortable holding these securities.
The corporate bond portion of the portfolio consists primarily of credit sensitive issues having what appear to be from A to B+ ratings. They are not highly rated securities but there is substantial diversification by companies as well as industries.
Operating expenses for DNI when under prior management were exceptionally high but it appears that new management is attempting to bring them under control.
Presently the fund sells at a discount to net asset value of under 10%. I am inclined to continue following DNI and purchasing when the dividend rises to the 15% range. This is a fairly small fund with limited liquidity and the discount will fluctuate over time.
I am familiar with new management through their operation of GIFD and approve of their approach. Their thinking is solid and should be successful over time. Purchasing at a more substantial discount will only enhance your investment.