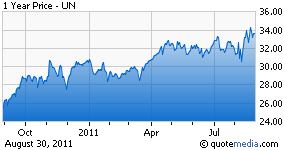 It's no secret people like to look, smell and feel good. Unilever's (NYSE:UN) products, which include Dove, Axe and Ben & Jerry's, help people do just that. And with a solid dividend and rapid growth in emerging markets, Unilever offers investors a compelling alternative to more risky technology stocks.
Unilever's product portfolio, which includes big name brands, is enviable. Its popular brands, including Knor, Hellman's, Lipton and Vaseline, are sold in over 180 countries. And Unilever is on the prowl for more great brands. Last year, Unilever acquired Sara Lee. And this year it spent $3.7 billion acquiring Alberto Culver.
Unilever has the scale and reach to exploit acquired brands. Not only can it introduce brands into new markets, it can innovate new products by cross-pollinating them. With some 1.9 billion pounds of cash flow in the first six months, Unilever, which currently yields 3.1%, has plenty of resources to build brands and boost dividends.
As investors insulate slow growth in developed markets with fast growth overseas, they're increasingly turning to consumer goods companies. Stocks like Unilever do a substantial business in developed markets, such as the United States and Europe. But they also generate significant revenue in other markets. At Unilever, 55% of sales come from overseas. Asia is its biggest region, by sales, accounting for 4.77 billion pounds of Unilever's 11.9 billion pounds of quarterly revenue. Not only is it the company's biggest region, it's also the fastest growing, thanks to double-digit growth in China and India.
Worldwide, Unilever sales increased 4.1% last quarter compared to last year. Its "underlying" growth, which ex's out divestitures and acquisitions, rose 7.1%. And global volume rose 2.2%. Even in economically troubled Western Europe, which accounted for 3.37 billion pounds in sales last quarter, volume was up 2.9%. And here in the Americas, Latin America was a bright spot, growing nearly 10%.
Some investors may shy away on fears of rising input costs. But Unilever was quick to increase prices. And coupled with frugal ad spending, was able to offset a lot of the inflationary pressure. In the first six months, operating margins dropped 20 basis points from last year, a drop unworthy of panic.
The biggest segment by sales is personal care. It accounted for 3.71 billion pounds of sales last quarter. Sales in the segment were up 5.5% thanks to rising global sales of deodorant and soap, which helped margins increase 1.4% in the group. Its ice cream sales were solid, rising 6.4% thanks to hot weather here in the United States. In its dressings and spreads segment, sales increased 5% and margins rose 80 basis points. The toughest segment for costs was luckily Unilever's smallest. Home products, pressured by detergent pricing, saw margins fall 3.3%. The upside, however, was a 6.7% sales increase as the company chased market share.
For investors looking for global exposure, dividend upside and revenue stability, it's hard to argue against Unilever. With its Sara Lee integration nearly complete, Unilever will begin to see benefits. And once Alberto Culver is folded in, investors should see additional benefits there too. Given that company wide net profit increased 9% last quarter, and earnings per share rose 10%, investors are in a good position for upside next year.
Disclosure: I have no positions in any stocks mentioned, but may initiate a long position in UN over the next 72 hours.