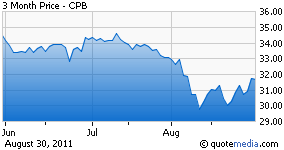 Campbell Soup Co. (CPB ) is scheduled to report its fourth-quarter 2011 financial results on September 2, 2011. The current Zacks Consensus Estimate for the quarter is earnings of 37 cents a share. This represents a year-over-year growth of 12.2%
Third-Quarter 2011, Summary
Campbell Soup Co. reported fiscal 2011 third-quarter adjusted earnings of 57 cents per share, beating the Zacks Consensus Estimate of 52 cents a share and year-ago results of 54 cents per share.
During the quarter, net sales inched up 1.0% from the prior-year quarter to $1,813.0 million, marginally beating the Zacks Consensus Estimate of $1,811.0 million. The increase was primarily due to a 2.0% spike in price and sales allowances and favorable currency translations of another 2.0%, partially offset by a 2% negative impact from volume and mix.
Agreement of Estimate
For the fourth quarter of fiscal 2011, out of 13 analysts covering the stock, none have revised their estimates in either direction in the last 7 and 30 days. A similar trend is being followed for fiscal 2011.
Magnitude of Estimate Revisions
With no revision in estimates for the fourth quarter 2011, over the last 7 and 30 days, the Zacks Consensus Estimate has hit a plateau at 37 cents a share. The consensus estimate for 2011 has also remained constant at $2.49 per share.
Surprise History
With respect to earnings surprises, Campbell showed a mixed trend in the last four quarters. The company has recorded mixed surprises in the trailing four quarters with a low of negative 1.2% and a high of 10%. On an average, the earnings surprise was a positive 6.1%.
Our View
Currently, Campbell maintains a Zacks #3 Rank, which translates into a short-term Hold rating. Moreover, our long-term recommendation on the stock remains Neutral.
Campbell Soup is one of the world's leading manufacturers of convenience food products. Furthermore, a strong portfolio of well-established brands, including Campbell's, Erasco, Liebig, Pepperidge Farm, V8, Pace, Prego, Swanson, and Arnott's offer a competitive edge to the company and strengths its well-established position in the market.
Moreover, management has been stimulating growth in the U.S. Soup, Sauces and Beverages business segment through investments in product quality, convenient packaging and introduction of new products. The company has also upgraded its marketing efforts and improved retail execution. These initiatives will boost the company's top-line growth.
The raw and packaging materials used in the company's business include tomato paste, grains, beef, poultry, vegetables, steel, glass, paper and resin. As a note of caution, many of these materials are subject to price fluctuations due to a number of factors. Rising commodity prices may undermine the company's future performance.
Moreover, due to its exposure to international markets, Campbell Soup remains prone to currency fluctuation. The weakening of foreign currencies against the U.S. dollar may require the company to either raise prices or contract profit margins in locations outside the U.S. An increase in menu price may have a direct impact on consumer demand.
Above all, Campbell Soup operates in a highly competitive food industry and experiences worldwide competition in all of its principal products from such well-established rivals as General Mills Inc. (GIS), H. J. Heinz Co. (HNZ) and Sara Lee Corporation (SLE). This may dent the company's future performance.