This article is a follow-up on my recent commentary about Terra Nova Royalty's last quarterly results and the company's plans for the future (seekingalpha.com/article/287939-terra-no...). While my previous article mainly contained reflexions and views about the company's operating philosophy and future direction, the present one will be a review of the company's past achievements, an often misunderstood track record.
Some 15 years ago, in June of 1996, a company named Arbatax International was spun off from Mercer International (NASDAQ:MERC), a paper & pulp company. Mercer did not fully own Arbatax, but it controlled 92% of the stock prior to the spin-off. Shareholders of Mercer received one Arbatax share for two shares of Mercer, resulting in the distribution of 83% of the issued shares of Arbatax.
Michael John Smith, then CFO of Mercer, became the President and CEO of Arbatax (soon re-baptized "MFC Bancorp") and from that moment on solely managed the affairs of the spun-off entity.
Those that received Arbatax shares spun off from Mercer, or bought Arbatax shares after the spin-off have seen their investment grow substantially, and change forms a few times along the way. The passive investor would currently own shares of Terry Nova Royalty (NYSEARCA:TTT), KHD Humboldt Wedag International AG (OTCPK:KHDHF), Blue Earth Refineries (OTC:BUERF), Mymetics (OTCQB:MYMX) and of course cash distributed as dividends by some of these companies.
Because of the manifold corporate actions that have changed the appearance, name and listing of the original Arbatax shares (which themselves originated from earlier entities, but I will restrict this analysis to the starting point of 1996), the true track record of Michael Smith and his team is often not well understood. It is even difficult to reconstruct, because a large part of the data concerns companies that have changed their name or merged, and thus their price history is not easily found. Furthermore, there have been spin-offs, stock splits, stock dividends and rights issues that all need to be taken into account when calculating the total return a shareholder would have achieved.
This difficulty to readily access the true total return achieved (growth in book value, or evolution of share price including dividends) often leads to mistrust, doubt or just disbelief. I have read countless forms of this (understandably) cautious and critical approach to the track record, in various forms of harshness. One example (among many) is this post on the Yahoo! Finance board:
"I'm not so sure that the track record[s] for Terra Nova Royalty [and] Mass Financial are quite as good as it looks on their respective websites under "financial history" or "historical track record". [it] looks like there could be some fancy data skewing benefiting their numbers"
user linkmont2, Yahoo! Finance board, July 3, 2010
I certainly don't blame anyone for being skeptical; this is a sound attitude, especially in financial matters. I also totally understand that tracking the overall results achieved by Mr. Smith and his team is a difficult task, and few people would have the patience to try and really assess it thoroughly. After all, the Berkshire Hathaway annual report always has a first page which details the track record of Warren Buffett's management going back to 1965 – no need to dive into Canadian, Austrian or German filings to put the pieces together. However, if you want to judge you should investigate.
Being a scientist, I am naturally curious and drawn to verify claims, and to try to get to the bottom of things. If the subject is complicated and difficult, it's all the more interesting. So I set out to investigate what the total return would be to a passive shareholder that had received or bought Arbatax shares in June of 1996, and would have done nothing until today (except participate in rights issues rather than sell the purchasing rights – if you hold shares for longer than a decade you obviously believe in the company and would be ready to purchase discounted shares). This is, in my view, especially interesting since one reservation often expressed when it comes to the companies considered here is that you arguably need to be "on the right side" of the transactions. By calculating the total return for a passive shareholder, I will show that this is not the case. While it may be true that the one or the other well-timed move in or out of one of the companies would have made a significant difference to the total return, it is all too easy to identify such "obvious" moves in hindsight.

I will show that the return for the passive investor who did just sit on his shares has been very, very good. Even more interesting and important is the fact that this has not been the product of share price inflation, but of book value compounding. I will show that the share price has essentially followed the evolution of book value, a sound yardstick for measuring the performance of an entity which often radically changed its business model, holds investments in diverse sectors and emphasizes the importance of holding a large cash cushion for opportunistic investments. Mr. Smith focuses on book value and cash holdings as well, and the price history shows that the market has mostly tracked this value, with a few exceptions.

The technical details

You have been warned. The various stages of metamorphosis of Arbatax into what it is today are a little complicated, but I have tried my best to put it all into a digestible format. The flowchart below shows what has become of one share of Arbatax over the last 15 years (click to enlarge, and take your time – some further explanations are given below).
click to enlarge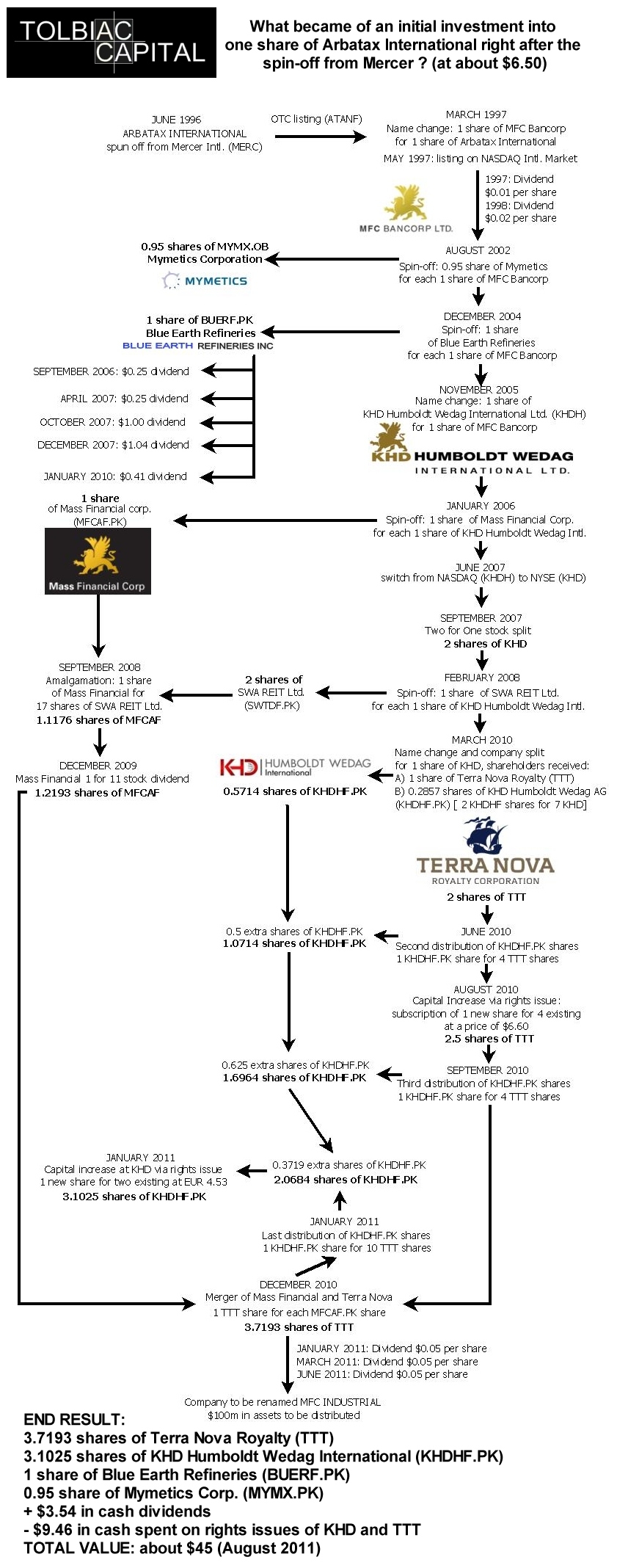 Click to enlarge
The essential points are the following:
Arbatax changed its name to MFC Bancorp soon after the spin-off from Mercer, and listed on the NASDAQ international market.

MFC Bancorp disposed of its holding in Mymetics corp. in 2002 via a spin-off to shareholders. This company (previously known under the names PDG Remediation and Ichor Corporation) was in the waste and recycling business, and had interests in a venture that sought to explore and develop water resources in

Chile

. After Mr. Smith and his team extracted all the value they could from this company, the empty shell was filled with the operations of a biotech research lab (Hippocampe

S.A.

) and renamed Mymetics corp. MFC Bancorp basically enabled Hippocampe to list on the

U.S.

stock market, and retained a 20% stake in the company, that it distributed to its shareholders. The company never made any money, but the stock is still traded today at about $0.06 per share. Here, shareholders would have been best off if they had sold the shares right away – but of course that was not predictable beforehand. After all, they might have found a cure for AIDS (it seems they are still trying). MFC also provided a credit facility of about four million Euros to the company, which was settled for cash and shares in 2007.

In the spring of 2005, MFC Bancorp distributed one share of Blue Earth Refineries (OTC:BUERF) for every MFC Bancorp share. Blue Earth Refineries emerged from the reorganization of the assets of Banff Resources, a Canadian company that had developed a cobalt refinery in

Uganda

but did run into large cost overruns. The company processes the stockpile left after the operations of the Kilembe copper mine stopped many moons ago, and sells excess electricity from its hydroelectrical plants. The company has paid a total of $1.95 in dividends so far, in irregular intervals. The company has stopped reporting results to the SEC three years ago, but is still operating profitably, as evidenced by the free cash flow royalty on the refinery enjoyed by another publicly listed company. A potential privatization and resumption of operations at the Kilembe mine could extend the useful life of the refinery by several years.

Later in 2005, MFC Bancorp changed its name to KHD Humboldt Wedag International Ltd., taking the name of a successful investment into a German cement plant engineering company.

A few months later, in January 2006, KHD distributed one share of Mass Financial corp. for every share of KHD to its shareholders. Mass Financial contained the non-cement plant engineering assets of the company (basically, what MFC Bancorp was before it acquired and restructured Fahr Beteiligungen and KHD Humboldt Wedag), safe for the Wabush iron ore royalty which was retained by KHD.

In June 2007, the KHD listing moved from NASDAQ to the NYSE. In September 2007, the company's stock was split 2:1

In February 2008, SWA Reit and Investments Ltd. was spun off from KHD on the basis of 1 SWA Reit share for each KHD share. SWA Reit mainly owned the industrial parks (property and real estate) in

Dessau

and near the town of

Arneburg

. A few months after the distribution (September 2008), SWA Reit was acquired by Mass Financial corp. in a stock swap deal (1 Mass Financial share for 17 SWA Reit shares).

In December 2009, Mass Financial paid a stock dividend of one new share for each 11 shares owned.

In the year 2010, KHD decided to spin off the cement plant business, consolidated into the German company KHD Humboldt Wedag International AG (OTCPK:KHDHF) and only retain a cash pile and the Canadian iron ore royalty. KHD renamed itself Terra Nova Royalty corporation (TTT) and distributed the shares in the German company to its shareholders in three tranches (while conducting a rights issue after the second tranche for taxation reasons). The details of these transactions can be found in one of my earlier articles published at the end of last year.

At the end of last year (2010), Mass Financial was reunited with the iron ore royalty and cash hoard that was Terra Nova and both companies merged. Terra Nova was the surviving entity and Mass Financial shareholders received one share of TTT for each Mass Financial share.

After the merger, Terra Nova made a fourth and last distribution of KHD shares on the basis of one KHD share for each ten Mass Financial shares.

During the first weeks of 2011, KHD raised capital with a rights issue which enabled shareholders to buy one new share for each two shares owned at a price of 4.53 Euros.

In 2011, Terra Nova started to pay quarterly dividends of $0.05 per share. Three quarterly dividends have been paid so far. The company announced its intention to rename itself MFC Industrial Ltd. and distribute about $100m in assets to shareholders before the end of the year.



The end result

These are the corporate actions that immediately had an influence on shareholders of the initial Arbatax shares. Of course the management conducted transactions (acquisitions, disposals, loans, restructurings) with many other public or private companies during these years, but this only impacted the shareholders to the extent that it influenced the net assets of the businesses.

The total holdings of an investor who held one share of Arbatax in 1996 would be the following today:
3.7193 shares of Terra Nova Royalty (TTT)
3.1025 shares of KHD Humboldt Wedag International AG (OTCPK:KHDHF)
1 share of Blue Earth Refineries (OTC:BUERF)
0.95 shares of Mymetics Corporation (OTCQB:MYMX)
$3.54 in cash dividends ($0.56 from TTT, $0.03 from MFC Bancorp and $2.95 from BUERF)

a total of $9.46 in money spent on the rights issues of TTT and KHD ($6.16 for the 2011 rights issue of KHD [acquisition of an extra 1.03 shares] and $3.30 for the 2010 rights issue of TTT [acquisition of an extra 0.5 shares])
The total value of these components is currently about $45. In June 1996, Arbatax International traded between $4.80 and $6.75. You will probably agree that shareholders have done very well if you compare both numbers.

Visualizing the track record

For people that are more attracted to graphical representations than numbers, the following chart tracks the evolution of the total return achieved by an initial investment into Arbatax after the spin-off from Mercer. The chart is broken down into individual components.
click to enlarge
The solid blue line connects the book values of the individual components at the end of each year. I have also included the latest half-year book value from 2011 for continuity. As you can see, the total return as appraised by the stock market has more or less tracked the growth in book value achieved by the management. One significant exception was the period 2006-2007 when KHD was bid up to several multiples of book value by the market. At one point, the total return of the initial investment surpassed $100. This exaggeration was corrected in 2008 when the share price returned to the level of the book value and even dropped substantially below it. Currently, the "total return share" trades at discount of roughly 10% to the combined book value of the initial share. Michael Smith and his team are no longer directly involved with KHD, and the main operating vehicle is now Terra Nova Royalty (TTT), soon to be renamed MFC Industrial.

Book value compounding

If you want to verify the growth in book value achieved by Mr. Smith and his team, I have added below the balance sheet and share data of the concerned companies for the last 15 years. In 1996, shareholder's equity of Arbatax was about $66.8m divided among 10.4m shares. Today, the book value of Terra Nova Royalty is $557.7m for 62.6m shares; and the book value of KHD Humboldt Wedag is $330.1m for 49.7m shares. The book value of BUERF is difficult to assess since no reports have been issued for a few years, but it should still be at least $10m.
click to enlarge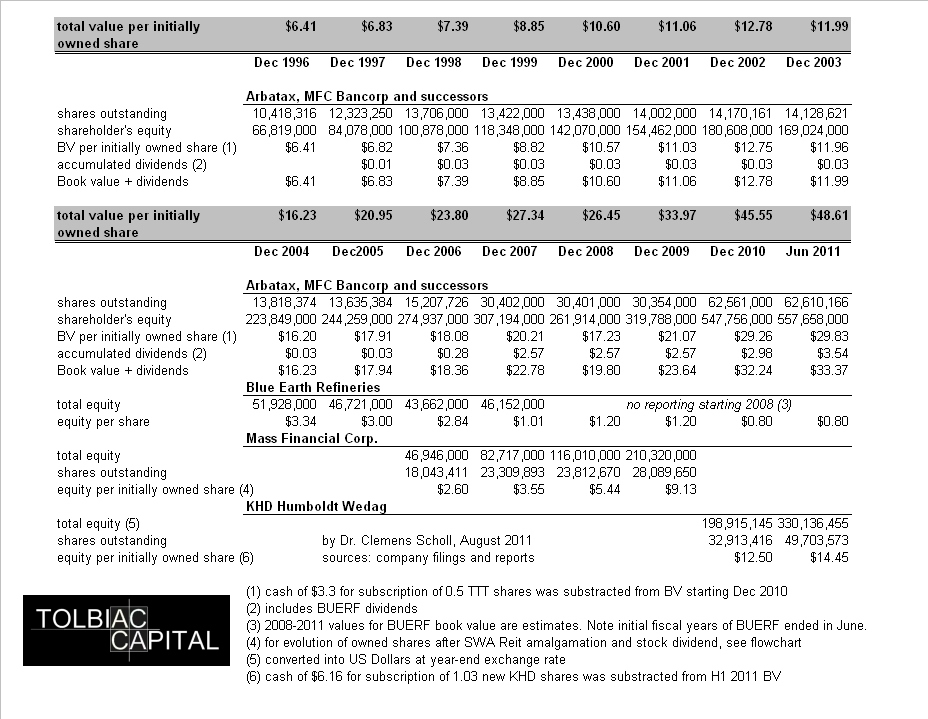 Click to enlargeA substantial amount of this combined book value of around $900m is backed by cash. Terra Nova currently holds $413.9m of cash, and KHD holds EUR 323.3m ($465.9m) in cash and short-term securities. That gives a total of $880m in cash for both companies, while they both have a very limited amount of long-term liabilities.
Except the two rights issues at KHD this year (about $100m), and at Terra Nova last year ($50m), Mr. Smith did not raise any additional cash from investors during the last 15 years. He and his team have thus effectively turned $67m in 1996 into $750m of book value in 2010-2011, a more than tenfold return (and the dividends are not included). Arbatax was another one of these hidden ten-baggers over the long term.

How does this compare to other investments?
Effectively, the growth in book value over the last 15 years (which is more or less equivalent to the growth in share price during the period, as seen in the chart above) amounted to a little less than 15% per year for an initial investment into Arbatax shares.
As a comparison, Warren Buffett's Berkshire Hathaway (NYSE:BRK.A) [a company that takes pride in its great compounding of book value, and is a well-known champion in this field] has grown its book value by 12% each year during the same period. The share price of Berkshire Hathaway has lagged this evolution, since Berkshire traded well above book value in 1996 (the price to book ratio of Berkshire was 1.8 in 1996), but trades very closely to it today. The S&P 500 index, including dividends, only returned 5.7% per year over the 1996-2010 period.
click to enlarge
The chart above compares the evolution of the total return achieved by an initial investment into Arbatax after the spin-off from Mercer, the evolution of the corresponding book value to the performance achieved by an investment into Berkshire Hathaway (at book value and at market price), as well as an investment into the S&P 500 index. The dotted lines represent the trajectory of 5%, 10% and 15% annual growth, respectively. The values for Berkshire Hathaway and the S&P 500 have been indexed to the book value of Arbatax at the end of 1996 ($6.41).

I think this should settle most of the questions and doubts many have had over time regarding the past performance of Mr. Smith's entities and his track record. The long-term shareholders, including Mr. Smith and his family, must be very pleased with what has been achieved so far. Past performance is no guarantee for future returns, but in my view Terra Nova / MFC Industrial (TTT) is well-positioned to match its past record – with good assets, a large war chest in a nervous market, and a dedicated management team. Maybe next year we can celebrate a 16% return for 16 years.

Resources:
Disclosure: I am long TTT, BRK.B.
Additional disclosure: I hold shares of KHD Humboldt Wedag International AG