It's been a volatile summer for investors in coffee-related shares. After a breathtaking rise from May through the first part of July, shares in leading coffee retailers and wholesalers have started trending lower in volatile trading. In my article, Coffee Investors, Here Comes The Caffeine Crash published July 13, I called for coffee shares to fall much lower.
While they have fallen, they have not dropped sharply, and recent rebounds in Green Mountain Coffee Roasters (NASDAQ:GMCR) and Java Holdings (NASDAQ:JVA) have helped to perk up the sector. Though there isn't a coffee retailer's ETF, I've created a composite that equally weights the five largest coffee-related companies: Starbucks (NASDAQ:SBUX), Green Mountain, Peets (NASDAQ:PEET), Caribou (NASDAQ:CBOU), and Java Holdings. As you can see, the sector has rebounded nicely from the August lows and now appears poised to try to break out toward new highs:

But while the sector could arguably be set for a break higher based on the chart, I expect fundamental headwinds will weigh heavily on the sector. I wouldn't be surprised to see the sector as a whole fall 20% or more in coming weeks. Much of the negative fundamental picture I laid out previously remains the same for coffee companies, but several recent developments should make investors even more cautious.
For one, the price of raw coffee continues to surge. It is up more than 20% in recent weeks and is approaching multi-year highs. The latest indications we have seen predict that this year's coffee crop will not live up to expectations, with the latest hit coming from the world's second largest producer, Colombia.
Colombian production is on pace to come in more than 10% under than the U.S. Department of Agriculture's most recent estimate. Couple this supply shock with the unusually poor weather in Brazil -- the world's largest coffee producer -- and it appears coffee prices will be heading back over $3/pound in coming months.
[Click to enlarge]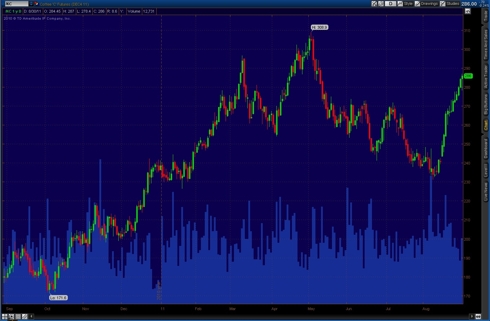 Click to enlarge
Faced with input price pressures, coffee retailers face issues on the competition front as well. A well-financed new competitor, Dunkin Donuts (NASDAQ:DNKN) recently completed its IPO. It plans to use funds raised from the offering to begin an expansionary campaign in the western portion of the United States. While Dunkin Donuts is known for its namesake donuts, recently its coffee business has been attracting investors' attention. Fast food players are also trying to enter into the coffee space, with McDonald's (NYSE:MCD) aggressively pushing its McCafes, and Subway launching its breakfast initiative that is attempting to win over the morning coffee crowd with aggressive pricing.
Coffee companies also face another potential threat to their stocks' valuations. More and more industry competitors are heading to the stock exchange. Dunkin Donuts completed its IPO July 27th. With Dunkin Donuts now commanding a $3 billion market cap, a lot of capital has potentially been drawn away from other listed coffee stocks.
Unless investors are willing to keep throwing more and more money at the sector, at some point, the mere addition of so many new publicly-listed industry players will cause the whole sectors' share performance to become diluted. In addition to Dunkin Donuts, we've seen Teavana (TEA) (not a direct competitor, but close enough to be trouble) go public in the past month. As long as coffee stocks stay hot, more and more new competitors will come to the market and dilute the attractiveness of already listed equities.
We also see the trend of insider selling across the sector continuing. I pointed out the large insider sales right near the top at Java Holdings previously. Since then, we've seen a major cash-out at Caribou, along with other smaller sales elsewhere in the sector. When you see companies rushing to IPO and insiders unloading shares, you have to wonder if they know something you don't.
Needless to say, premium coffee retailers also face economic headwinds from the weakening economy. The rising numbers of unemployed people in the country are likely to increase their consumption of home-brewed cheap coffee rather than getting a premium experience at a cafe. I just can't see how the coffee industry can sustain its rapid growth in the face of soaring input prices and falling consumer disposable incomes.
With coffee retailers trading at such high valuation ratios, they seem particularly vulnerable to rapid downside in coming months. If you want to make a coffee trade, buy an ETF that tracks the raw price of coffee -- which will benefit from the current poor crop conditions -- such as the Barclays Beta Coffee (NYSEARCA:CAFE) rather than coffee retailers.
Disclosure: I have no positions in any stocks mentioned, but may initiate a short position in CBOU, JVA over the next 72 hours. I have an outstanding limit order to purchase September $15/strike puts on Caribou Coffee that may fill in between the time I submit this article and when it is published.