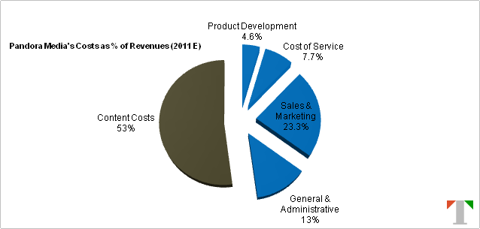 Pandora's (NYSE:P) reported its Q2 fiscal 2012 earnings Thursday. While revenue growth was impressive driven by continuous increase in mobile users, growing content costs are a concern. Content acquisition forms the majority of Pandora's costs. Such costs may be a growing sore spot as the company ramps up its content inventory to better compete with players like SiriusXM (NYSE:SIRI) in the automobile market and Spotify, which recently launched its music service in the U.S. via Facebook.
Our price estimate for Pandora is about $10, which is around 25% below the current market price. However, we should highlight that our per share valuation of Pandora is significantly impacted by estimated employee stock option dilution. Based on Pandora's basic share count only, our Pandora valuation would be closer to about $12 per share.
Pandora's Revenue Growth Solid; Driven by Mobile Use
Pandora saw revenue growth of 117% compared to Q2 of last year – thanks to rise in number of users as well as number of listening hours per user. The mobile usage was especially notable, and constituted almost half the advertising revenues. The usage hours for mobile users seem to be increasing rapidly. As shown above, we currently estimate that mobile advertisement business constitutes 54% of Pandora's stock value.
…. But Content Costs Seem To Be Increasing Faster
While 117% revenue growth is an incredible figure, content costs have risen 130% compared to Q2 of last year. This is where the uncertainty around Pandora's business model lies. We estimate that content costs (as % of revenues) seem to be heading slightly higher this year, at 53% of revenues, compared to about 50% of revenues last year .
(Chart created by using Trefis' app)
We do forecast a subsequent decline in Pandora's content costs as a percentage of revenues as we believe that Pandora can handle these costs in long run and make its business model more sustainable. But let's not forget, the competition will only increase and media distribution has become so diverse that content companies will be in position to have greater negotiating power over licensing prices. You can modify our forecast above to see how continuous increase in content costs can harm Pandora's stock.
Disclosure: No positions