In general my firm is very bullish on companies with stock buybacks and especially ones that contribute to reaching lofty net payout yields (combination of net stock buybacks and dividends). Studies such as this one show that buybacks contribute along with dividends to the ability to predict future alpha. Unfortunately the off-the-cuff results from the last 15 months suggest the hardware and communications equipment sub sector of tech doesn't benefit from buybacks, at least in the short run.

Some basic observation points:
Focus on the last 15 months where buybacks by large cap techs have soared for Cisco Systems (NASDAQ:CSCO), Dell (NASDAQ:DELL), Hewlett Packard (NYSE:HPQ), and Microsoft (NASDAQ:MSFT)
Information services companies like IBM (NYSE:IBM) and Accenture (NYSE:ACN) have had positive results from buybacks
Hardware maker Apple (NASDAQ:AAPL) has had positive results but doesn't issue dividends or buyback stock.
Study is more a simple review than detailed analysis to date
The initial conclusion suggests that tech hardware managements are unable to predict the future of products under development. Note the recent massive failure of TouchPad by HPQ. This inability to predict future product winners possibly leads companies to stubbarnly believe a stock to be undervalued even though it is not the case. Again HPQ is a prime example, having recently spent $4.5B in Q2 on stock buybacks prior to a crushing announcement on the TouchPad, helping lead to a reorganization.

Another interesting point is that the hardware companies pay limited dividends. HPQ only paid $248M in dividends in the last quarter or an underwhelming 5% of the buyback level. Many will argue the problem is that the sector doesn't pay large enough dividends such as Tuesday's news that Ticonderoga Securities wants MicrosoMSFT to increase its dividend to 6%.

The recent evidence suggests paying out more cash may not help the price of MSFT. Investors are more concerned with the future of Windows or the ability to grab markeshare in the cloud and smartphones.

Ultimately stock movements are based on the future cash flows of the company compared to the current valuation of the stock. The net payout yield can typically be utilized to derive the real opinion of management on where the stock stands in that equation. What they do with cash is very telling. With hardware though, its becoming a lot more clear that cash on hand and cash paid out are of little importance. The real key is the ability to create new products desired by the market.

That brings us to AAPL where management focuses on product innovation instead of financial engineering. Guess AAPL proves that cash paid out or cash in the bank doesn't dictate stock price.

Maybe CSCO, DELL, HPQ, or MSFT will ultimately be proven correct for purchasing so much stock. Five years from now the stocks could double or triple making last years purchases cheap. For now though, management looks foolish for squandering so much money on buying stock of companies with limited product innovation. Maybe they should buy some innovative companies instead!

Recent history suggests that AAPL should continue to let the cash pile up. Once management begins focusing on dolling that money out to shareholders, that move could just signal it has run out of new products to focus on hence finally freeing up time to meet on the staggering cah pile likely to exceed $100B by that time.

The below evidence shows that buying the SP500 was better than buying the tech buyback kings. With CSCO and HPQ down over 30%, following tbuybacks in this sector was disasterous. Naturally buying the cash hoarder would've done the best.

15 Month Price Change
Stock
6/1/10
Price
8/30/11
Price
%
Change
AAPL
$256.88
$389.10
51.5%
CSCO
23.16
15.64
-32.5
DELL
13.33
14.86
11.5
HPQ
46.01
26.00
-43.5
MSFT
25.80
26.20
1.6
SP500
1089.41
1212.92
11.3
Net Payout Yield Charts [click to enlarge]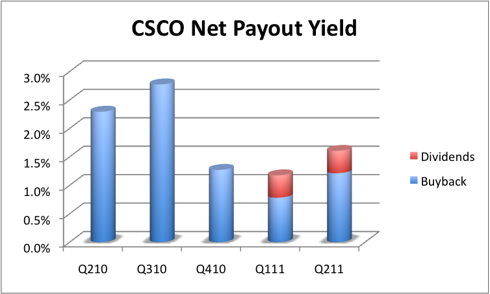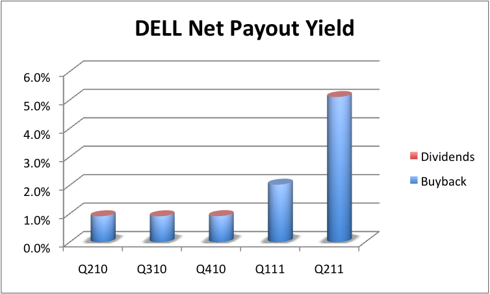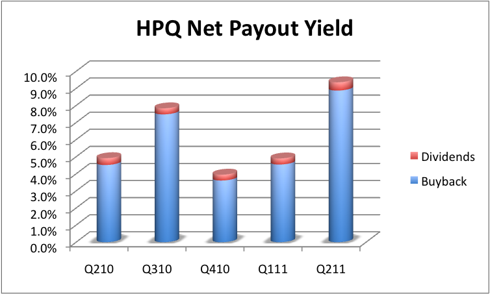 Click to enlarge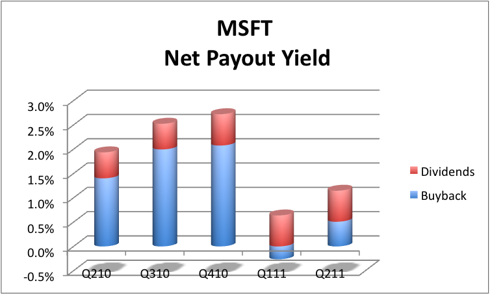 Click to enlarge
* Data sourced from Smartmoney and Yahoo! Finance.

Disclosure: I am long AAPL, MSFT, CSCO.