About four months ago, we wrote an article summarizing the results of our research project on how stock opinions revealed on Seeking Alpha (SA) pertain to stock returns. We received many valuable comments from SA users and authors. This article reports the results of the updated version of our paper and particularly our refined trading strategy.
The major changes and results are:
1. We add variables derived from financial analysts' upgrade/downgrade recommendations and earnings announcement in our analysis in addition to company news (such as Wall Street Journal articles). We obtain very similar results as before, i.e. opinions revealed on SA strongly associate with the corresponding companies' stock returns.
2. We develop a more realistic trading strategy to account for the bid-ask spread using the closing ask and bid prices instead of the closing prices. Transaction costs are still left out. This strategy of going long stocks with the most positive views and shorting stocks with the most negative views on Seeking Alpha would yield an average daily return of 0.14% (versus 0.40% in the previous version).
3. We also conduct a simulation study to calculate how much $1 invested in going long stocks with the most positive views and going long stocks with the most negative views on SA every trading day would have grown since the beginning of 2006. The former strategy yields more than $1.8 by the end of 2010, while the latter ends up at only $0.28. The curves plotting the daily balances of these two strategies are shown below (click to enlarge image).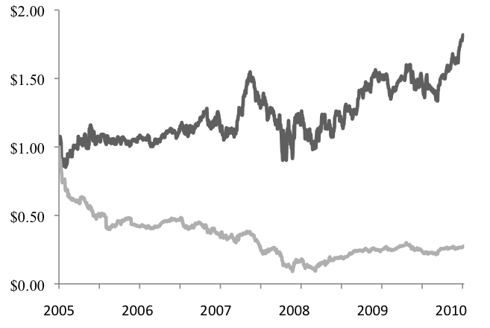 An updated version of our paper is available here: The Customer as Advisor: The Role of Social Media in Financial Markets. We greatly appreciate all the comments we have received from the SA community. Any comments/suggestions to further improve our research would be much appreciated.
Disclosure: I have no positions in any stocks mentioned, and no plans to initiate any positions within the next 72 hours.