Business Development Companies (BDCs) are an interesting (and very profitable) niche in the dividend universe. BDCs were created by Congress in 1980 to allow private equity companies to become privately traded. BDCs are not very heavily followed due, in part, to the fact that there simply aren't that many of them and the nature of their business can be complex. Regardless, BDCs offer some of the best returns on capital bar none. BDC's essentially gives investors private-equity returns with the transparency (and liquidity) of a publically traded company.
BDCs are taxed like REITs (another one of our favorite groups) and thus pay out nearly all of their earnings in cash. As a result, BDCs are in the business of profitably allocating their capital to the highest, risk-adjusted return and then passing that through to investors.
Like private equity funds, BDC are essentially in the business of lending money to small companies. Typically, these companies are too small to access the public markets (via equity or bond offerings) and for whatever reasons can't access sufficient capital from banks. BDCs step in and fill this financing gap.
The start of the 2008 "Great Recession" had a big impact in the BDC space. For years, these companies enjoyed low volatility and easy credit markets. As a result, many BDCs were levered up to their max (2x equity). Once asset values started to drop, many BDCs were forced to suspend or decrease dividend payments … and some haven't come back. The good news is that most of this group learned their lesson. As a result, certain very high-quality, high dividend paying BDCs can be picked up very cheaply. Here's one to buy now:
Fifth Street Finance Corp. (NYSE:FSC)
FSC is a mid-size BDC that went public in 2008 and as a result missed much of the "mark-to-market" pain suffered by its peer group. FSC focuses on lending money to private-equity firms to acquire 'middle-market' companies (across all industries but with a particular focus on healthcare) with between $3-$50M a year in EBITDA. As of June 30th, FSC had investments in 60 companies. 83% of their investment portfolio is 1st lien loans and 65% has floating interest rates. This leaves them well-poised to realize an immediate earnings (and thus dividend) benefit when rates rise.
The CEO, Leonard Tannenbaum, is well-respected in the industry and serves on the board of directors of several of David Einhorn's Greenlight Capital-affiliated companies. Not surprisingly, Greenlight Capital is a relatively large stockholder with 2.76% of the company. Industry connections actually have a real benefit in that private-equity sponsors are more comfortable with FSC and, thus, more likely to go to FSC for acquisition funding. This helps ensure a robust pipeline of potential loans for FSC to invest in, at premium pricing, in the future.
As mentioned above, balance sheet management is crucial to the sustained success of a BDC. Their business model (like a bank) relies on the ability to borrow low and lend high … and asset/liability matching is key. Lining up as much fixed rate financing for as long as possible is a huge advantage for a BDC. Additionally, because of the lesson of 2008, BDCs must ensure the ability to sustain asset write downs without having to suspend a dividend or sell stock while its depressed (FSC is one of the few BDCs that did not have to sell equity below book value this year ). Most recently, FSC was able to successfully issue $172.5M in convertible bonds maturing in 2016. Securing this size of fixed financing out that long is a major advantage for FSC going forward. Simply put, FSC excels at managing their capital structure and investors directly benefit in this going forward.
The best part is, given the recent market selloff, this company is sporting a 13.2% dividend yield. This is a great opportunity to buy in to a quality BDC at a great price.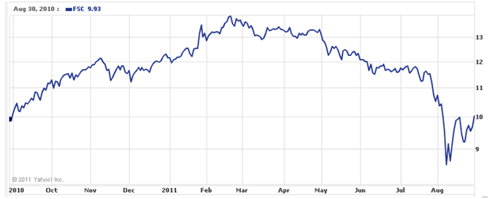 Click to enlarge
(Click to enlarge)
Disclosure: I have no positions in any stocks mentioned, but may initiate a long position in FSC over the next 72 hours.