Legendary fund managers are bullish on the China services group, adding a net $645 million in the June quarter to their $3.2 billion prior quarter position in the group. Overall, they are still under-weight in the group by a factor of 2.4. That is, taken together, the 60+ high alpha generating legendary or guru fund managers have invested 1.1% of their assets in the group, significantly less than the 2.7% weighting of the group in the overall market.
The hedge fund and mutual fund managers included in this group include only high profile names who by virtue of their long-term market-beating returns have earned their standing in the investment community and are worthy of our attention. They include well-known names such as Warren Buffet,
George Soros
,
Carl Icahn
,
Steven Cohen
and
Mario Gabelli
,
as well as perhaps relatively lesser-known names that also have a stellar long-term history of beating the markets, such as
Seth Klarman,
John Griffin,
Prem Watsa
,
Robert Karr
and
Lee Ainslie
. The following are the China services stocks that these guru funds are most bullish and bearish about (see Table):
Gurus Bullish on Baidu Inc. (NASDAQ:BIDU): BIDU is a leading Chinese provider of internet search, targeted online advertising and other internet content services. Nine guru funds together hold over $1.34 billion, adding a net $235 million during the June quarter. Fisher Asset Management LLC holds a large $577 million position, with other major positions held by Viking Global Investors LP ($293 million), Capital Growth Management LP ($217 million),
Tiger Global Management LLC
($137 million) and
SAC Capital Advisors LP
($72 million).
Gurus Bullish on Youku.com Inc. (NYSE:YOKU): YOKU, China's largest video-streaming company, is more popularly known as the YouTube of China. But in reality, it is more a combination of Netflix and YouTube; Netflix, because it offers mostly professionally-generated content licensed from movie studios and TV companies, and YouTube due to its reliance on advertising as a main source of revenue. Seven guru funds together hold $303 million, adding a net $239 million during the June quarter.
Maverick Capital
holds a large $210 million position, with other major positions held by
Tiger Global Management LLC
($35 million),
Tremblant Capital Group
($34 million) and
Blue Ridge Capital Holdings LLC
($22 million).
Gurus Bullish on Netease.com Inc. (NASDAQ:NTES): NTES is a Chinese provider of an interactive online gaming community, internet portal and wireless value-added services. Four guru funds together hold $256 million, adding a net $137 million during the June quarter. Lone Pine Capital LLC holds a large $240 million position, and
Balyasny Asset Management LLC
holds a $14 million position in the company.
Gurus Bullish on New Oriental Education & Technology ADS (NYSE:EDU): EDU is a Chinese provider of language training and test preparation courses to 1.8 million students via 367 schools and centers. Five guru funds together hold $454 million, with Lone Pine Capital LLC ($210 million),
Joho Capital
($172 million) and Columbia Wagner Asset Management LLC ($63 million) holding the largest positions among guru funds.
Gurus Bearish on China Unicom (NYSE:CHU) and Giant Interactive Group (NYSE:GA): CHU is Hong-Kong based provider of mobile and fixed-line voice, data and broadband services to 246 million customers, and GA is a Chinese developer and operator of internally developed and licensed online games. Both are multi-billion companies that have limited ownership by guru funds, with $42 billion market-cap CHU owned by only one fund with <$1 million holding, and $1.8 billion market-cap GA owned by two guru funds with total <$2 million holding.
Besides CHU and GA, as illustrated in the following table, gurus also have limited or no holding and hence are bearish on Focus Media Holding (NASDAQ:FMCN), a Chinese provider of audio-visual digital advertising; Perfect World (NASDAQ:PWRD), a Chinese developer of 3-D online games; Asiainfo Linkage (NASDAQ:ASIA), a Chinese provider of software and IT security products for telecom operators in China; e-Commerce China Dandang (NYSE:DANG), a Chinese online retailer offering books and other media; and China Infrastructure Investment (OTC:CIIC), engaged in the investment, construction, operation and management of Pinglin Expressway toll road.
Furthermore, gurus, by virtue of holding large positions, as illustrated in the following table, are bullish on Ctrip.com International (NASDAQ:CTRP), a China-based consolidator of hotel accommodations and airline tickets targeting individual business and leisure travelers; Home Inns & Hotels Management ADS (NASDAQ:HMIN),a Chinese hotel manager operating over 616 hotels with over 70,000 rooms, and 69 hotels under development; and Vanceinfo Tech ADS (NYSE:VIT), a Chinese provider of outsourced software research and development, maintenance, testing and IT services.
Table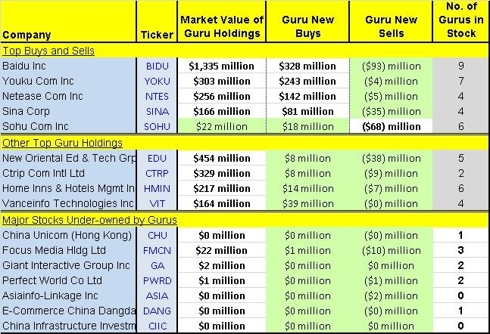 General Methodology and Background Information
: The

latest available institutional 13-F

filings of over 60+ legendary or guru hedge fund and mutual fund managers were analyzed to determine their capital allocation from among 50+ different industry groupings, and to determine their favorite picks and pans in each group. Each guru has been carefully selected based on their long-term performance and standing in the investment community. Furthermore, the credentials of most of the 60-odd guru funds that justify their inclusion in this elite group were detailed in our previous articles, many of which can be accessed by clicking on the hyperlinks referencing them in the above Table and in article.
These legendary or guru fund managers number less than one percent of all funds and yet they control almost ten percent of the U.S. equity discretionary fund assets. The argument is that institutional investors have the resources and the access to information, knowledge and expertise to conduct extensive due diligence in informing their investment decisions. When high alpha generating or guru Institutional Investors by virtue of their fund performance, low volatility and elite reputation in the investment community, invest and maybe even converge on a specific investment idea, the idea deserves consideration for further investigation. The savvy investor may then leverage this information either as a starting point to conduct his own due diligence or even go as far as constructing a model diversified portfolio based on the guru funds best picks.
Credit: Historical fundamentals including operating metrics and stock ownership information were derived using SEC filings data, I-Metrix® by Edgar Online®, Zacks Investment Research, Thomson Reuters and Briefing.com. The information and data is believed to be accurate, but no guarantees or representations are made.
Disclosure: I have no positions in any stocks mentioned, and no plans to initiate any positions within the next 72 hours.
Disclaimer: Material presented here is for informational purposes only. Nothing in this article should be taken as a solicitation to purchase or sell securities. Before buying or selling any stock you should do your own research and reach your own conclusion. Further, these are our 'opinions' and we may be wrong. We may have positions in securities mentioned in this article. You should take this into consideration before acting on any advice given in this article. If this makes you uncomfortable, then do not listen to our thoughts and opinions. The contents of this article do not take into consideration your individual investment objectives so consult with your own financial adviser before making an investment decision. Investing includes certain risks including loss of principal.