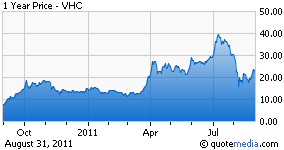 Interest in intellectual patent portfolios has been heating up, becoming a much sought after treasure in the tech world. 4G patents are of particular interest among industry titans and media alike.
Tech giants, including Apple (
OTC:APPL
) and Qualcomm (NASDAQ:
QCOM
), are currently maneuvering as they battle for control of InterDigital's (NASDAQ:
IDCC
) patents, as the remaining mobile portfolios are scooped up. That auction has been pushed back to after Labor Day.
The market is placing a premium on these types of portfolios. Google's (NASDAQ:
GOOG
) recent purchase of Motorola Mobility Holdings Inc. (NYSE:
MMI
) for $12.5 billion highlights this development.
But up until now, the market has failed to assess these mobile patent portfolios for the quality of the intellectual property within them. After such soaring valuations, investors and companies alike should now begin to hone in on the quality and significance of individual company IP, focusing not just on the size of the portfolio (total number of patents) or the general market they are targeted at (4G technology).
A recent piece from the
The Street
emphasizes the importance of quality in patent portfolios:
"'Do you think a 2G or 3G patent is as valuable as a 4G patent?' asked one industry strategist, referencing the quality - not just the quantity - of a group of patents a company might be considering.

The $742,679 yardstick is not an accurate measure of all intellectual property holdings, say Wall Street analysts.

'It's all about essential patents, not total patents,' said Tavis McCourt, an analyst with Morgan Keegan. 'And then it's up to the quality of lawyers and industry standard royalty payments to determine their worth.'"
Davenport & Company echoes this sentiment:
"While the size of a company's patent portfolio is important, we believe a key focus of future patent acquisitions will be on patents that are foundational, have demonstrated licensing potential and cannot be worked around."
VirnetX's (NYSEMKT:
VHC
) portfolio, for example, though relatively small, is essential for implementation of 4G LTE specifications. The patents cover technologies that lay the foundation for the security platform of future telecommunication networks.
The 3GPP, a collaboration between key telecommunication groups across the globe, is standardizing next generation wireless technology. The systems they are crafting will become the global mobile standard. The 3GPP has created the 4G LTE Series 33 specifications, which map out the security platform for companies to build their LTE compliant chips, servers, smart phones, etc. VirnetX has declared its patents as essential to this standard, which lays out an environment of automatic establishment of secure connections between trusted users. No other company has declared essential patents for these series 33 security specifications. This announcement notifies the telecommunication industry that it must license to avoid infringing VirnetX's IPR when companies begin rolling out secure networks.
Many of the so-called LTE patents are device-level patents, meaning they cover inventions that are limited to a machine itself. These are usually licensed at a bottom-end .1% range. These technologies operate on top of foundation, platform level IP.
Also, most LTE patents are optional and companies are not required to license them. For example, device makers can either not implement the workflows these types of patents cover or simply work around them.
Researchers at Informa determined that Huawei is ranked as a top three 4G LTE patent holder, holding at least 9% of all LTE patents. However, upon closer inspection of these 182 patents, 178 were granted in China and only a handful of those could be considered essential.
Click to enlarge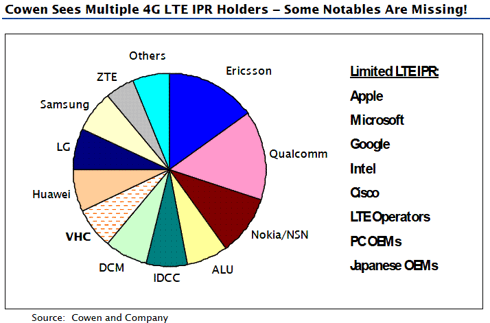 Analysts at Cowan and Company, who have been at the forefront of the VirnetX story, recently valued the company patent portfolio at approximately $3 billion. But that largely considered 4G licensing revenues only. In reality, the company's patents are quite broad and unusually multi-faceted, with their scope spreading across much more than just the 4G LTE landscape. The patents cover technology important for securing the cloud, wire-based communications, and much more.
VirnetX's portfolio must be looked at from a unique perspective. Its IP covers technology that is not optional, works at the platform level, and secures wireless networks. Such crucial inventions are typically licensed at least 1%, an astounding figure in a projected multi-billion dollar 4G market. VirnetX technology is already utilized by the titans of the industry and is built into the communications architecture of the future. In addition, the company is issuing more patents that will be increasingly inherent to secure wireless networks of the future.
The stock is currently trading significantly below its all-time highs from earlier this year. This is likely attributed to a volatile global market as well as requests from Cisco and Apple for a USPTO re-examination of two key patents in the VirnetX portfolio. The companies have put forth "prior art," or information that existed before a patent was applied for that would make it unoriginal and therefore invalid.
Last year, one of these same patents was fully confirmed as patentable (and a claim was even added) after a failed re-examination by Microsoft (NASDAQ:
MSFT
), which covered at least some of the same ground. The company later settled the infringement lawsuit and took a quite limited license to VirnetX technology for an incentivized $200 million.
The inventors of VirnetX technology also worked for the CIA and had access to vast amounts of information. They created these new ways to secure communication, because nothing like it existed at the time. These facts make the current defendants' "prior art" less convincing.
If the re-examination is granted, which is likely, VirnetX will have an opportunity to respond to the patent office. Management anticipated the re-examination requests and fully expects to emerge from this process victorious, both on the date and merit of such attacks.
VirnetX is currently involved in a patent infringement case in the Eastern District of Texas. The two separate cases involving several companies, such as Apple, Cisco and Avaya, have now been merged into a single trial, slated for November of next year.
Disclosure: I am long VHC.