By Bryan McCormick
Junk bonds are still painting a bullish picture.

I wanted to quickly review a contrary indicator I have discussed frequently of late, the ProShares Short High Yield ETF (NYSEARCA:SJB). It has been dropping steadily in price, which suggests that there is far less stress in debt markets than earlier in the month. During the first two weeks of August, for instance, SJB made an exponential jump in price as the S&P 500 dropped.

The fund is used as a hedge against a long position in high yield bonds or as a pure directional bet that the price of those bonds is too high in the current environment. It tends to move contrary to overall sentiment, and its recent behavior signals that the "risk on" trade remains in full swing.

It's important to keep an eye on SJB for upturns, which would suggest bearish sentiment.

The fund is represented by the red line in the chart below, while the S&P 500 is the green in the lower panel. The graph is on a percent change basis which allows us to compare the two despite the large price difference between the two assets.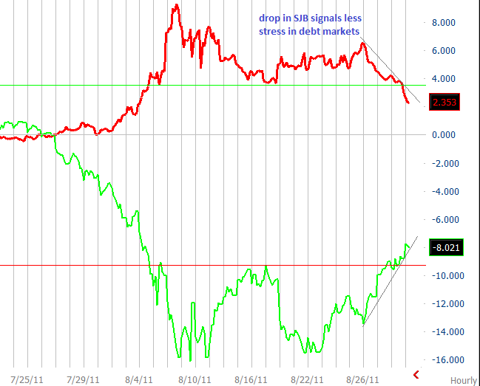 (Chart data courtesy of Thomson Reuters)